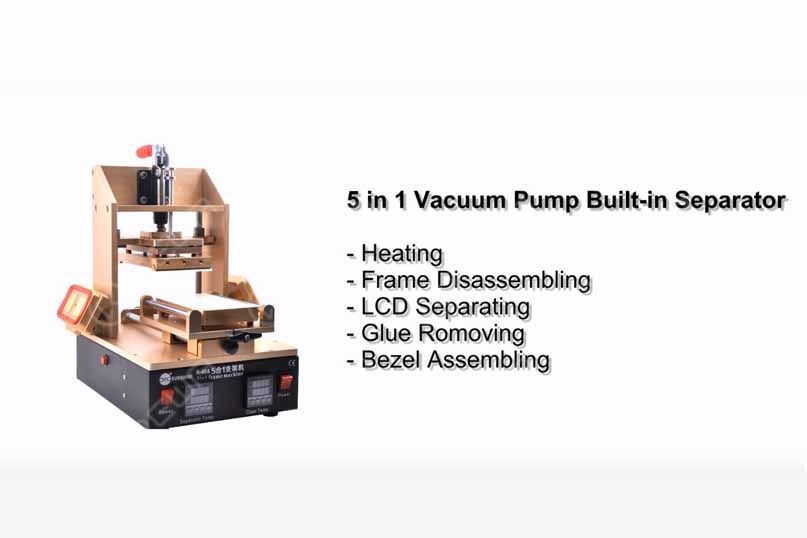 We are going to bring in a brand new 5 in 1 LCD Separator with Vacuum Pump Built-in designed for Primary Solution is available now!
This solution starts with a 5 in 1 Vacuum Pump Built-in LCD Separator, which works as LCD Glue remover, LCD Separator , Bezel Frame Laminator, Electric Heating Platform, Bezel Frame disassembler at the same time. Especially for small size refurbishing store, this vacuum pump built-in machine comes with iPhone 4/4s, 5/5c/5s, 6/6 Plus molds, is more economical and integrated than other machines.
Here is the main specification:
Voltage: 110/220V
Power: 500W
N.W.: 15KG
G.W.: 35KG
Dimension: 25x32x42cm
Separating Panel: 9.5x16cm
Working Environment: 20-30℃, Dust-free Room As well as operation steps: Plug in firstly.
Bezel Disassemble:
1. Preheat the screen(temperature set about 90℃, time set 30 secs)
2. Back off the screen on the sucker
3. Click the start button to suck the screen
4. Separate the bezel from the screen slowly(Heat the screen for more times if difficult to separate, and add some liquid glue remover or 530)
(Left sucker fits LCD size 4.3''-5'', right sucker fit LCD size 5''-6'')
LCD Disassemble:
1. Align the rubber mat the platform holes
2. Invert the LCD on the workstation, 30 secs preheated
3. Click the suction button, check if the LCD sucked tightly
4. Place cutting wire to the correct separating layer, pulled down and separate the LCD with moving to and fro the wire till separated(don't roll the wire) (Fit LCD size under 7'')
Glue/POL Film Removing:
1. Check the blade smooth or not before operating
2. Adjust the height of the blade and position of the pad
3. Temperature set 170℃
4. Plug in
5. Put the screen on the pad when temperature reached
6. Push the pad to the position 0.1CM under the blade, then push the blade down (don't overexert, avoid LCD broken)
7. Keep the position of the blade, then push the pad to remove the glue
8. Stop when the blade comes to 0.1CM to the LCD edge
9. Changing blade should be done while the machine is completely cool, then check the blade smooth or not, screws are tightened or not.
Bezel Assemble:
1. Temperature set 170℃, operating time set 7 seconds
2. Turn on the machine and preheat it
3. Place the bezel and screen together on the mold
4. Push the working stage under the assemble stage when the temperature reached, it will finish by itself. Require specific mold, now it's only applied to iPhone.