In response to the outbreak of coronavirus, REWA has been equipped with necessary preparations for the resumption of work on January 25. And on February 10, the official back to work day, REWA has carried out basic daily work in an orderly manner according to the actual situation of departments and staff, under the premise of ensuring the safety of all employees. Right now, REWA adopts home office and on-site office to provide excellent service to our clients.
About Placing Order
Please be noted that orders placed now are arranged according to their priority. Order now and get your order arranged first!
Supply Chain
Although REWA has been equipped with some inventories, the supply will be tight in a certain period due to the delay of factories in production resumption and some products will come up with long-term shortage.
Price
Because of the shortage of supply and the short-term delayed production, the price of some products will rise until the supply is restored(April or so).However, the price of some hot-selling products like the Laser Separator Machine will be a surprise for you at this time.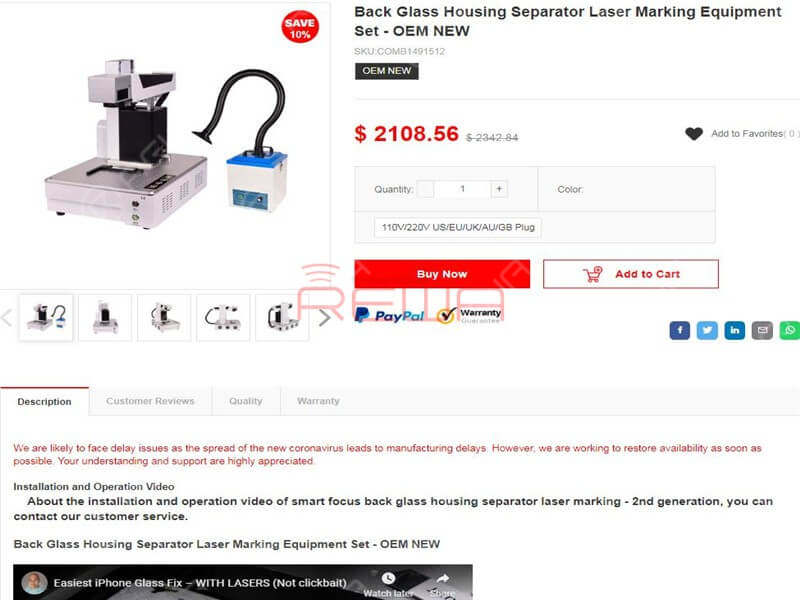 Delivery
Due to the instability of supply and delayed resumption of work of some staff, the delivery time of the order will be longer than usual. Please confirm your order plan with our sales in advance.
Logistics
Although air freight from Hong Kong is normal, there might be a delay in logistics.
Therefore, REWA highly recommends you place your order in advance and prepare more to avoid out of stock and reduce losses due to price increases.
About the COVID-19The coronavirus is highly contagious, but the fatality rate in areas with adequate medical conditions is not high. The Chinese government has taken effective measures to control the epidemic, but given the incubation period and infectivity of the virus, it is expected to reach a peak at the end of February and then be completely controlled in April or May. During this period, all walks of life will fight covid-19 while resuming business and production.