Dear Customers,
REWA would like to inform you that we will be closed for the Chinese New Year Holiday from 18th Jan to 31st Jan 2020, and we will re-open on Saturday, 1st Feb 2020.
All orders placed during the period will be processed and shipped after 1st Feb 2020. We kindly suggest that you may check your stock and place orders in advance to avoid logistics peak before the holiday.
Here is our order advice of holiday:
Orders placed from 1st - 11th Jan will be shipped before 18th Jan - Highly recommended to order.
Orders placed from 12th - 17th Jan will be arranged according to an actual situation. Such as order quantity, order complexity, and order saturation. There is no guarantee of shipment before 18th Jan.
Orders placed after 18th will be shipped after 1st Feb.
For massive LCD Screen Digitizer orders, please place your order before 11th Jan 2020.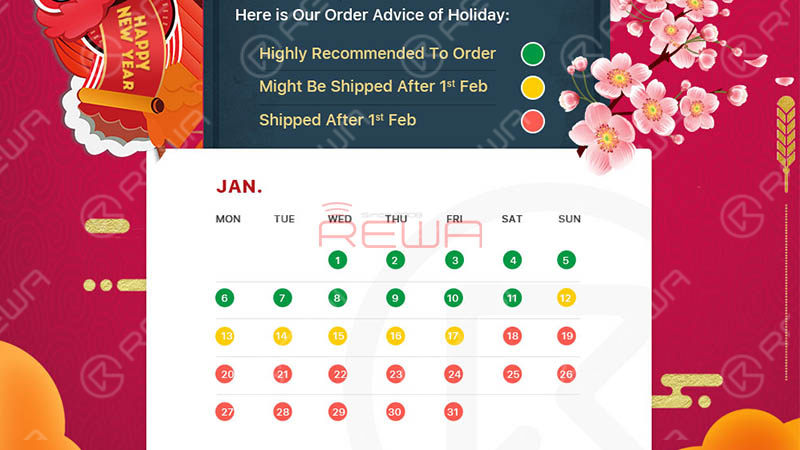 REWA would like to take this opportunity to say a big thank you for the support of all our clients. Wish you and your family a Merry Christmas and a Happy New Year. We apologize for any inconvenience that may cause.
REWA Technology