iOS15.0.2 is Apple lastest mobile phone system. This mobile phone system has added some features, and many problems have been repaired. Today we will come to specific evaluation of iOS15.0.2.
1, iOS15.0.2 new features
Apple has recently published iOS 15.0.2 system, this update is for new functions and fixed bugs.
The previous iOS 15 system has other bugs, including touch screen response issues. It is still unclear whether IOS 15.0.2 issued today has solved this problem or not. And whether the ProMotion high refresh rate of iPhone 13 Pro displaying supports third-party applications or not .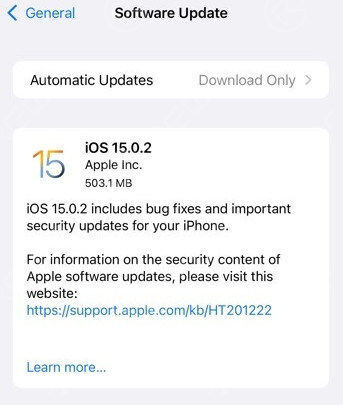 The iOS 15.0.2 version issued recently is 19A404.
2, iOS15.0.2 problem repair
Picture from "Information" to the gallery may be removed after the association dialog or information is removed
iPhone dedicated Magsafe leather card package may not be connected to "Find"
Airtag may not display in the "Find" tab
Carplay function may not open the audio APP or may be disconnected during playback
Use Finder or iTunes to recover or update the iPhone 13 models may fail
iOS 15.0.1 published October 1 which fixed an error that the Apple Watch cannot unlock iPhone 13.
The current user can go to the "Settings" application, select "General", then select "Software Update", update the iPhone or IPAD to iOS 15.0.2 / iPadOS 15.0.2.
IOS 15.0.2 official version supports these devices upgrade:
iPhone:iPhone 13 mini、iPhone 13、iPhone 13 Pro/Pro Max、iPhone 12 mini、iPhone 12、iPhone 12 Pro/Pro Max、iPhone 11、iPhone 11 Pro/Pro Max、iPhone XS、iPhone XS Max、iPhone XR、iPhone X、iPhone 8/8 Plus、iPhone 7/7 Plus、iPhone 6s/6s Plus、iPhone SE/SE 2;
iPad:iPad Pro 1/2/3/4/5(12.9)、iPad Pro 1/2/3(11)、iPad Pro(10.5)、iPad Pro(9.7)、iPad Air 2/3/4、iPad 5/6/7/8/9、iPad mini 4/5/6;
iPod Touch:iPod Touch 7。