Nowadays people carry their cell phones everywhere they go and accidents are bound to happen every second. Once the cell phone quits working, it's imperative to find a fix fast. And this business opportunity fits all repair shops around the world. Yes, all repair shops instead of one particular repair shop. Like the old saying goes, 'with challenge comes opportunity'. How can you impress your customers and get your effort paid without hesitation? Professional skills? Absolutely necessary. Indispensable repair tools? Of course. What's more? What's something so special that can get your repair shop stood out among other repair shops in the city? Dear repair shop owner, you need this multi-function advanced phone repair maintenance platform, right now, right here.IntroductionREWA integrated aluminum alloy pad maintenance platform for mobile phone repair, with microscope fixed base.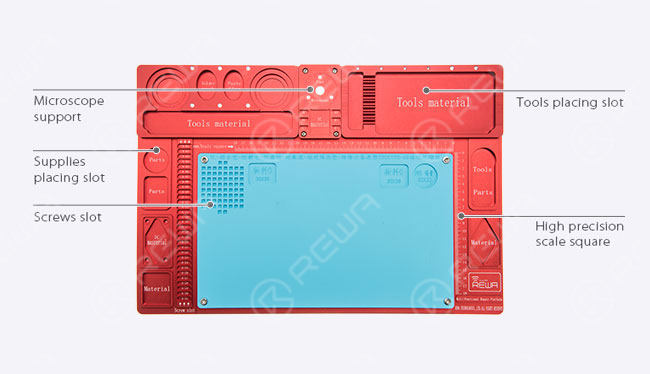 Size Main base pad 468*318*15mm Extended pad 330*198*4mm
Weight Main base pad 3.3kg Extended pad 0.3kg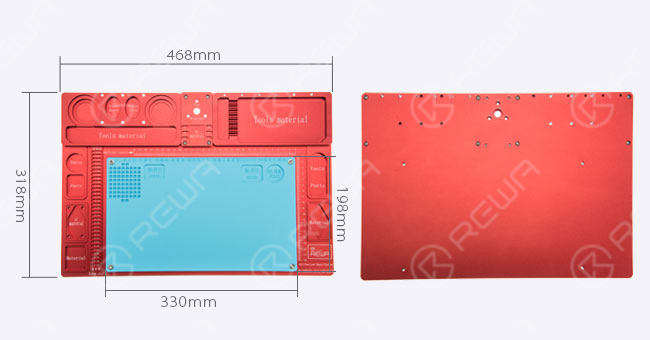 Color-Red, Golden, Blue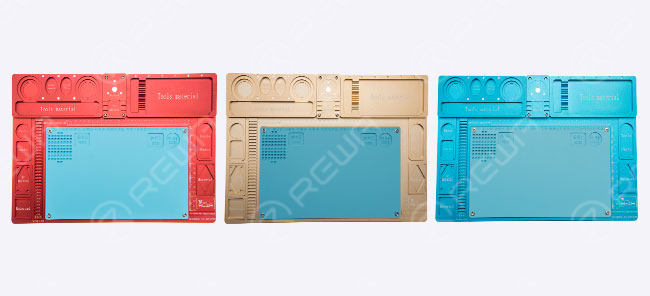 Features 1. Aluminum alloy material makes the platform indeformable, anti-flaming and anti-corrosion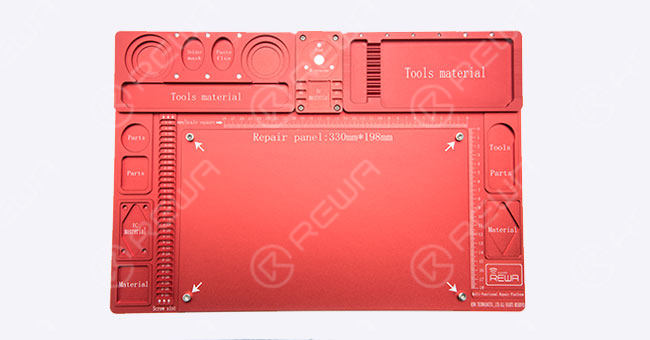 2. The extended pad, also known as heat insulation mat, is built to be convenient for sundry removing, pad cleaning and easy operating, it also ensures the anti-static feature and high temperature resistance for over 500 centigrade.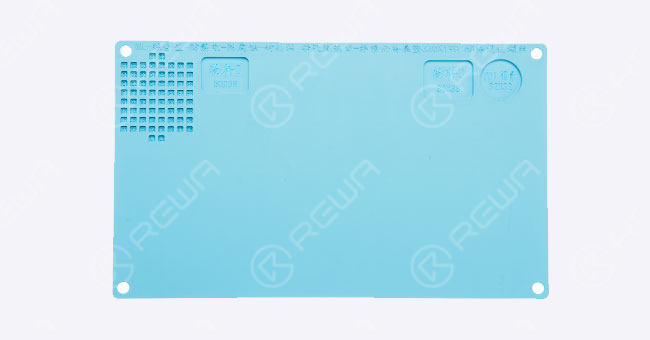 3. The whole platform is featured with memory recovery structure with screws slot on both main base pad and extended pad.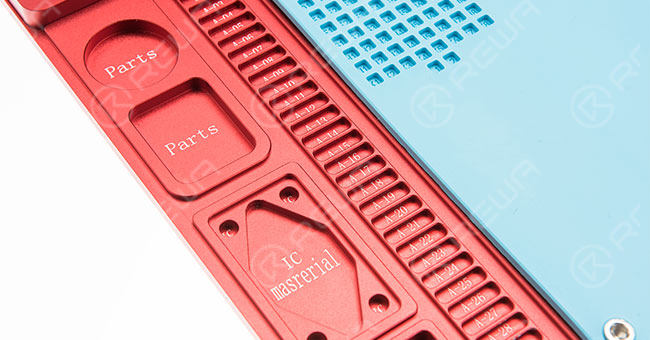 4. The edge part of the maintenance area has a high precision scale square matching perfectly with the heat insulation mat, which can make repairing process both accurate and professional.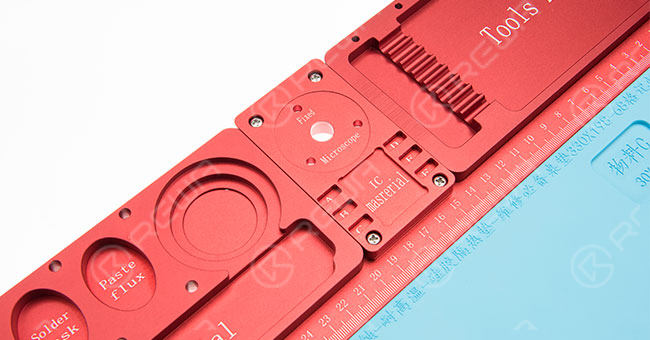 5. Supplies placing slot, tools placing slot and materials placing slot are composed of different shapes for different needs.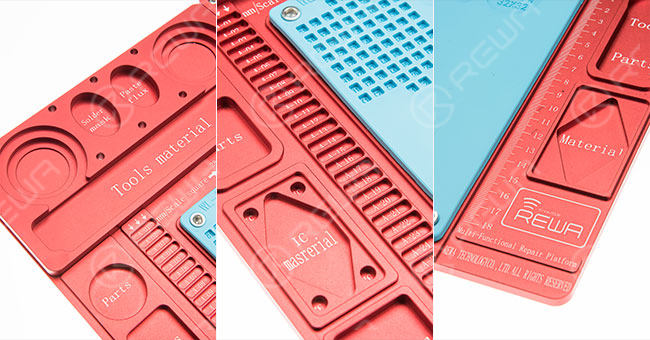 6. There are also multiple sets of hollow cylinders, multiple sets of concave convex sets made for perfect tools placing.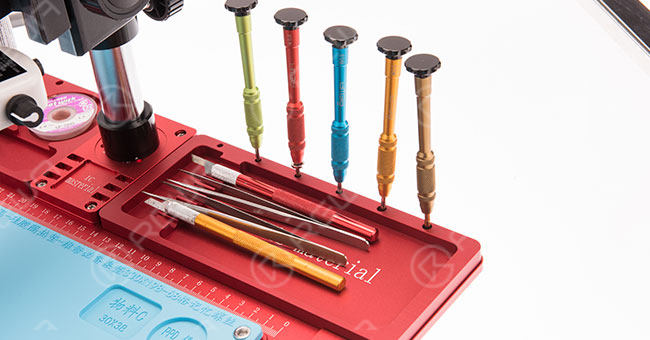 7. Some slots are also engraved with the product name, which also helps saving your time.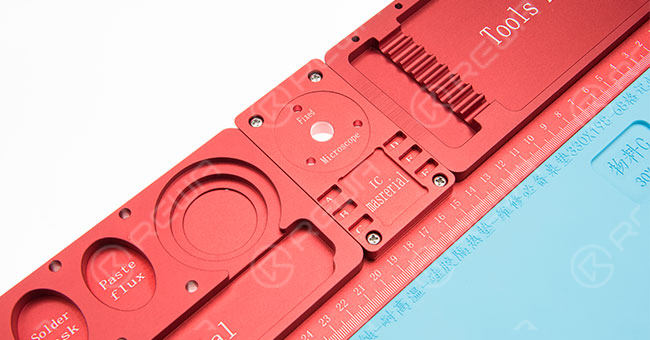 8. The platform can also be recombined as you like to fit different needs.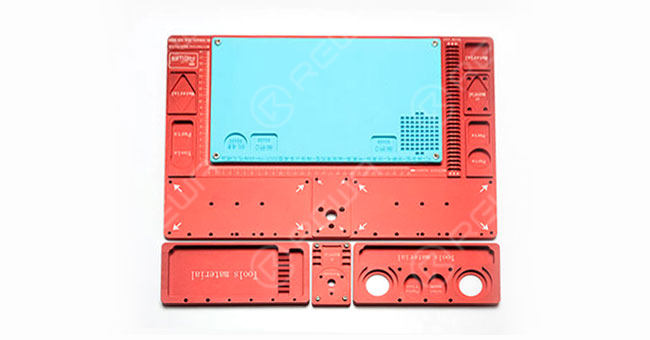 Conclusion
Are you tired of the dirty, disorder and bad condition in your repair shop? Is it driving you mad every time you spend lots of time clearing up all kinds of repair tools, screws and other materials? The fact is that, not only does the mess got you upset, customers can also feel something uncomfortable once they figured out the condition where their sweetie phones are repaired. A clean and tidy environment may not equal professional skills, but it does have some influence. So, to attract customers and make a profit, this is the right time for you to get hold of this maintenance platform, and we are sure that it can not only help save your time but also bring you a prosperous prospect.