Apple's new AirPods Pro is finally on sale! For some people, it's much-awaited. Today we're going to give you a brief while useful introduction to this brand-new Apple product!
RELATED POST: Wireless Charging Earphones: Apple AirPods 2
As far as we can tell, there's a lot to be said for possessing AirPods Pro. Let's start with appearance and exterior design.
As we can see, AirPods Pro is a bit different from the current AirPods. The charging case of AirPods Pro is a little bit wider, but the AirPods Pro themselves are shorter. And we could also see that Apple has created a new class of in-ear headphones with three sizes of flexible silicone tips to choose from. With an internal taper, they conform to the shape of your ear, securing your AirPods Pro in place and creating a seal for noise cancellation. Moreover, the AirPods Pro are IPX4 sweat and water-resistant just like the power Beats Pro. These are all improvements over their predecessors.
But for people who feel pressure when wearing in-ears and thus taking a dislike to them, the AirPods Pro may not be a perfect option, even if Apple has designed a vent system into the new AirPods to equalize pressure on both sides of each earbud.
Okay, now let's talk about something maybe you are most concerned about -- listening experience and sound quality.
The AirPods Pro is designed to have an Active Noise Cancellation mode, which uses an outward-facing microphone and an inward-facing microphone to block out the world so that you can focus on what you are listening to, and a Transparency mode, which lets outside sound in and enables you to hear what's happening around you. And to switch between these two modes, all you have to do is press and hold the force sensor on the stem. (Noise cancellation can also be controlled from iOS Settings or through Siri voice commands). This is definitely a highlight of AirPods Pro.
As for sound quality, Apple says the AirPods Pro is equipped with Adaptive EQ, which automatically tunes music to the shape of your ear for a rich, consistent listening experience. Besides, the AirPods Pro also features Apple's H1 chip, which means you get features including hands-free "Hey Siri" as well as Audio Sharing and Announce Messages with Siri.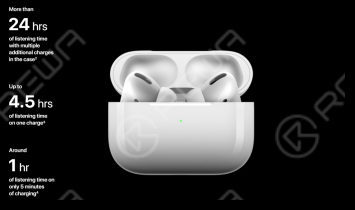 And for the battery life, AirPods Pro delivers Up to 4.5 hours of listening time with a single charge (up to 5 hours with Active Noise Cancellation and Transparency off). And the wireless charging case with Qi-certified chargers that hold multiple charges for more than 24 hours of listening time can help keep your AirPods Pro on the go. So should you buy AirPods Pro or upgrade from AirPods to AirPods Pro?
It comes down to how you like to use your AirPods. If sound quality alone is a deciding factor for you, then upgrading to or buying the AirPods Pro will feel like money well spent. If you find yourself using your AirPods primarily as a convenient way to interact with your phone, take phone calls, and be always tethered to your phone, the AirPods will do that all for you and at a much lower price.
Have you used the AirPods Pro yet? And is it an uplifting gadget for you to experience?
Please kindly leave your comments and let us know.
REWA is one of the best mobile phone replacement spare parts supplier, wholesale original cell phone repair machines/parts/tools. As well as the cell phone batteries and accessories. Welcome to inquiry if you need.
Apple iPhone replacement parts
Samsung replacement repair parts
Mobile phone refurbishing equipment/tools