Maintenance drawings are indispensable for motherboard repair. Right now, the two most frequently used maintenance drawings are ZXW and Wuxinji, which are paid bitmap software. Today we're here to introduce a free bitmap software - REFOX. Fully tested by REWA repair masters, REFOX can definitely help repair technicians in their daily repair work.
What's So Special About REFOX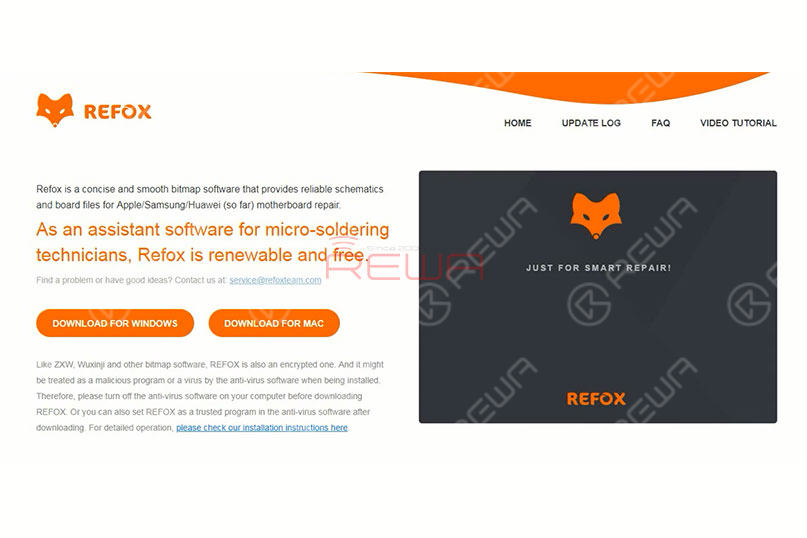 1. Mac OS Applicable
Not only can run on Windows, REFOX is also applicable to Mac OS (you need the CrossOver Mac to run Refox on your Mac).
2. Concise Interface With Complete Functionality
REFOX is practical with concise interface, simple operation, and complete functionality.
3. Double-view Supported
Repair technicians can load the bitmap and schematic synchronously to locate a certain component on the bitmap and relevant circuits of the component on the schematic at the same time.
4. Diode/Voltage Value Reference
Display pins preferentially by pin number/diode value/voltage value to quickly check the corresponding value of components.
5. Complete iPhone Drawings
Covering drawings from iPhone 5 to latest iPhone models (XR, XS and XS Max), REFOX can fully meet your maintenance needs.
6. Newly-added block diagram
Newly-added workflow block diagrams of main components can help beginners locate relevant components and circuits efficiently (the workflow block diagram is also applied in REWA logic board repair training courses).
7. Customized Appearance
You can use the built-in color template to customize the appearance of the drawing.
A Long Way To Go
1. Only drawings of popular phone brands like Apple, Samsung, and Huawei are available. There are still more brands for us to explore. 2. According to REFOX, with schematics and board files encrypted, REFOX might be treated as a malicious program by the anti-virus software or the browser when being installed. Actually, REWA has been using and testing REFOX for several months and has found no internet security risks. Still, we hope that the next version can fix the bug.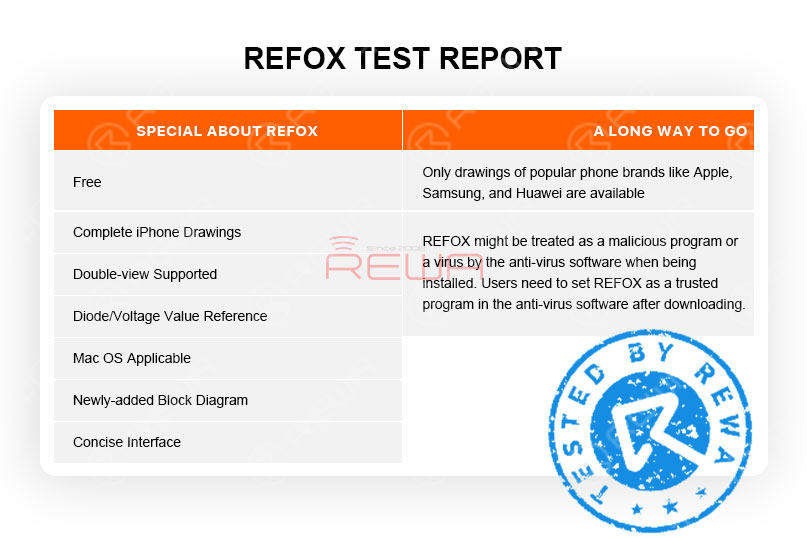 Conclusion
REFOX has now been updated to V3.25 and bugs of earlier versions have also been fixed. Although there is still room for improvement, we are proud to announce that REFOX can fully meet repair needs of repair technicians. What's more, it is completely free. Therefore, we highly recommend this bitmap software to you. For those in need, please visit www.refoxteam.com to download the software. There are also some detailed operation videos for your reference on the official website. You can also visit REWA Youtube Channel to check the detailed description of Refox.