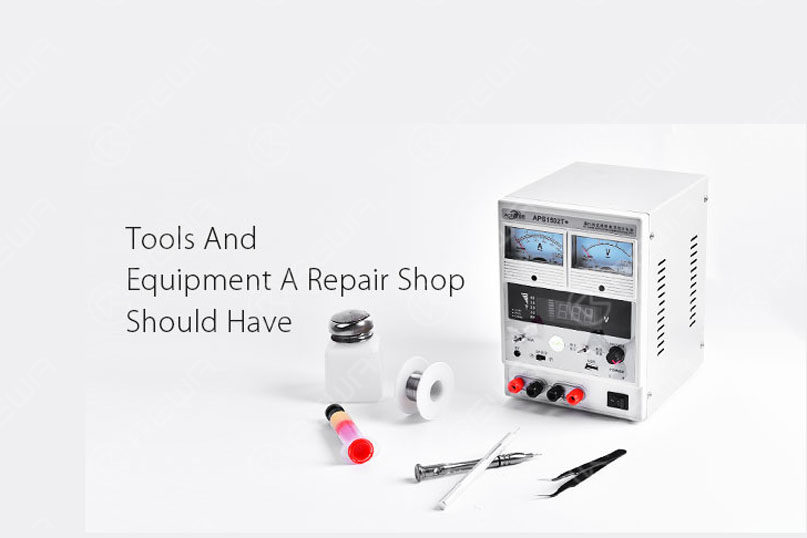 So you want to start an iPhone repair business? Whether you repair phones locally, online, for friends, family, or for profit, there are some essential tools you need for the job. Here are some essential tools that REWA highly recommended.
Disassembling Tools
Screwdriver Set: Screwdrivers are of many types. Mainly used for iPhone repairs are listed as 0.8mm pentagon, 1.5mm Phillips screwdriver, 2.5mm cross-shaped medium plate screwdriver, 2.5mm medium plate socket screwdriver and 0.6mm Y tri-point screwdriver.
Tweezers: Tools for holding and manipulating small and delicate components.
LCD Opening Pliers: This ingenious tool makes quick work for phone dismantling.
Suction Cup: To assure the safety of the touch screen when dismantling the phone, a professional vacuum suction cup with extra strength is needed.
Plastic Pry Bar: Mainly used to pry up flex cables when dismantling the phone.
Screwdriver Magnetizer/Demagnetizer: Easily magnetize or demagnetize screwdrivers.
Screw Memory Board: Organizes and magnetically secures all your screws while you work on the device.
Sculpture Knife: Used to pry up chips and scrape off glue residue.
Brush: Used to remove and clean any dirt or dust inside the phone or on the PCB.
Repairing Materials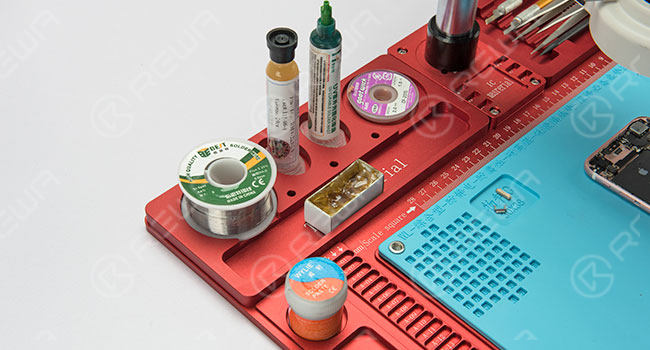 Rosin: High purity rosin soldering flux for soldering work.
Solder Wick: a braided copper wire help to remove solder from circuit boards and other electrical components.
UV Curable Solder Mask: Used in electronic components insulation and welding protection.
Solder Wire: A solder wire is used for soldering components.
Solder Paste: Used for soldering process.
Jumper Wire: It is a copper wire which is used for making jumpers from one point to another if a track is open (broken).
Aluminum Foil Paster: Used for heat protection when removing chips.
PCB Cleaner: Used for PCB cleaning.
BGA Paste Flux: It is used for heating and removal of ICs. It is applied on the edges of the IC when heating and removing them.
Miscellaneous Tools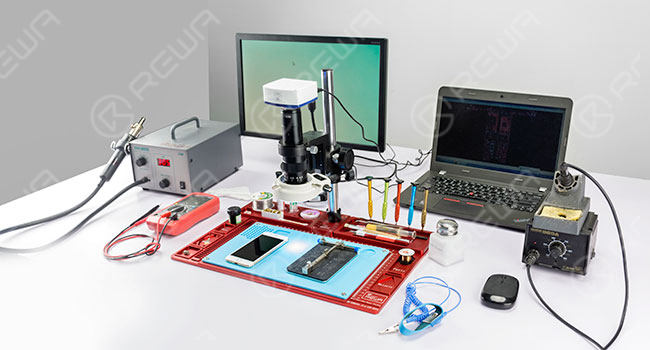 Maintenance Platform: One integrated aluminum alloy pad maintenance platform with suppliers and tools placing slot for mobile phone repair. Combined with microscope fixed base.
Hot Air Gun: Used for heating and replacing ICs (Chips) on the logic board. It is also used for removing or mounting of soldered parts and components on the PCB.
Soldering Iron: A soldering iron is used for soldering and de-soldering of the parts and components which are soldered on the PCB. It is also used for making jumpers i.e bridging of broken tracks.
PCB Holder: While working on a PCB for soldering, you will need a PCB holder so that the PCB does not move.
Handheld Magnifier: It is necessary to see all the minute components and to view the PCB clearly.
DC Power Supply For Mobile Phone Repair Test: It is used to supply power for logic board repairing and booting test.
Digital Multimeter: A multimeter is used for checking and testing of various spare parts and components. It is also used to check broken tracks on the PCB.
BGA Reballing Kit: Used for chip reballing process.
Cutting Nipper: Used for shield plate removing.
UV Dryer Lamp: Used to solidify UV curable solder mask.
Professional Equipment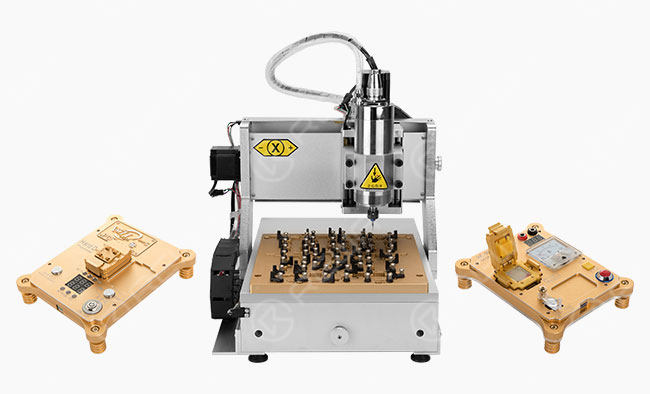 64 Bit Nand Flash Memory Chip Programmer
Used for iPhone&iPad chip reprogramming and storage upgrading. Fix iTunes error 9, 14, 4005 (for iPhone 5s/6/6 Plus/iPad 5/ipad 6/mini2/mini 3/mini4).
PCIE Nand Flash Memory Chip Programmer
Used for iPhone&iPad chip reprogramming and storage upgrading. Fix iTunes error 9, 14, 4005 (for iPhone 6s/6s Plus/SE/ iPad Pro/7/7+).
CNC Chip Grinding Machine
With the CNC chip grinding machine, iPhone&iPad chip removing can be safe and quick without damaging the logic board and nearby chips.
And more...
Stay tuned for more publications to help you along your journey.