Today we are going to introduce a new repair tool for all repair technicians - True Tone EEPROM Programmer.
Market DemandsThe True Tone option appears under Settings > Display and Brightness. When enabled, it automatically adjusts the screen's color and intensity to match the ambient light and reduce strain on the eyes.
The latest iOS 12 update did a terrific job in boosting the performance of iPhones and iPads. For the aftermarket mobile phone repairer, the iOS 12 was not so perfect. Because some users complain that the True Tone option disappeared after upgrading to iOS 12. The affected models including iPhone 8, 8 Plus, X, XS and XS Max. Many users suggest that the problem has something to do with whether the device has an OEM display, an aftermarket display, or the original display that has never been replaced.
According to this situation, REWA did a series of tests for certifying. And that's why we are going to introduce this True Tone EEPROM Programmer today. To begin with, we replaced the iPhone XS original screen with an OEM one. And the True Tone option disappeared after screen replacement, while it was back there with the original screen installed.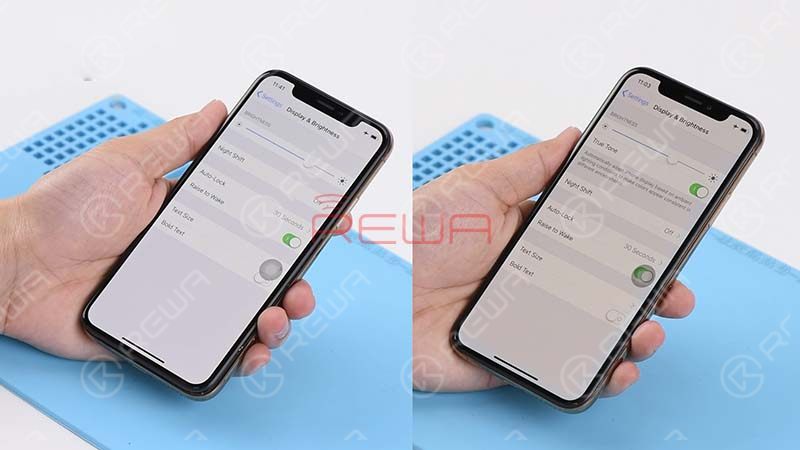 Then we programmed the OEM screen with this EEPROM tool. And installed the screen again to test. The true tone option re-appeared on the screen. This is really good news for all the repairing technicians.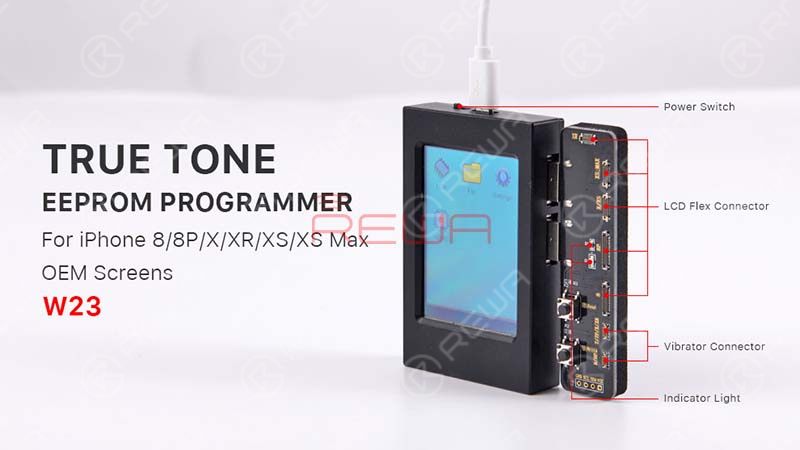 Application The practical purpose of this EEPROM programmer covers restoring of true tone, ambient light sensor, touch screen, vibrator and read/write of the data. What's more, the programmer is appropriate for iPhone models from iPhone 8 to iPhone XS MAX.The operation is very easy. Only 3 steps to go. 1. Power on the device. And choose "LCM" option on the screen. 2. Connect the original screen with the corresponding connector, and click "read " to read data from the original screen. 3. Connect the replacement screen to the corresponding connector, and click "write" to write the data into the replacement screen.
Get the true tone function back with this EEPROM programmer. And video tutorial guide is available.REWA new online store(shop.rewa.tech) is available now, you can see the price and detail of each product. Shipping fees as well. Welcome to check. Any suggestions and questions please feel free to contact sales@rewatechnology.com.
iPhone repair guides you need
Fix iPhone X touch screen not working
Fix iPhone XS Max portrait mode not working
Fix iPhone X Face ID not working