Apple recently held WWDC21 that officially released the new iOS 15 system, which announced the list of devices supported by iOS 15 new system update.
The update of iPhone iOS system is friendly to old models. The iOS 14 system update supports all devices that can be updated to iOS 13.
Before the ios 15 new features is released, insiders claim that the iOS15 system will not be compatible with the iPhone 6S, iPhone SE with A9.
Now Apple iOS15 system has been officially released and the list of supported models has been officially announced. Good news is that iOS15 system does not eliminate the old model, supporting iOS14 system iPhone that can also update to iOS15 new system.
From the official website, the iOS15 system can run the iPhone compatible with all of the previous generation of iOS14 system. iOS 15 supported devices are listed below.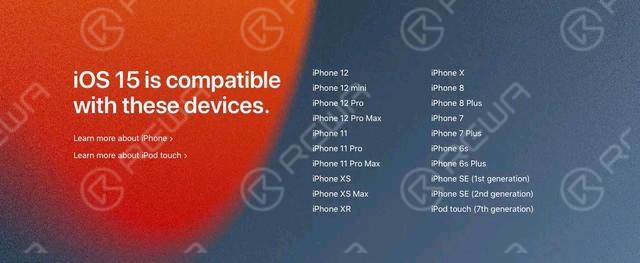 iPhone 12 Series
iPhone 11 Series
iPhone XS
iPhone XS Max
iPhone XR
iPhone X
iPhone 8
iPhone 8 Plus
iPhone 7
iPhone 7 Plus
iPhone 6S
iPhone 6S Plus
iPhone SE (first generation)
iPhone SE (second generation)
iPod Touch (seventh generation)