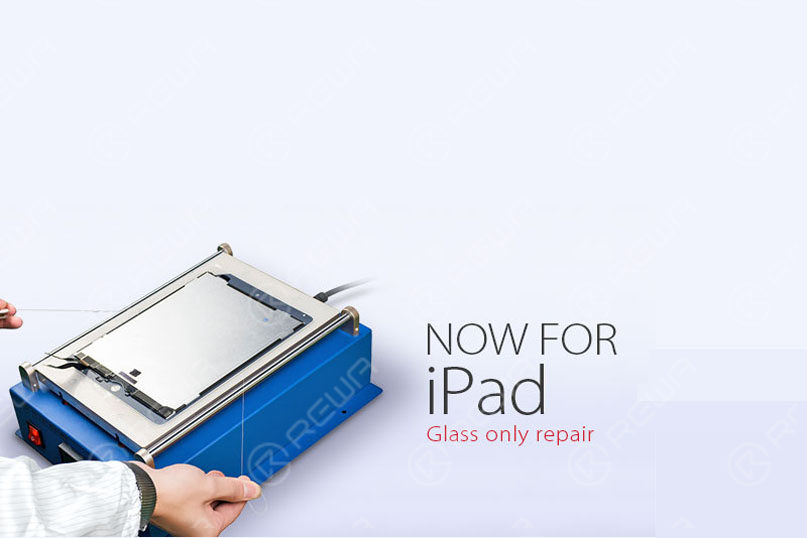 iPad Air 2 was first debuted in Oct. 2014 and it has been more than 2 years so far. If you happen to get one Apple's iPad Air 2 and it recently became the victim of an unfortunate accident, how will you deal with it? I'm afraid you'll need to cough up some serious money to get it fixed or replace it. If you're handy, however, and you can manage to source iPad spare parts at a decent price. As a repair shop, you can earn more profits by fixing iPad for your customers by following along our latest LCD refurbishing instructions.
As a matter of fact, we have already published a few articles with regard to LCD refurbishing guidance for some flagship models of Apple and Samsung phone. But as for iPad or tablet PC, it's the first time that we get involved in the iPad broken screen refurbishment. As such, iPad repair knowledge isn't readily available to the public and falls into the category of "catch as catch can". Now let's get through and take first look at the latest broken LCD refurbishing techniques and equipment .
This refurbishing process will include some of the recommended refurbishing machines of high performance and easy-to-use virtues as well as materials and tools .
Broken Screen Testing
Firstly, you need an iPad Air 2 screen with broken glass lens but properly working touch digitizer and LCD display. Install LCD to motherboard plate, then test if the display, touch functionality is OK.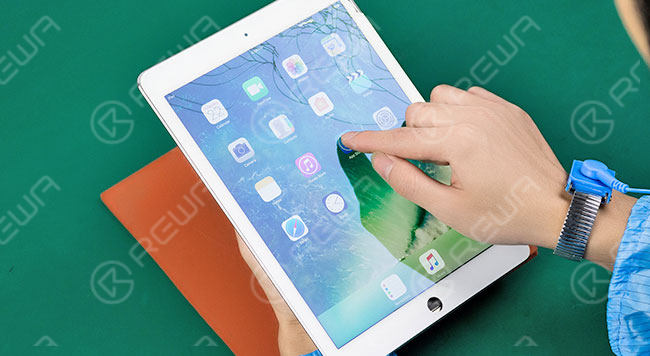 LCD Separating
In the first place, we need to stick a layer of adhesive tape on the full surface of the LCD screen. Get it heated on 13" LCD Separating Machine. Press the vacuum button, then embed the gold cutting wire into the bottom of LCD screen, pull it right and left till the glass separated.

Glue Removing
Dip some 8333 OCA Cleaner with Anti-static Glass Wiper , spread it on LCD for 1 minute. And remove the residue adhesive.
OCA Laminating and Bubble Removing
Respectively tear off the protective films on new glass lens and OCA, align them then laminate. After that, place glass lens into Glass Laminating Machine for bubble removing for 3 minutes to make sure air bubbles between OCA and glass lens completely removed.

Glass Laminating and Bubble Removing
Put the LCD into Alignment LCD Mold and clean it. Tear off another protective film on OCA glue. Then align glass lens with LCD and put it into a mold for preliminary lamination. Take out the LCD and put it into Glass Laminating Machine with a laminate cushion placed under it. You should be more careful of the placement of LCD flex cables at this moment. Place another clean glass lens onto the LCD Assembly and align them to make complete lamination. Take it out after glass laminating is done.

Retesting
Connect the LCD to the motherboard, and then test the display and touch functionality again, both are OK.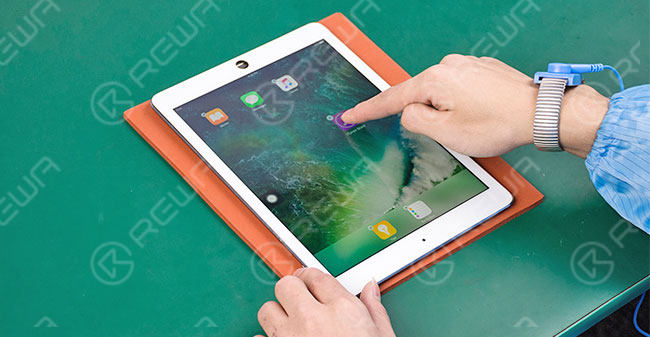 Warm Prompt: This broken screen refurbishing service for iPad series currently cover iPad mini 4, iPad Air 2 and iPad Pro.
Now is when we should call it a day. Because at this point a cracked iPad Air 2 screen is successfully refurbished. If you still have any other questions or are looking for LCD refurbish machines, materials, demo videos and technical support or on-site training, please feel free to contact us via service@rewa.tech or visit the website at shop.rewa.tech . Video Tutorial