It is wired for some people who are doing LCD refurbishing that you can not get a rather good result even you set all the things right. Moreover, some customers don't know how to use the LCD refurbishing machine to maximize the profits and minimize the damage. Why do you always have troubles with LCD refurbishing? We have tips and tricks for you.
Bezel Disassembling Tips:
A: For iPhone 6/6+/6s/6s+, Cut the 4 corners with 60W pre-heated POL Film Removing Gun. For iPhone 5/5c/5s, directly disassemble the bezel after heated. Because iPhone 6 series bezel is tighter than the iPhone 5s series.
B: Cover the screen with tape. C: Disassemble the bezel after heated.

LCD Separating Tips:
A. Separate from the bottom side of the LCD
B. For terribly cracked glass, put the glass side up and separate from the head C. Remove residual bezel adhesive by razor blade to avoid POL damage


POL Removing Tips:
A. Cut an opening with the razor blade.
B. Stop the blade when near the very end and leave a little residual of POL

Glue Removing Tips:
A. Use the brush to apply a small amount of POL adhesive cleaner, pass it along the LCD, do not circle.
B. As for the selection of POL adhesive remover, 8222 is better than LCM Glue Liquid Cleaner.
C. Remove anti-explosion glue to avoid LCD damage and air bubble.

POL/OCA Laminating Tips:
A. When adjusting control valve for various types of LCDs, please do not touch the blue contractor to protect your hand from injury.
B. Align the OCA/POL with the panel to the proper position (do not exceed the mark as shown in the picture).
C. Note the intensity should be moderate. Too much strength will cause LCD damage while too less will produce bubbles.

Silver Conductive Adhesive Static electricity is a common problem in the industry. The silver conductive paste can help you shot this trouble. However, there are still a lot of customers doubt that how come you do not add anti-static paste on the iPhone 6 series LCD? Because vast majority of the iPhone 6 series LCDs are free from this problem for its improved LCD. Tips: For iPhone 5/5c/5s, It need to be injected with silver conductive adhesive to avoid static electricity.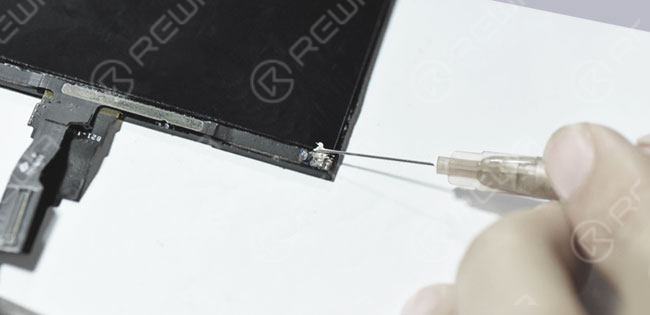 Glass Laminating Tip: Don't press the LCD after aligned in case the generation of bubbles.

acklight Replacing Tips:
A. Disassemble from one corner to another corner
B. Clear the appearance with N-hexane C. The solder joint should be full and bright.

Do not hesitate to do your own refurbish now, and above all don't forget to do some preparation beforehand. Just bearing the tips and tricks mentioned above in mind will benefit you twice the yield with half the endeavor. If you still have any questions, please feel free to contact us or leave a message at common below. For cell phone repair parts please go shop.rewa.tech . Want to order our products?
Please contact us:
PRE-SALES Skype: rewatech
Email: service@rewa.tech
AFTER-SALES Skype: support-rewatech
Email: support@rewatechnology.com
And you can also check our repair guides:
REWA Screen Repair:
REWA Motherboard Repair: