There is both OEM iPhone LCD screen and China Made ones by far on the market. The latter type of display mainly manufactured by two full-fledged LCD panel vendors which are JDF and LT. Let's have a look at the two different replacement LCD screens from the aspect of Appearance and Function after our stress testing.
Appearance
1) Size, Thickness and Weight
By measuring up with the micrometer, we can easily find that JDF made screen is thicker than the OEM one and LT because a plastic layer has been added to the phone glass lens. Below is the specific data with regard to the LCD assembly weight, LCD assembly thickness, home button size and cell phone front glass thickness.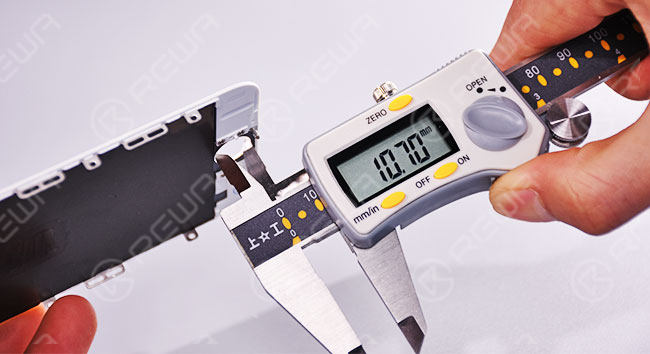 Manufacturer OEM JDF LT Weight of the whole screen 31.40g±0.02 35.10g±0.02 34.50g±0.02 Home button size 10.7mm±0.02 10.84mm±0.04 10.72mm±0.04 Thickness of the whole screen 2mm±0.02 2.39mm±0.04 2.37mm±0.04 Thickness of the glass lens 0.8mm±0.04 0.67mm±0.04 (plastic layer 0.19) 0.53mm±0.04
2) Flex Cable
OEM, JDF and LT LCD display and digitizer touch screen flex cables are different in length and textures.

OEM JDF LT
3) LCD's Appearance
When leaning at 15 degrees, you'll see digitizer touch screen textures both on the LT and JDF LCDs. OEM: None JDF: Strip LT: diagonal lines and light spot.

OEM JDF LT
4) Structure
Compared with OEM LCD screen, both JDF and LT screens use G+G touch screen display technology. The only difference is that JDF's touch screen digitizer stick together with LCD (similar to iPhone 4/4s), While the LT is coherent with outer glass lens Below is the specification of their different manufacturing techniques.
LT JDF Manufacturer OEM JDF LT structure (technique) in-cell G+G: Glass+(touch+LCD) G+G: (Glass+touch)+LCD
Function
1) 3-Proofs
The OEM screen has the characteristics of waterproof, alcohol-proof and n-hexane-proof, while JDF and LT do not.

OEM JDF LT
2) Installation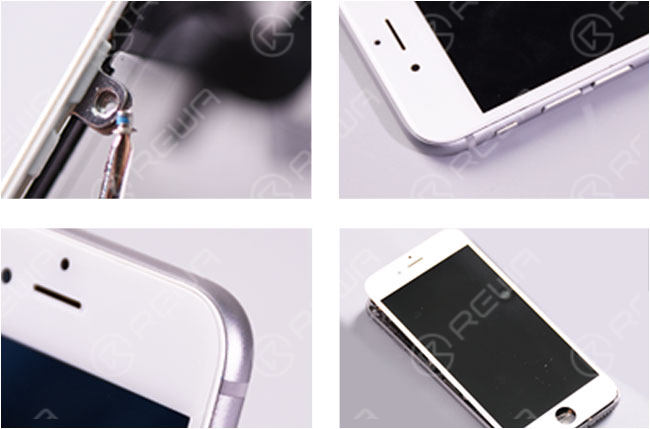 * JDF and LT come with unconformable LCD supporting bezel frame. * JFD and LT's screen cannot fit together perfectly in the installation. There is a gap between the LCD touch screen assembly and the body. LT is more serious than JDF in this problem. * For some JDF screens, if you first connect the LCD flex cable to the logic board then try to power on the phone, the screen can not light properly; if you start up the phone first then connect the flex ribbon cable, it can display normally.
3) Display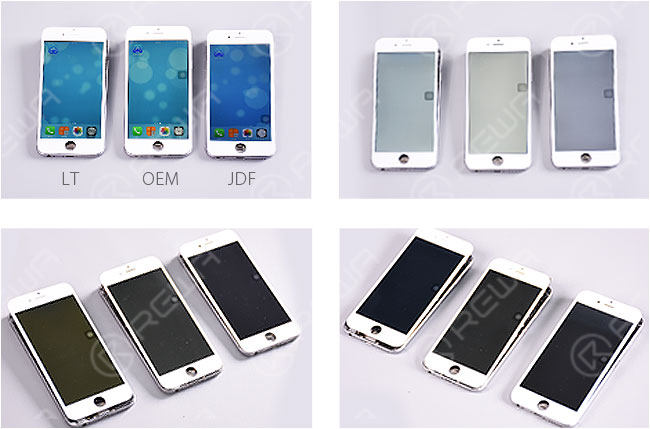 Clear color difference. The LCD display color of the JDF, LT and OEM LCD differs greatly. For LT and JDF, you can see obvious color changes from different angles. While the OEM screen always keeps the same color.


* Some JDF and LT screens have issues of backlight leakage and shadow. * Installed with the OEM Metal LCD Back Plate, some of the JDF's screens will have a large area of backlight leakage in the LCD display area, because of the asymmetrical bezel frame and the LCD thickness. 4) Touch Functionality Both JDF and LT screens have possible issues of touch insensitive and screen splash. At the aging test, some screens will be more serious when the temperature reaches 35℃ above.

Through a series of testing and analysis, REWA suggests that the new China-made iPhone 6 screens are unstable and can not up to our inspection standard at present . We will keep watching and testing until these problems are properly improved. If you are looking for cost-effective screens, please contact us and any concerns or questions will be warmly welcome. Want to order our products? Please contact us:
PRE-SALES Skype: rewatech Email: service@rewa.tech
AFTER-SALES Skype: support-rewatech Email: support@rewatechnology.com
And you can also check our repair guides:
REWA Screen Repair:
Samsung Galaxy S7 edge glass replacement ,
iPhone 7 touch screen not working ,
iPad Air Touch Screen Partially Unresponsive Repair ,
iPhone X Screen Refurbishing – Glass Only Repair ,
iPhone 8 Broken LCD Screen Refurbishing,
REWA Motherboard Repair:
How to fix water damaged iPhone 6 ,