Among popular smartphone screens, OLED is different from LCD, the well-known representative OLED is Samsung SUPER AMOLED. It is with brilliant sharp colors, but it seems so fragile as you accidentally drop your phone on the ground, you will probably get a shattered screen.
To fix this headache Samsung Galaxy glass replacement, it is very difficult even for repair stores. Refer to iFixit guide, Samsung Galaxy S7 edge Repairability Score is 3 out of 10 (10 is easiest to repair). Because the S7 edge phone and screen use tons of adhesive to attach the screen, glass lens and the frame, meaning when anyone breaks one of them all three need to be replaced. Replacing the glass only is a big challenge even for professionals.
Today, REWA Lab is bringing the success to the curved OLED Glass only repair, aiming to make the repairing of the cracked screen clear and easier for the professional repairman. Below are the detailed instructions for Samsung Galaxy S7 edge screen repair.
Cracked Screen Testing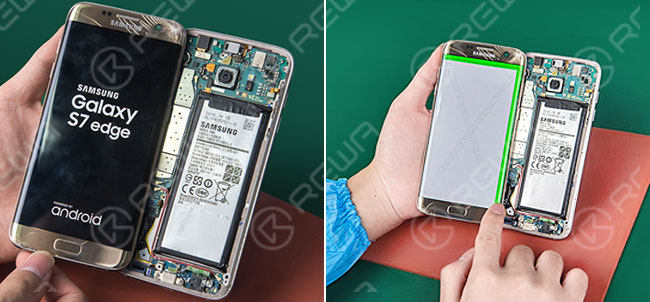 Make sure the display and touch functions both work well on the Samsung Galaxy S7 edge glass-cracked screen.
Frame Separating
Firstly, we need to remove the Samsung Galaxy S7 edge screen and the case from the middle frame of the phone. Use Pry Piece, 530 cleaner, and Heat Platform to separate the LCD and frame preliminarily, then separate it completely with Frame Separator.
OLED Separating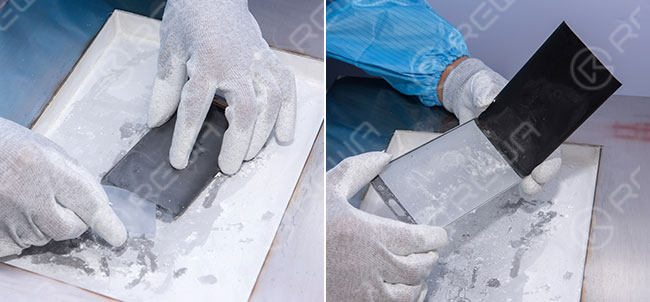 Samsung Super AMOLED screen separating is different from iPhone screen repair, here we use Frozen Separator to disable the glue and a plastic Pry Piece to help. Put screen into Frozen Separator, freezing 30s, then separate the OLED from the glass.
Glue Removing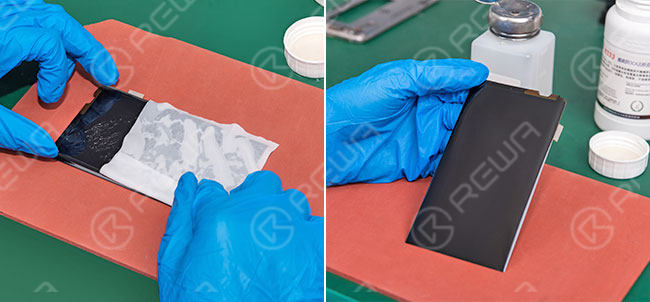 With the help of 8333 removers and N-hexane, clean the glue residue on the OLED.
OCA Laminating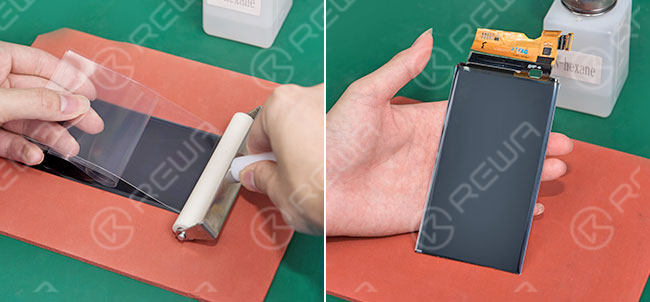 Use a Manual OCA Film Laminating Roller to laminate OCA sheet onto OLED.
Bubble Removing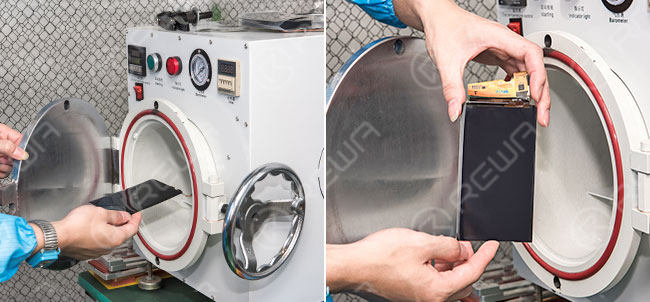 Put it into Bubble Removing Machine for 15 minutes. Make sure the OCA is bubble free on OLED.
Glass Laminating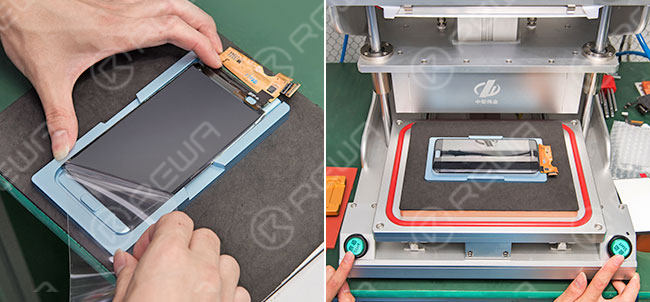 Align the front glass with OLED, then laminate the glass and OLED with help of Vacuum Glass Laminating Machine.
Bubble Removing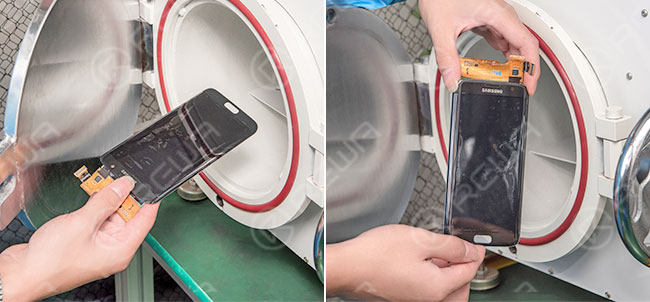 Put it into Bubble Removing Machine again for 15 minutes. Make it bubble free after glass laminated.
Repaired Screen Testing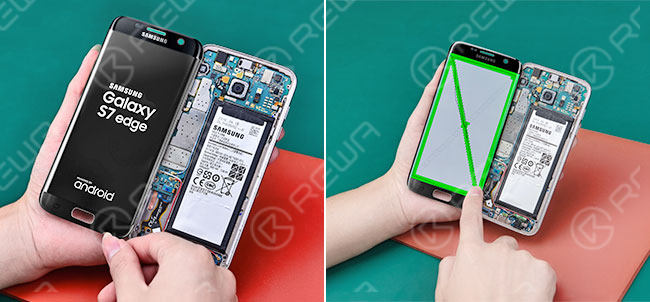 Make a complete test of the repaired screen display performance, touch functions, all testings are good.
Conclusion
This post aims to provide very detailed instructions Glass screen only replacement of Samsung Galaxy S7 edge. Hopefully, it could be useful to repair shop professionals who occupy professional tools and skills. Meanwhile, REWA Lab provides the screen repair services as well as the repair training for your business and interests. By the way, we have released Samsung Galaxy S8 speaker sound not working repair guide, if you have similar trouble, you can have a check.
Watch the detailed guide video here
Repair Tools and materials list in the Guide
Back Cover Separator
Vacuum Glass Laminating Machine
Anti-static Pry Bar
Manual OCA Film Laminating Roller
S7 edge LCD Screen Laminating and Positioning Alignment Mold
Rubber Mat for Laminator Machine
For more details and latest price, please contact us:
PRE-SALES
Skype: rewatech
Email: sales@rewatechnology.com
AFTER-SALES
Skype: support-rewatech
Email: support@rewatechnology.com
Recommend for you:
How to Fix Samsung Galaxy S8 Plus Not Charging?
How to Fix Samsung Galaxy S6 edge+ Turns On With Black Screen
Expert Service – Samsung Chip Level Logic Board Repair