After we post Samsung Galaxy S7 edge Glass Screen Replacement Guide, I often heard many people said their Samsung Galaxy S8 no speaker sound. So we released this guide to solve this problem.
When your Samsung Galaxy S8 or Galaxy S8 Plus no speaker sound or audio, it will be a frustrating issue, your smartphone will become an electronic reader. So what should you do? First, you need to know what happened on your phone, there are also three common problems such as your Samsung Galaxy rings but speaker won't work for other applications; you might not hear any sound with music, apps as well as calls or the Samsung Galaxy S8 gets stuck in the headphone mode.
So how to fix No Sound Or Speaker on Samsung Galaxy S8? Follow the steps below one at a time and you should be able to fix the issue with your phone.
1. Your Samsung Galaxy S8 might have the Silent/Vibrate mode enabled.
This is a funny thing when you are anxious about your S8 no speak sound. When you found your Samsung Galaxy S8 audio not working, the first step you need check your volume case. You can check this by using the drop-down menu using your fingers to slide down the screen from the top. Press the volume key and when the volume slider appears on-screen, tap on the small down arrow at the end of the slider to see all the volume controls for Media, Ringtone, Notifications and System. Go ahead and turn all the sound settings up, turn it to Loud Mode.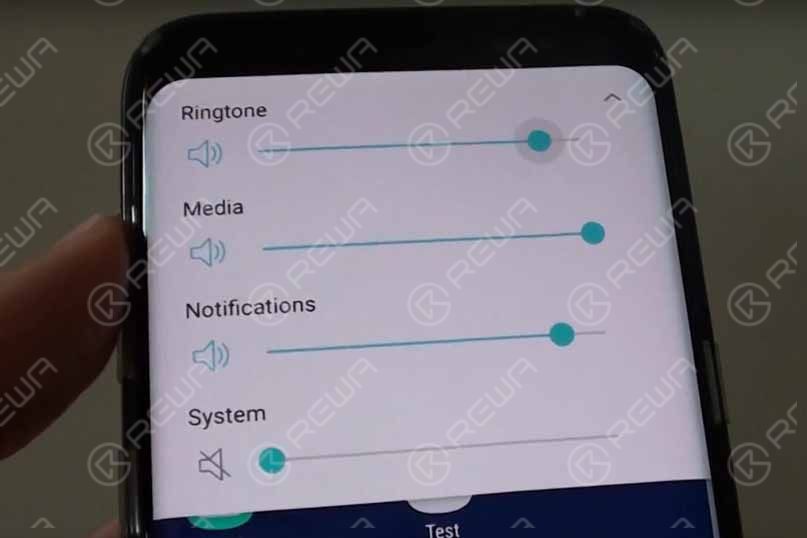 2. The headphone jack may be blocked
If the step 1 can't solve this question, the headphone jack may be blocked, you can clean your headphone jack and speaker grill to make sure there is no lint, dust and dirt which can prevent you from getting any sound. Any dust, dirt or grime blocking the charging port can result in a poor connection which might eventually lead to sound and charging issues.

3. Close the Bluetooth
If your Galaxy S8 smartphone to other devices via Bluetooth. Ghost connections still remain even after aborting a Bluetooth connection. These ghost connection sound issues when you try to play back a sound file. You can fix this issue by simply turning off the Bluetooth toggle from the Bluetooth settings.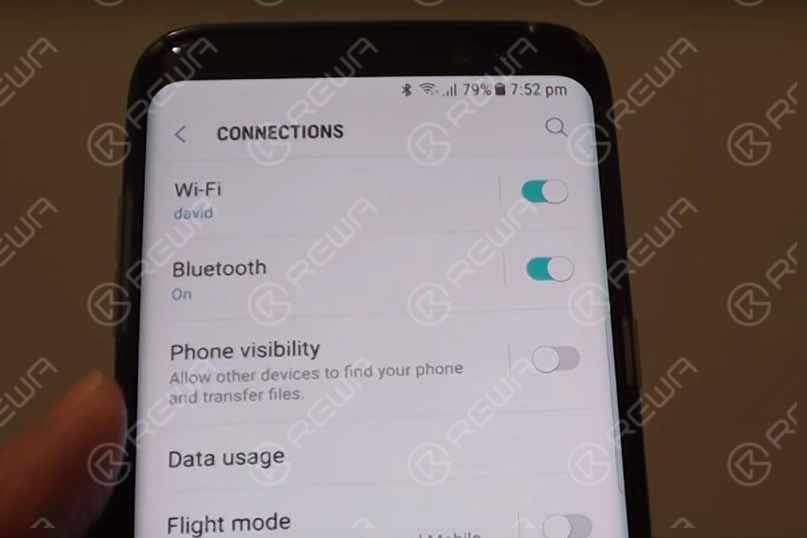 4. Restart your phone
Use the power button options to restart your Samsung Galaxy S8 or Galaxy S8 Plus. Select the option to restart the device which should hopefully get rid of any glitches that are resulting in the sound issues.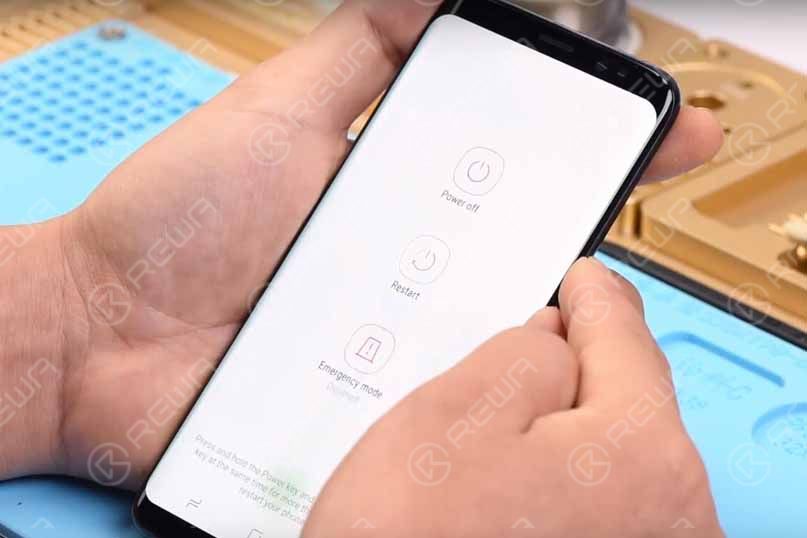 5. Software update
Check to ensure that you have the latest software update on your Galaxy smartphone. You can do this by following the directions below;
Settings > About device > Software update > Check for updates.
If there is a new update, download it. Different carriers release updates at different times.
6. Factory reset
If all else fails backup your phone and do a reset. Go to settings, General management, Reset and then factory data reset. Factory reset is the last option that can resolve all kind of issue including the S8 sound problems. So head towards Settings > Backup & reset> Factory data reset > Erase all data. Wait for few seconds as this will take a few minutes to erase everything from the device after which you are required to set up your Galaxy S8 from scratch.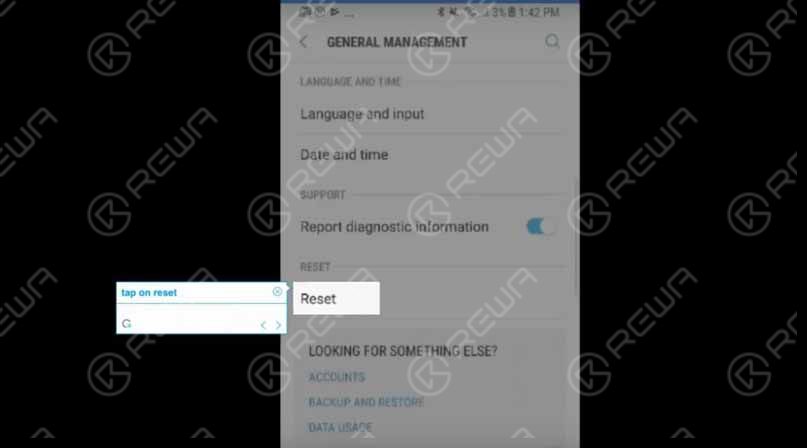 7. Turn on 'Prevent USB audio routing'
Enable the developer option in your Galaxy S8 by going to Settings> About device and tap the build number seven times. When the developer option is enabled, head to Developer option and scroll down to get the Media option. There you will notice an option 'Prevent USB audio routing'. Turn this option on by toggling the switch. This method has worked for many. So, you too can try this out if it becomes helpful for you to solve the audio issue.
8. Boot in safe mode
Turn off the device first Next, press Power button for few seconds till you notice Samsung logo on the screen. Release the power key then and hold down the Volume down button till the phone completes restarting and safe mode appears at the bottom left corner of the screen.
If the audio issue is not noticed in safe mode then a third party app is the main culprit. Uninstall third-party apps on by one until the problem is solved. Our suggestion is to start with the apps you installed recently, right before the issue occurred.
So, these are the methods to resolve the Samsung Galaxy S8 audio issues. You can try them out, but if nothing works, the possible situation is that your speaker is broken in which case you will need to have it changed or replaced. You need to read the next solution: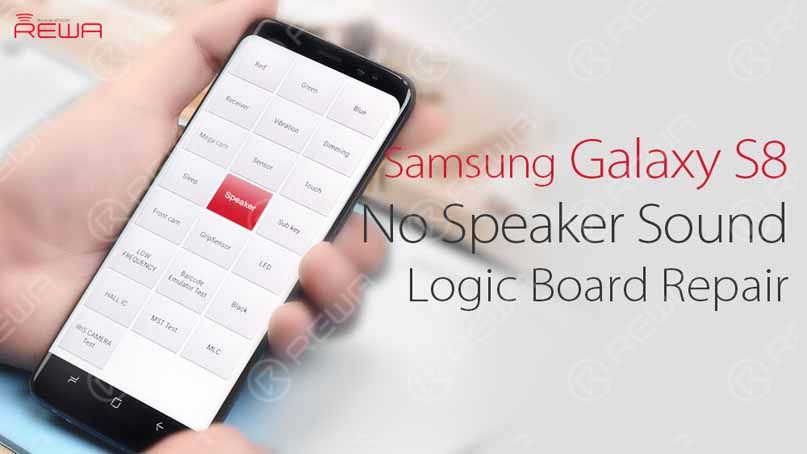 Samsung Galaxy S8 No Speaker Sound Logic Board Repair
Usually, Damage of the speaker or malfunction of the speaker circuit can result in this issue. We need to confirm whether the speaker is in a normal status or not first. If yes, then continue to run diode mode measurement of the speaker contacts. And we can relate the fault to audio amplifier IC with the measured value of one contact being abnormal, At last, we complete the repairing work by replacing a new audio amplifier IC. Next watch our video guide:
When we get a No Speaker Sound Samsung Galaxy S8, we need to check it first. Turn on the phone and open the Dialer app, key in '*#0*#' to access the diagnostic menu, and tap on the 'Speaker' button, we found there is no audio output of the phone. Now we are sure the Samsung Galaxy S8 no speak sound, so we need do the next steps.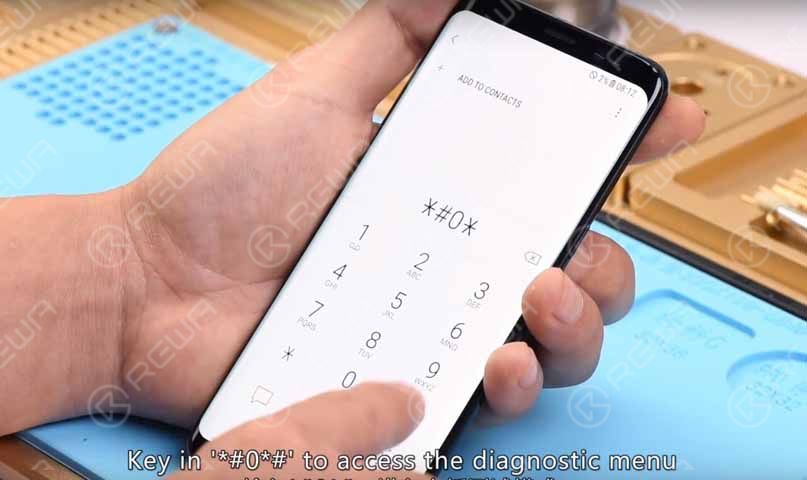 Step 1: Check if the speaker is in a normal status; disassemble the phone and take out the speaker, measure resistance of the speaker, we found the measured value is normal, So the fault might be related to the relevant circuit of the speaker;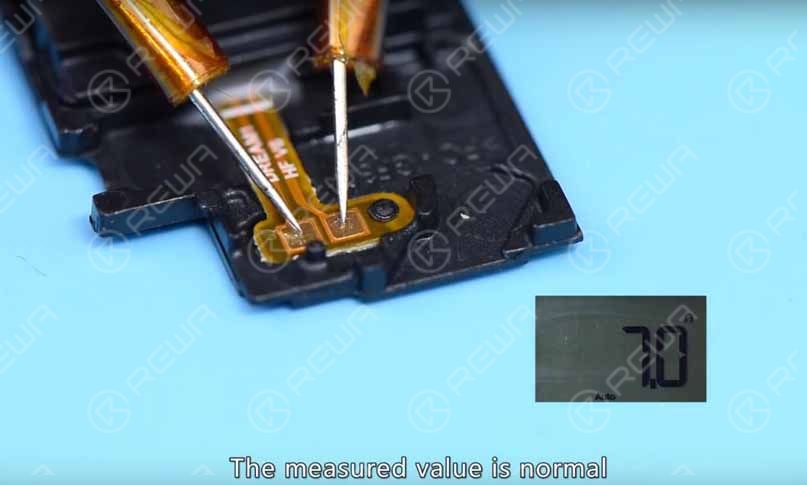 Step 2: Take out the logic board, put the logic board under the Microscope, check if speaker contacts and components around have been damaged or loosed. The result shows all going well;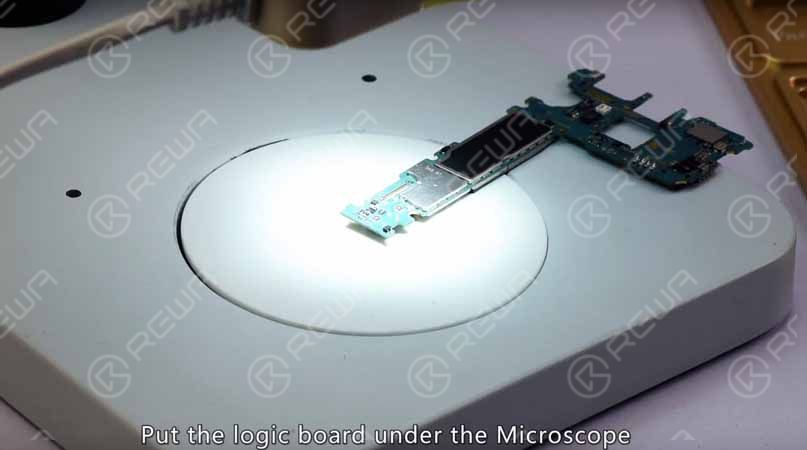 Step 3: Switch the Multimeter to diode mode, measure two contacts of the speaker,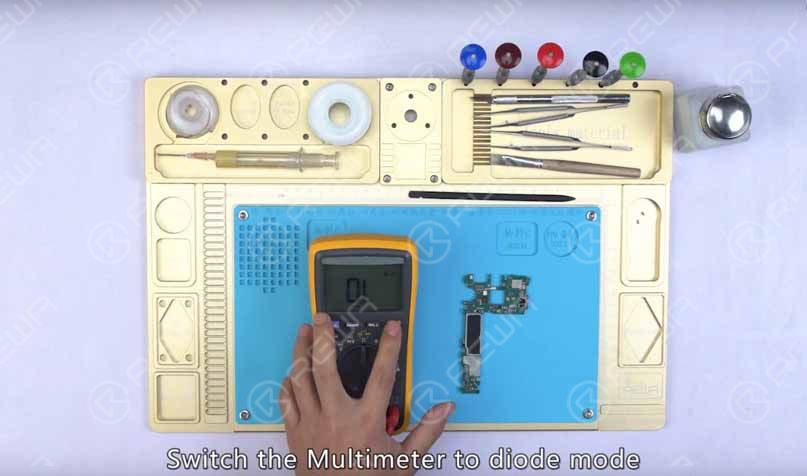 The measured value of one contact is 502, which is abnormal The other contact 802, which is normal Since the two contacts are connected with audio amplifier IC via inductor
Step 4:
Our next move is to check the audio amplifier IC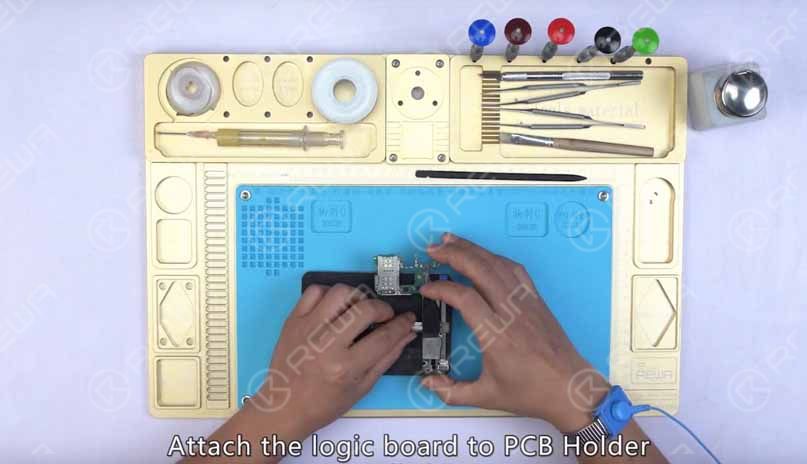 Attach the logic board to PCB Holder, apply some BGA Paste Flux to the audio amplifier IC, heat with Hot Air Gun at 330℃, air gear 2; and detach the audio amplifier IC from the logic board, then clean bonding pad with rosin wrapped Solder Wick.Once done, clean with PCB Cleaner, run diode mode measurement of Pin E5 and Pin E6 on the pad, check whether the internal circuit has been short-circuited.
Result: No short-circuited condition
We can confirm now that the fault is related to audio amplifier IC, and we need to replace with a new IC.
Step 5: Replace with a new IC.( watch the video to get detail )
Apply some BGA Paste Flux to the bonding pad
Align the new IC to the right place
Solder with Hot Air Gun at 330℃
Once done, clean with PCB Cleaner
Step 6:
Run diode mode measurement of the two speaker contacts, the measured value is normal, assemble the phone.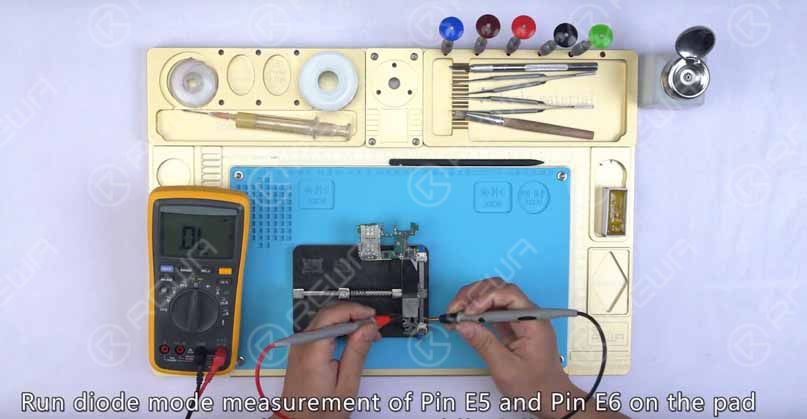 Test:
Turn on the phone and open the Dialer app, key in '*#0*#' to access the diagnostic menu, tap on the 'Speaker' button, and we can find the audio output of the phone is back to normal.
For Samsung spare parts, you can visit REWA online shop .
For cell phone repair videos, please visit REWA YouTube Channel .
And for those who wanna learn more about cell phone repair, visit REWA Academy .
You can also click the course link below to know more!
iPhone X Series Logic Board Repair Course
iPhone Logic Board Repair Foundation Course
iPhone Logic Board Repair Handwork Course
iPhone Logic Board Repair Work Flow & Troubleshooting Course
iPhone Logic Board Repair Cases Course
Cell Phone Broken Screen Refurbishment Course
iPhone Motherboard Repair Course Complete Package
iPhone Face ID Not Working Repair Further Reading:
Why Face ID Can Be So Easily Damaged And Hardly Repaired?
How To Fix iPhone X Face ID Not Working
iPhone XS Max Portrait Mode Not Working Troubleshooting
iPhone XS Max Hack – Single Card to Physical Dual SIM Card
iPhone 8/8 Plus/ X Ambient Light Sensor Issues
REWA has dedicated itself to the cell phone repair industry for over a decade. The extensive experience and acute market insight allow us to deal with problems related to our customers' repair business effectively. In addition, REWA offers more than just tiny components. We also offer plenty of repair tools needed by repair shops at great prices. What's more, you can also visit our online shop for cell phone replacement parts .
or contact us:
PRE-SALES
Skype: rewatech
Email: service@rewa.tech
AFTER-SALES
Skype: support-rewatech
Email: support@rewatechnology.com
You can also read:
How to Fix Samsung Galaxy S8 Plus Not Charging?
How to Fix Samsung S7 edge Won't Turn on – Logic Board Solution
How to Fix Samsung Galaxy S6 edge+ Turns On With Black Screen