Apple continued to grow overall MacBook market-share during recent years as a most leading Windows PC maker. According to the latest data, the MacBook now accounts for nearly 10 percent of all PCs currently in use. Meanwhile, the market for repairing these devices has also grown rapidly over the years. However, one can hardly get access to MacBook repair training courses due to lack of repairing engineers and schools. That's why we carried out this MacBook training project to help you stand out among your competitors and double your profit.
Course Description:
The courses are designed to help new and experienced technicians master all levels of MacBook repairs and walk away with the knowledge and practical skills to immediately use in their business.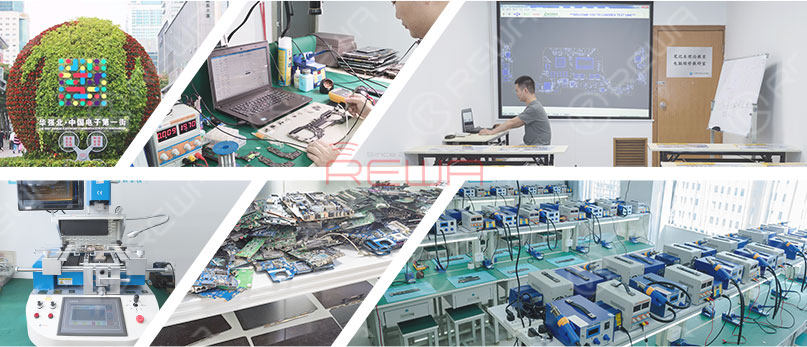 Course Schedule:
Day 1: MacBook models and its logic board configuration introduction. Screen disassembly and assembly. MacBook spare parts replacement.
Day 2: MacBook Pro A1502 booting sequence introduction. SMC chip disassembling and assembling. Liquid damaged IC repair.
Day 3: MacBook A1706, A1707 booting sequence introduction. BGA chip replacement with BGA Rework Station.
Day 4: MacBook Air, MacBook Pro RAM & SDRAM upgrade. Change the graphics card settings on A1286. Chip soldering & desoldering. Logic board circuit Modification.
Day 5: MacBook Air & Pro all models firmware unlocking and PIN code unlocking. On-site MacBook troubleshooting. Oscilloscope usage.
Day 6: Common issues and fixes of MacBook. MacBook troubleshooting by current measurement.
Course Duration:
21st, January 2019 - 26th, January 2019 (6 days in total)
Training Location:
REWA MacBook Lab, Shenzhen, China
Training fee: Only USD1499
This price includes courses, materials, translation. Costs like food, accommodation and transportation are not included.
Application Deadline:
Jan. 12th, 2018 (Limited seats available.)
Anybody intends to improve on their MacBook repair skills can take this course. The course will equip you with the advanced on how to repair the MacBook. Apply and get started on becoming MacBook Repair Expert today.
Everything is ready, just your actionsENROLL NOWAny further questions please feel free to contact us at: training@rewatechnology.com
MacBook Logic Board Repair Special Cases:
MacBook Air Won't Turn On – Logic Board Troubleshooting
How To Unlock MacBook By Removing EFI Password?
5 Minutes Done – MacBook No Display Repair
How To Upgrade RAM On MacBook Air?