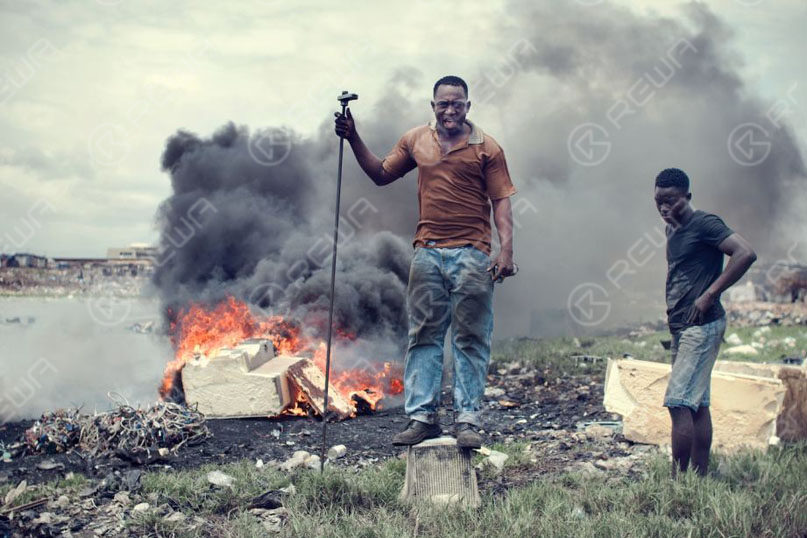 "Welcome to hell""The world's largest e-waste dump""Inside the hellscape where our computers go to die"

Have you ever heard these headlines?Well, welcome to the World's biggest e-waste dump - the Agbogbloshie e-waste dump in Accra in Ghana."Agbogbloshie is a nickname of a commercial district on the Korle Lagoon of the Odaw River, near the center of Accra, Ghana. Near the slum called "Old Fadama", the Agbogbloshie site became known as a destination for locally generated automobile and electronic scrap collected from across the City of Accra. It was alleged to be at the center of a legal and illegal exportation network for the environmental dumping of electronic waste from industrialized nations."
There are official data showing that over 40 million tonnes of electronic waste is produced worldwide every year. Most of them come from developed countries like the United States and the European Union. However, developing countries like China are also producing an ever-increasing amount with the rapid development of their economy. Refrigerators, air conditioning units, computers, television sets, mobile phones, ovens, lamps, toasters, etc. are destined to create a flood of dangerous "e-waste".
Here is the problem. The fast-growing amount of e-waste comes with a low rate of recycling. Only a small part of e-waste is recycled with methods that are efficient and environmentally safe. Apart from this small part of the recyclable electronic waste, think about all other familiar electric and electronic devices you can see and use in your daily life. Where they would be after broken and being discarded?
Our previous blog REWA's Journey to Guiyu Town – China's Biggest E-Waste Processing Centre has introduced China's biggest e-waste processing center and how REWA helped with REWA Green Fund. Well, situations can be more than tough this time with Agbogbloshie e-waste dump, the world's biggest dumping ground for electronic waste.
As an important center for receiving, re-using, recovering and disposing of electronic waste, Accra not only is the location of an enormous and heavily polluted electronic waste dumpsite, but also hosts a thriving second-hand market, a sprawling network of repair shops, and a range of activities which attempt to tap into the full potential of electronic waste. A place comes with both opportunities and problems.
There are huge health problems and environmental problems by e-waste not being treated and managed in a proper way, like being disposed of in communal dump sites. In Agbogbloshie e-waste dump, there are people, especially children, collecting electronic waste and dismantling electronic waste, and trying to extract materials in informal operations, like backyard burning. Which also creates problems for the environment and human health. As we all know, there are precious metals contained in e-waste, like gold and copper and other rare earth metals that can be recycled and recovered. On the one hand, the metals contained in them are very dangerous, on the other, some are very valuable.
So what shall we do?Electronic firms should stop using hazardous chemicals so that their products can be recycled in a safer and easier way. Companies and manufacturers need to take full responsibility for their products and recall the old and second-hand products for re-use, recycling and proper disposal. For users, take repair as your first solution to deal with a broken device and return your unmaintainable device to the manufacturer if possible.
With the belief of 'making the best use of everything and giving full scope to the talents', REWA devotes to maximizing the value of both electronics and high-caliber personnel. For this e-waste issue, we offer the LCD Buyback Program and Third-Party Refurbish Service for help. Join us and we can build a better world together!