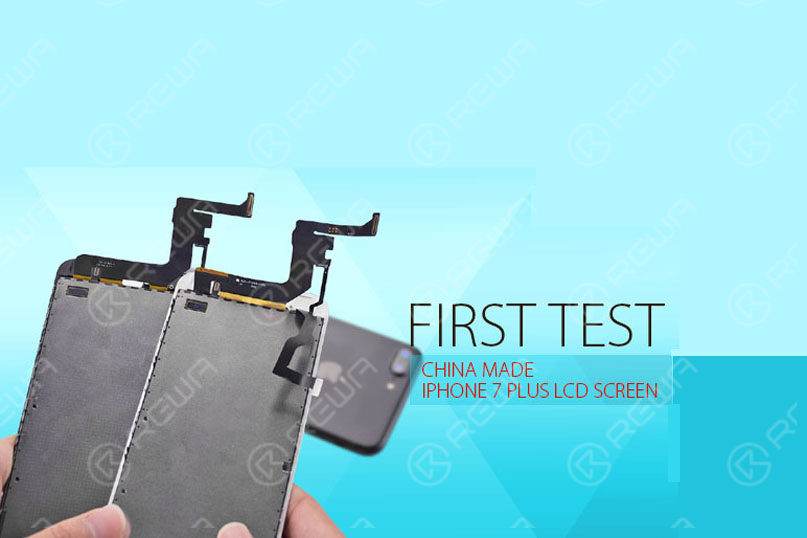 Breaking news coming from the electronics aftermarket industry hub in China, the first Chinese iPhone 7 Plus LCD replacement sample is finally here... Since LCD screen is the most important replacement part in Apple iPhone screen repair business, REWA tested the sample at once. All the test procedures were analyzed in detail with opinions proposed. Now, let's take a close look at first China-made iPhone 7 Plus LCD Screen sample with professional testing report below.
Flex Cables
Flex cables are not the same in textures, and China made sample comes with an extra IC on it.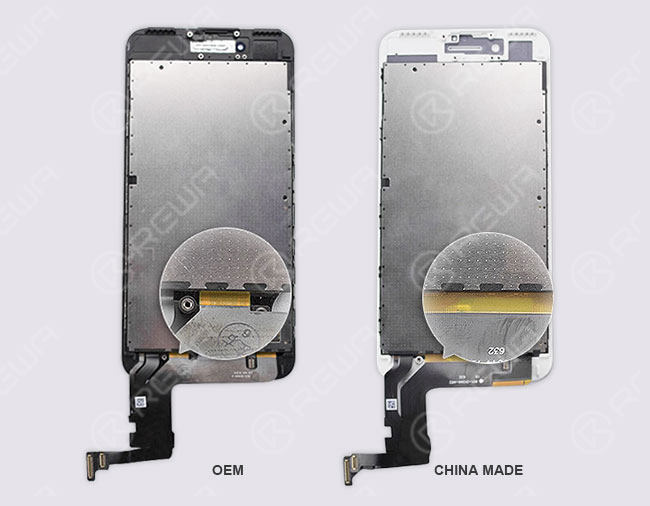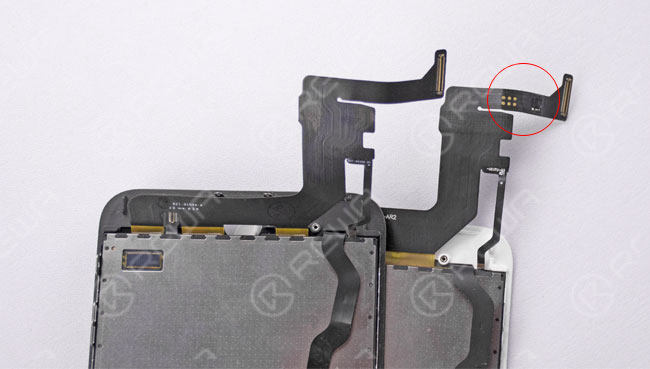 Dimensions
Length and width are close to OEM, but the thickness is higher than OEM.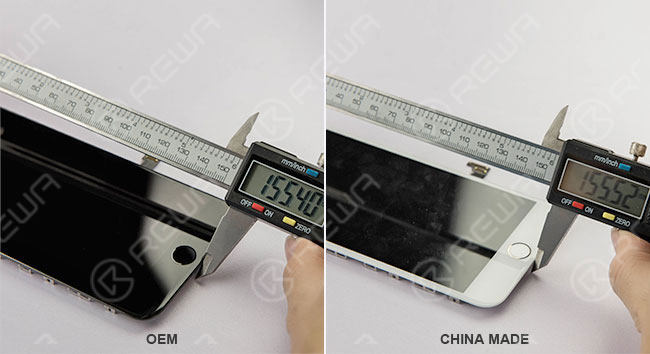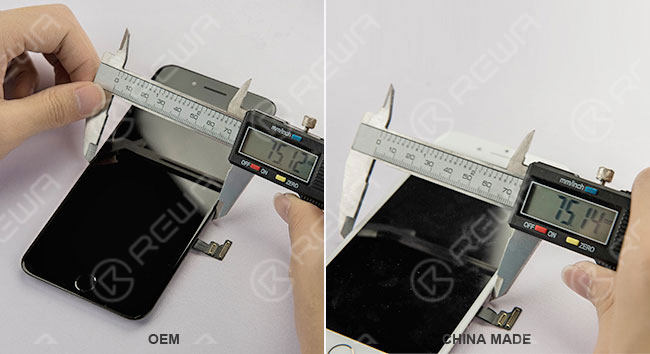 Home Button Installation
Install an OEM home button on the sample screen, it fits the home button well.
Installation Test
Install the sample screen to iPhone 7 Plus housing, it fits very well.
Display Testing
Display color is good, color temperature is relatively higher than OEM. ( tested on the home screen, white image, grey image, left screen is OEM, right screen is China made )
Hydrophobic Effect Comparison
Dip some liquid drops on the glass, China made screen sample has a less hydrophobic effect, the below liquid are water, alcohol, and N-hexane.
Aging Test
The screen sample performs well in aging test, ensuring the stability in use.
Teardown and Layer Structure
To analyze inside layers of the iPhone screen, we tear it down layer by layer. The sample China made screen applies G + G layer structure, there is a glass base touch layer, this also explains the thickness of the China Made iPhone 7 Plus LCD Screen sample.
Conclusion
The quality and performance is quite close to OEM and acceptable, and sure it will come with an impressive lower price offer. The display panel is China made with G + G layer structure, and the screen is assembled with a third-party driver IC solution. That is the information for the first China Made iPhone 7 Plus LCD Screen and please stay in the loop with future market insider updates by REWA .
MOBILE iPHONE LCD REPAIR SOLUTION AND REPAIR SOLUTION V3.0
Based on the different level demands from iPhone repair shops to carrier level refurbishing factories, we released THREE independent solutions: Primary, Economical and Professional which cover the complete processes of broken screen recovery. To offer a hassle-free one-stop service, we have prepared detailed demo videos, on-site training, online technical support as well as a full list of qualified parts and materials. You can also check our other REWA Screen Repair training:
Fix cracked iPhone 7 screen , Samsung Galaxy S7 edge glass replacement , iPhone 7 touch screen not working , iPad Air Touch Screen Partially Unresponsive Repair , iPhone X Screen Refurbishing – Glass Only Repair , iPhone 8 Broken LCD Screen Refurbishing ;
If you want to know more about these tools, you can check out our online store shop.rewa.tech . Any questions please feel free to contact us:
PRE-SALES Skype : rewatech Email : service@rewa.tech
AFTER-SALES Skype : support-rewatech Email : support@rewatechnology.com