Customer says, his iPhone 6 began to scroll pages, open up Apps on its own, and the screen flickers after repairing, during which the screen is replaced, as well as the touchscreen controller IC and the touchscreen processor IC. And this happens randomly.
Power on the iPhone 6 and test. The screen flickers as described. The iPhone multi-touch issue usually stems from disturbed signal or unstable power supply of touchscreen IC. Therefore, measure the power supply of PN5V7_SAGE_AVDDN, PP5V7_SAGE_AVDDH, PP5V1_GRAPE_VDDH, PP1V8_GRAPE on touchscreen controller IC and touchscreen processor IC with Oscilloscope. All normal power supply voltage.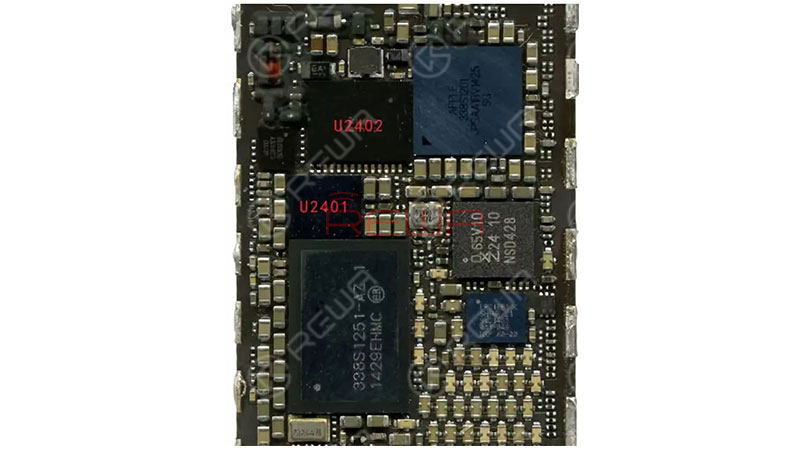 Continue to measure the diode value between touchscreen connector and U2402. Normal value again. Then we measure the diode value between the coupling capacitors of touchscreen controller U2401 and touchscreen processor U2402. It's still a normal value.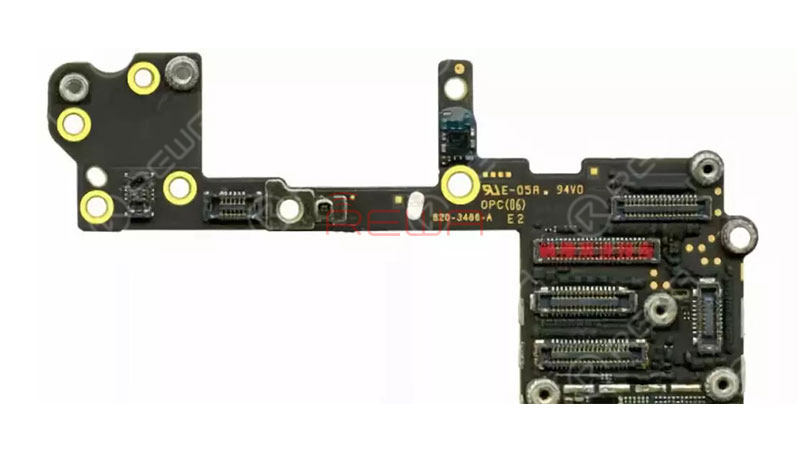 Judging by this and the description of customer, we draw a conclusion that the fault may be related to the replacement touchscreen ICs itself. According to our experiences, the touch disease caused by touchscreen controller IC will result in touch screen not working at all. While the malfunction touchscreen processor IC will only result in partially or randomly unresponsive touch. So the touch processor may be the faulty part. And we resort to replacing the touchscreen processor IC with soldering iron. To our surprise, the malfunction still exists when we test the iPhone 6 after the replacing. We guess there is only one possibility that causes the touch disease - The interference of a certain high-frequency signal. And the NFC chip next to touchscreen processor is the most probable one, for the high-frequency signals it output would interrupt the normal working conditions of touchscreen ICs.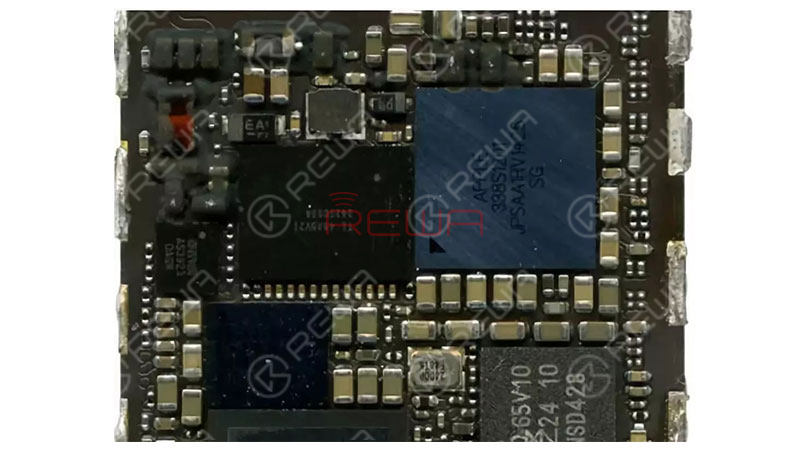 Our next step, to replace with a new NFC chip and test. And finally, fault cleared.
Conclusion:
iPhone 6/6 Plus touch issue is a widespread problem for the design fault of its logic board. This problem will result in iPhone loss of touch and combined with a strange flickering gray bar at the top of the screen. For troubleshooting, it usually needs to replace the touch controller circuits with new ones. For this repair, the touchscreen related ICs were replaced before. So the fault is located at the NFC chip. Replace with a new one, and the problem is solved. If you have further questions or other concerns with your iPhone 6 or other devices, feel free to connect with us.
REWA offers cell phone replacement parts for 10 years, our mission is providing good-quality mobile phone repair tools&parts with affordable prices. Save your money and tell you how to start a repair business, improve competitiveness - rewa iPhone logic board repair training. For wholesale/retail cell phone parts and tools: shop.rewa.tech. As for the cell phone repair training welcome to contact training@rewatechnology.com at any time.
Recommend For You:
How To Fix A Water Damaged iPhone 6
How can I recover data from dead iPhone 6S
Tips for iPhone 6s 6s Plus Screen Replacement
Tips for Troubleshooting All The iTunes Error Codes of iPhone 6/ 6 Plus