Hey Siri, how's the weather today? Hey Siri, call my girlfriend... Hey Siri, read my schedule... "It is a super useful tool to have when on the road or just simply when your hands are full." It's true definitely. However, what if Hey Siri is not working on your iPhone now? Don't worry, we have these solutions for you. Solution 1: Make sure that your device has Hey Siri turned on. Solution 2: Try to reboot your device Sometimes software glitches can occur, and a reboot can often fix problems with services that get stuck and fail to work. If Hey Siri still does not work, then there is probably something wrong inside the motherboard. Here in this blog, we will share with you a repair case about Hey Siri not working on iPhone 7 . The setup cannot be completed. Try to long press the home button for Siri, and we find that Siri works normally.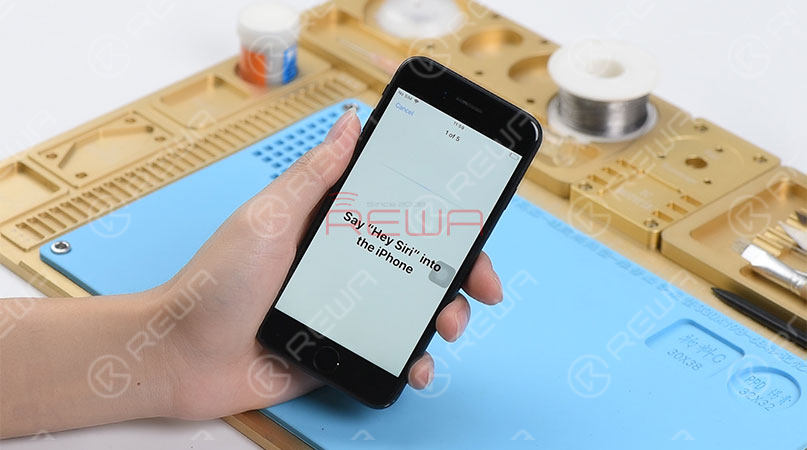 Judging by this, the fault is probably related to relevant circuits of the front facing microphone. Then we need to do iPhone motherboard repair. Let's turn off and take apart the phone first. (Please be noted that we should disconnect the battery first, then move on to other flex cables.)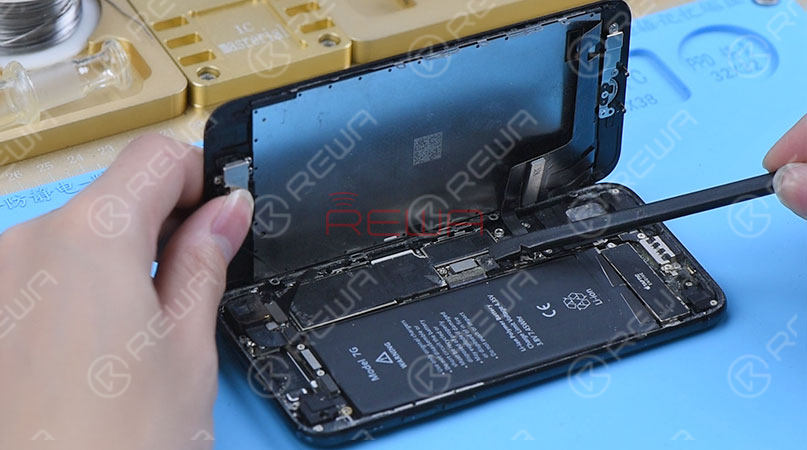 Then get the logic board attached to the PCB Holder and run diode mode measurement of the front-facing camera connector. So as to find out what the problem is. We find that the measured value of Pin 29 is OL, which is abnormal. Which also means Pin 29 relevant circuit has open-circuited.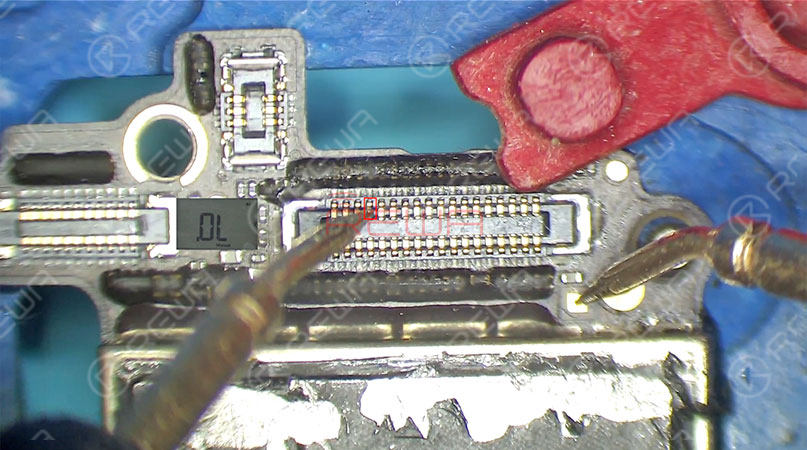 Therefore, we should check components related to the circuit on Bitmap. We can see that the circuit is formed by an inductor, a capacitor, a diode and the audio IC. Since capacitors and diodes have nothing to do with the open-circuit problem, we can check the inductor first. Then remove black adhesive on the inductor with Tweezers and then test. The measured value is normal, which also indicates that the inductor is in normal status. Judging by this, the fault is probably related to audio IC.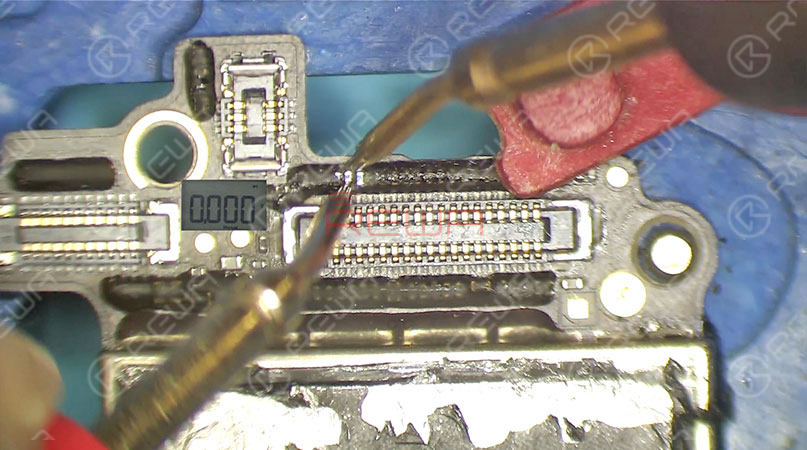 By now, we can confirm that the most possible cause for Hey Siri not working on this iPhone 7 is the audio IC. Let's try to replace it with a new audio IC and see how it works. First we need to stick High-temperature Tape on the NAND flash chip next to the audio IC, then remove audio IC with Hot Air Gun.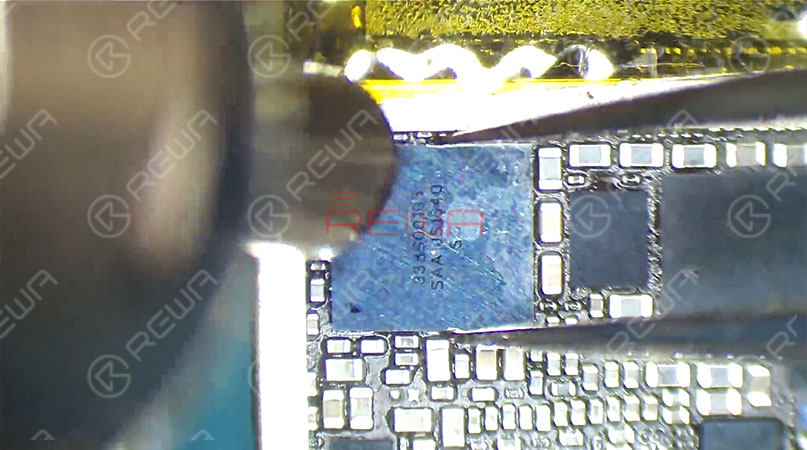 Get a new audio IC in position after audio IC detaching and pad cleaning. Solder the audio IC with Hot Air Gun afterwards. Once done, clean with PCB Cleaner.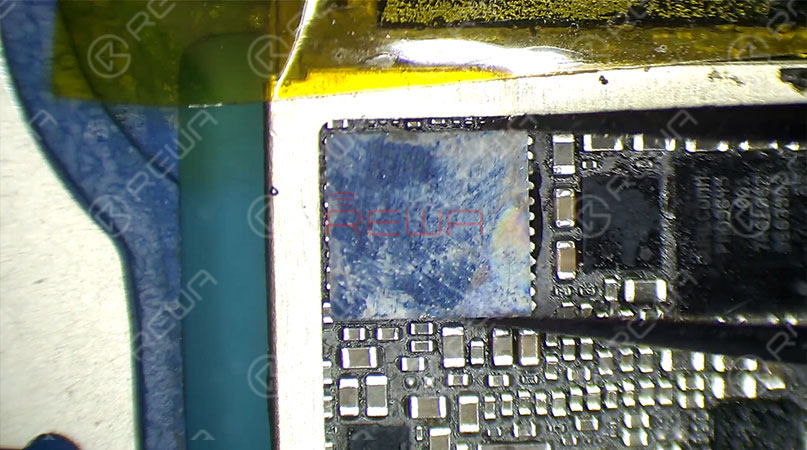 Now we need to test the logic board before assembling the phone. Get the logic board powered on with tweezers. Current reading on the ammeter is normal.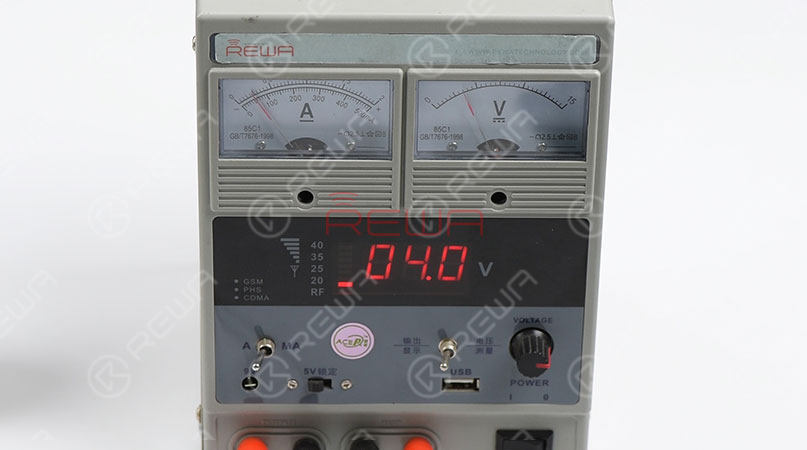 Now we can assemble the phone and test. Enable and set up 'Hey Siri' on the phone. Once completed, try to invoke Siri by muttering the words 'Hey Siri'. Siri is opening on the phone this time.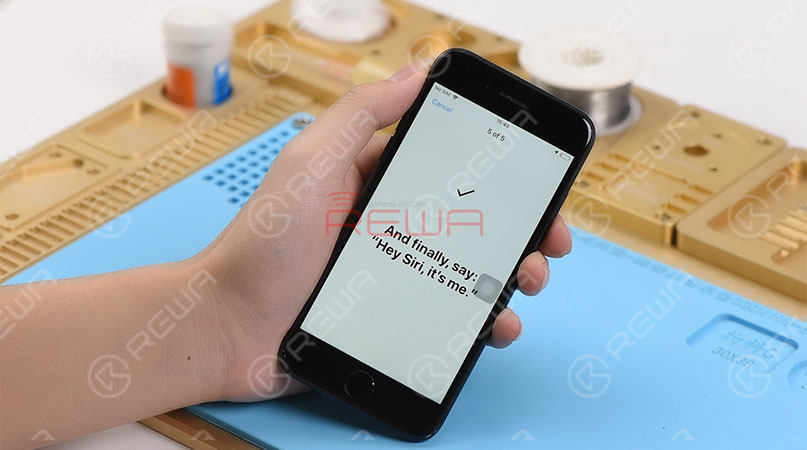 And this is our Hey Siri logic board repair today. If you have questions or are interested in iPhone logic board repair, do not hesitate to attend REWA Training Course . Tools Used:(For more iPhone parts and cell phone repair tools, please check our new online store - shop.rewa.tech , you can get the details and prices of each product, shipping fees as well, welcome to check! Any questions and suggestions please contact us anytime through our Ask Forum or sales@rewatechnology.com )
Hot Air Gun Rework Station - 990AD
Electronic Soldering Iron SMD Rework Station - 969A
PCB Holder for iPhone Motherboard Repair
iPhone/MacBook Troubleshooting
iPhone XS Max Portrait Mode Not Working Troubleshooting
Tips for Troubleshooting All The iTunes Error Codes of iPhone 6/ 6 Plus
Apple iPhone 7 Troubleshooting
MacBook Air Won't Turn On Troubleshooting
MacBook Air Won't Turn On – Logic Board Troubleshooting