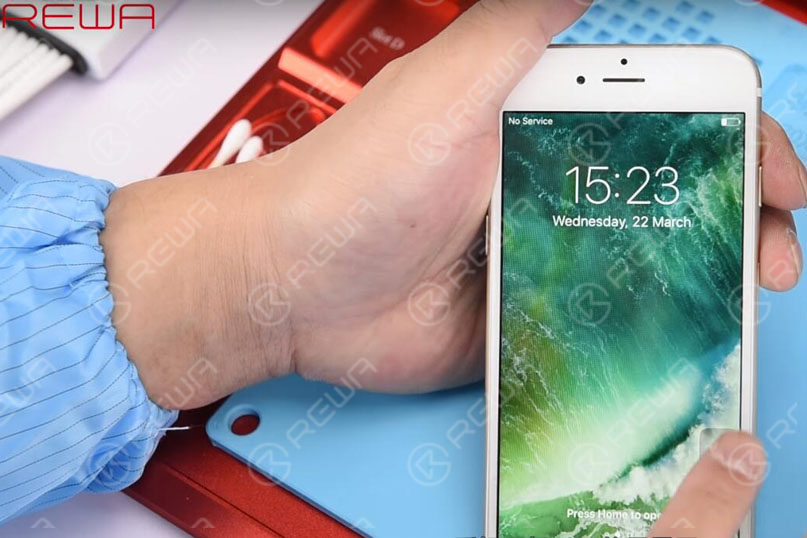 Have you come across the iPhone 6 no service issue? We all know what iPhone service means, once your iPhone says no service it means you can't use it for the basic things, such as texting, calling, and using mobile data. The only way to access the Internet is by connecting to a Wi-Fi network. But what if there is no Wi-Fi? That's when you got separated from the bustling world. In this article, REWA will present you why your iPhone 6 says no service and a professional iPhone 6 no service hardware fix solution that deals with hardware failure with the help of our newly developed maintenance drawing.
Why does my iPhone 6 says no service?
There are external and internal causes for iPhone 6 no service or searching problem, which means no one-size-fits-all solution. In most cases, the problem is tied to a faulty SIM card while others are due to some network outages, particularly cellular network. Others have also encountered the same error promptly after performing a software update. Software updates can contain some bugs that may affect device functionalities including its ability to search for cellular signals.
How to fix no service on iPhone 6?
The troubleshooting methods are useful for fix iPhone 6 keeps saying no service. (There is a simple guide for fix iPhone 6 keeps searching for signal with logic board repair.) You can find many different ways for it from Internet sites and forums these days. Remove and re-insert the SIM card, reset network settings, disable Airplane Mode, reboot your iPhone and etc.. So, here in this post, we focus on talk iPhone 6 no service hardware solution.
1. Turn on the phone, searching for the signal - no service. Spread out the dialer board, enter '*#06#' for IMEI code - no results. We can draw the preliminary cause as signal failure.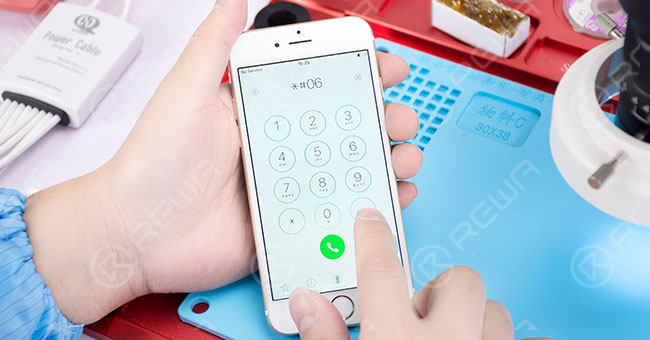 2. Go to Settings - General - About, IMEI code displays right, SIM card readable, and Modem Firmware functions normally.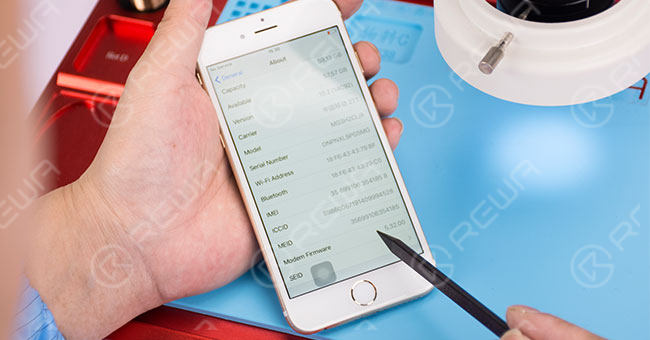 3. Disassemble the phone, detach phone battery, take down the LCD screen assembly, then take out the motherboard.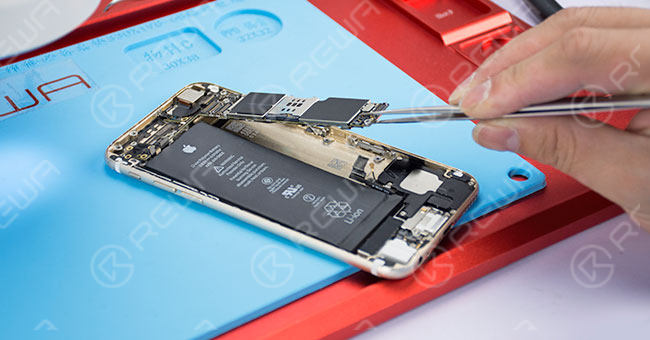 4. Remove the shield plate on motherboard with cutting nipper(Hot air gun is not recommended here because the shield plate is hard to remove and high temperature might cause damage to components nearby). Attach motherboard to PCB holder.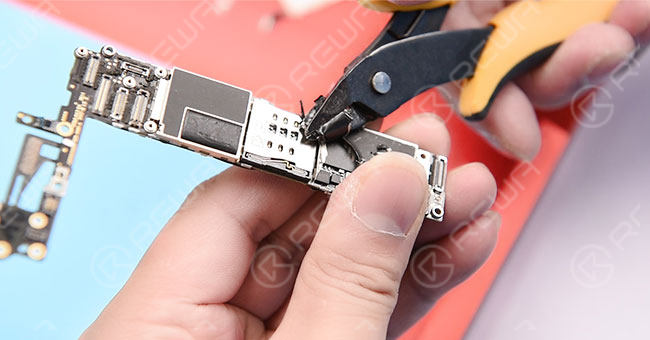 5. Apply some BGA paste flux to the baseband CPU, blow it with hot air gun at 300 degrees centigrade. After a while, take down the baseband CPU.
6. Clean the tins on the bonding pad with soldering iron, then dip some rosin with Goot wick for secondary cleaning. After that, clean it again with PCB cleaner.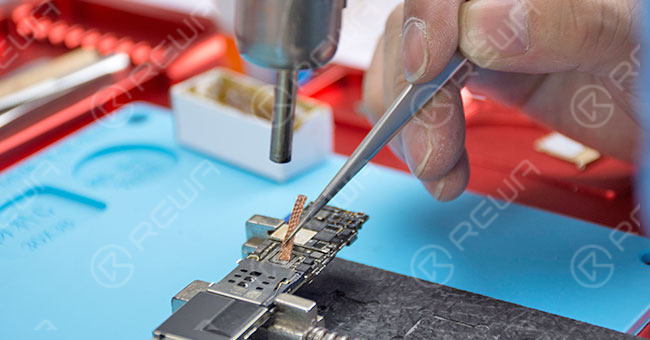 7. Roll out the maintenance drawing for reference. Point out the U1 Y1 pin as data signal failure. Test the U1 Y1 pin of the baseband CPU with digital multimeter, no resistance. We can conclude that the pin has been disconnected.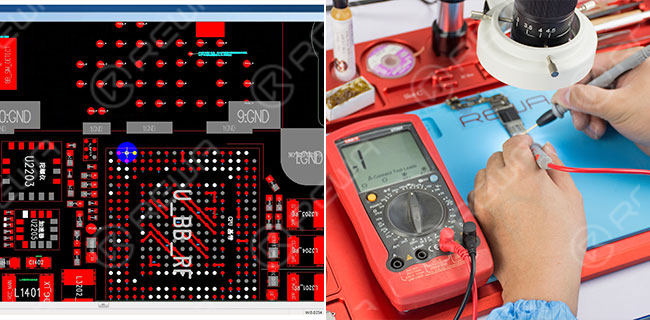 8. Scrape the insulation varnish off the U1 Y1 pin circuit, solder the tins on the circuit with soldering iron for cable welding afterwards. Then align a solder added copper wire with a diameter of 0.02 millimeter to the exposed circuit with soldering iron. Clean it with PCB cleaner.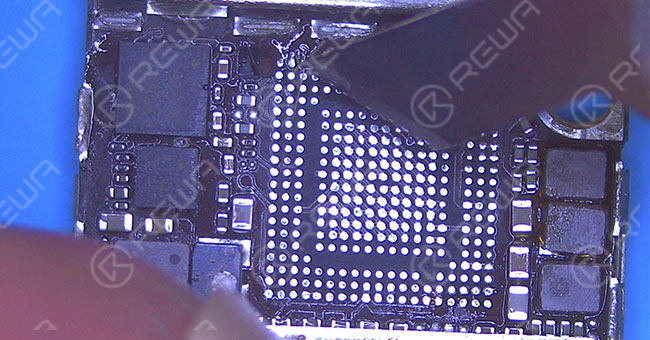 9. Apply some UV curable solder mask to the aligned copper wire, then put it under the UV dryer lamp for 10 minutes.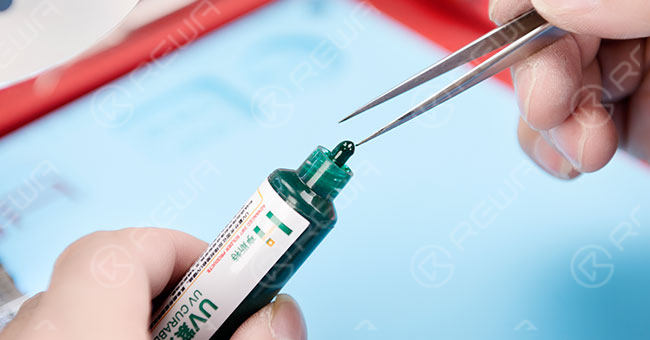 10. Apply some rosin with soldering iron for cleaning, PCB cleaner afterwards. Once finished, reball the baseband CPU with BGA reballing stencil.
11. Apply some soldering paste with BGA scraper and smear evenly on the right place. Blow it with hot air gun for formation, take it down and blow it with hot air gun again.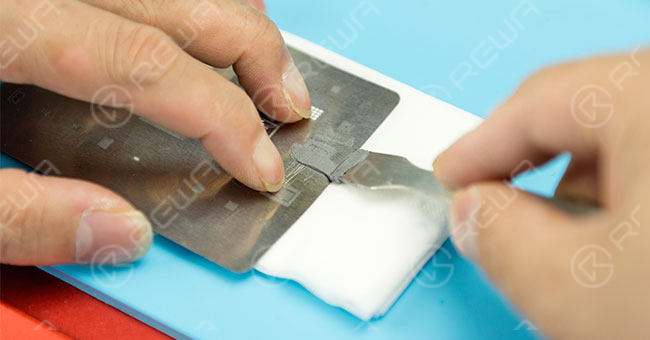 12. Apply some BGA paste flux to the bonding pad, align the CPU to the right place, blow it with hot air gun at 280 degrees centigrade.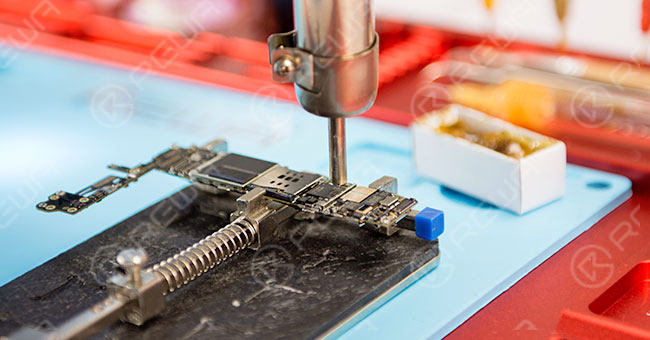 13. Once the motherboard is cooling enough, clean it with PCB cleaner. Afterward, install the motherboard to the phone and test - IMEI code functions well.
For more guidance, you can check the Chip Level Motherboard Repair Service – For iPhone & iPad,
if you want to watch the video, please go to REWA Youtube channel.
Tools Used:
Soldering Station
Want to know more about these tools, please check our Cell Phone Repair Parts, and if you want to order our products, please contact us (Click the link to get our detail contact info).
You may also read:
Fix iPhone 6 Camera Not Working