Did you ever find a certain component broken off on the motherboard? Or did you ever think there is anything wrong with the motherboard? If you are looking for a chip level iPhone motherboard repair service, you are in the right place. REWA here provides you with the following iPhone motherboard repair service and iPad motherboard repair service.
About REWA Chip Level Repair Service
What we do
REWA repair service solution is aimed at helping people by providing worldwide iPhone motherboard repair service and professional repairs using only the best quality parts at an affordable price.
Why we do F
irst of all, we respect the constantly changing technology and we care about people using it. we are passionate about our work and take pride in every repair that we do. As a company that holds the belief of making a greener planet, we repair devices to extend its life and keep good electronics out of our landfills, thus making a positive impact on mother nature.
How we do
REWA owns a team of repairing experts with technical aptitude and experiences. Most importantly, we all strive to continuously grow and improve our processes and techniques to better serve our customers.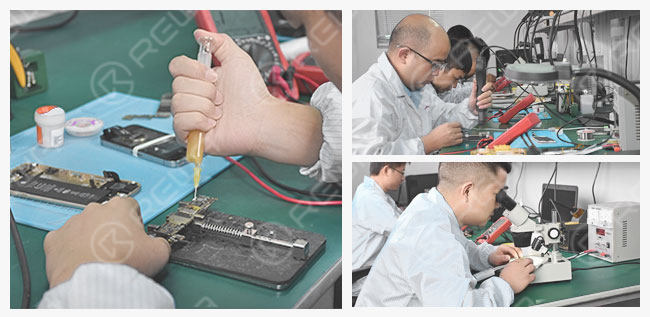 Our Promise
1. We guarantee that all the iPhone parts we use to replace are original.
2. After the repair is completed, we'll test your iPhone thoroughly(including the loudspeaker, ear speaker, microphone, front/rear facing the camera, WiFi, Bluetooth, GPS, compass, proximity sensor, charging, 3G/4G cellular data, mute/volume button and touch ID).
Quotation Instruction
REWA Repair Service specializes in all iPhone motherboard repair and iPad motherboard repair, like the following:
Quoted Price including parts cost:
- Camera chip repair: Camera not opening, or obscured
- Touchscreen chip repair: Touch screen not working or unresponsive touch
- Display chip repair: LCD doesn't display images properly, or it doesn't display at all
- Charging chip repair: The device not charging, or you have trouble connecting the device to computer or charger
- WiFi chip repair: WiFi can't open, or WiFi cannot be connected, or WiFi has no signals
- Speaker chip repair: Can't hear your audio or use your loudspeaker, sound of ear speaker fades in and out, or there is no sound at all
- Signal chip repair: Can't connect to a cellular network, can't make or receive calls
- Motherboard connector repair: Connectors on motherboard damaged - Touch ID chip repair: the touch ID flex cable cracked, but the home button is OK
- Upgrade storage: upgrade your iPhone storage to 64GB/128GB/256GB
- Fix compass problems
Quoted Price not including parts cost:
- Dead iPhone repair: the device won't turn on, or it restarts itself, or the screen unresponsive, or it turns on but with a white, red, blue or black screen
How REWA Repair Service Works
1. Inquiry: - Contact our sales and describe the problems to get the price - We will assist you on test, package and logistics
2. Sending: - State the problems of each board and remember your IMEI before sending out your motherboard - Please send REWA sales e-packing list, a picture of package and tracking number 3. Test Report: - We will fully diagnose your motherboard and send the test report to you - Offer you the final repairing price - You can choose to close or cancel the deal
4. Repair and Payment: - Send PI to you for payment and start the repair 5. Receiving: - Send back your package
Warranty
All the repair services are covered by a 1-month warranty. If the same problem re-occurs within 1 month of the original repair, we will replace the faulty part. The warranty does not cover the following items:
1. Problems caused by software(jailbreak) and viruses (if APP can't delete, mobile setting) after the reparation.
2. The warranty does not cover losses or damages due to personal negligence of improper installing motherboard and environmental conditions changing such as high pressure, lighting stroke, water damage and so on.
3. The device has no REWA warranty label.
Notice to Customers
Here are details we would like you to know before sending out:
1. MOQ: 10PCS
2. The repair process(not including delivery time) typically takes about 7 days.
3. Delivery charges are the responsibility of customers.
4. Mark the malfunctions of each device and record their IMEI before delivery.
5. If locked, please provide the password to your phone so that we can test functionality.
6. If possible, please provide iCloud account and password; Or please delete your iCloud account from your device(We do not repair a device that has no iCloud password).
7. If you require a touch ID repair service, please send the home button assembly together with the motherboard.
8. If the phone is contracted with local carriers like T-Mobile, AT&T, etc, please send a carriers' SIM card along with the board.
9. For iPhone storage upgrade, please update your device to the latest IOS operating system.
10. We are unable to repair a device that rust and corrosion on too many components.
11. If you don't accept our test report and decide to give up the repair service. You should bear the return shipping.
12. The motherboard price depends on the exact damage and amount of damage on your device. We can only offer you an estimated repair price before repair completed.
13. Not offering unlocking iCloud for customers.
Our iPhone motherboard repair & iPad motherboard repair solutions will ensure a fast, reliable repair at a fair price! By the way, welcome to watch this video on our YouTube Channel and hope it will give you a better understanding of REWA Motherboard Repair Service.
Want to order our products? Please contact us:
PRE-SALES Skype: rewatech Email: service@rewa.tech
AFTER-SALES Skype: support-rewatech Email: support@rewatechnology.com And you can also check our repair guides:
REWA Screen Repair: Fix cracked iPhone 7 screen , Samsung Galaxy S7 edge glass replacement , iPhone 7 touch screen not working , iPad Air Touch Screen Partially Unresponsive Repair , iPhone X Screen Refurbishing – Glass Only Repair , iPhone 8 Broken LCD Screen Refurbishing ;
REWA Motherboard Repair: iPhone 6 won't turn on , How to fix water damaged iPhone 6 , MacBook air memory upgrade .