In the hustle and bustle of modern life, the mobile phone has become one of the most essential elements in our daily life. These days, the most important device you can use to help with your life is smartphone. There is so much that you can do with a smartphone and so many different ways in which they play a key role in your life. Phone's role not only as a tool to connect but also to entertain, shop, record good moments and even improve your productivity. It is carrying variable and invaluable information. However, one accidental fall or complicated using conditions may cause your phone dead and the important information becomes unrecoverable. It's lucky that you've found REWA LAB , we've got you covered. Following to check.
Available Model List
iPhone 5 / 5s / 6 / 6 Plus / 6s / 6s Plus / 7 / 7 Plus / 8 / 8 Plus / X
Data Recovery Logic Board Conditions
Case 1: Logic Board Breakage
Logic board breakage due to some unexpected external force.
Case 2: Server Water Damage
Serious corrosion of extensive components caused by logic board water damage.
Case 3: Server Short-circuited
The leakage of battery fluids or faulty chargers sending an overload of current into the channels. Water damage is the most common cause of a short circuit.
Case 4: Penetrated by Screws
The logic board is accidentally penetrated by screws during the repair.
Case 5: Official Announced Dead
Apple official announced the phone is dead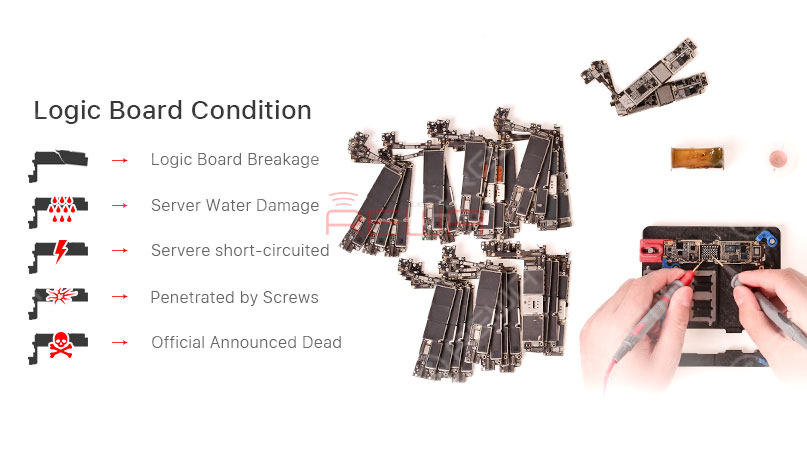 How REWA Data Recovery Service Works
1. Inquiry:
– Contact our sales and describe the problems to get the price.
– We will assist you on test, package and logistics.
1. Sending:
– Mark the problems of each board and remember your IMEI before sending out your motherboard.
– Your passcode shall be provided together.
3. Test Report:
– We will fully diagnose your motherboard and send the test report to you
– Offer you the final repairing price
– You can choose to confirm or cancel the deal
4. Repair and Payment:
– The Proforma Invoice would be sent to you and our engineer would start the recovery process.
5. Receiving:
– Your logic board would be sent back once we received the payment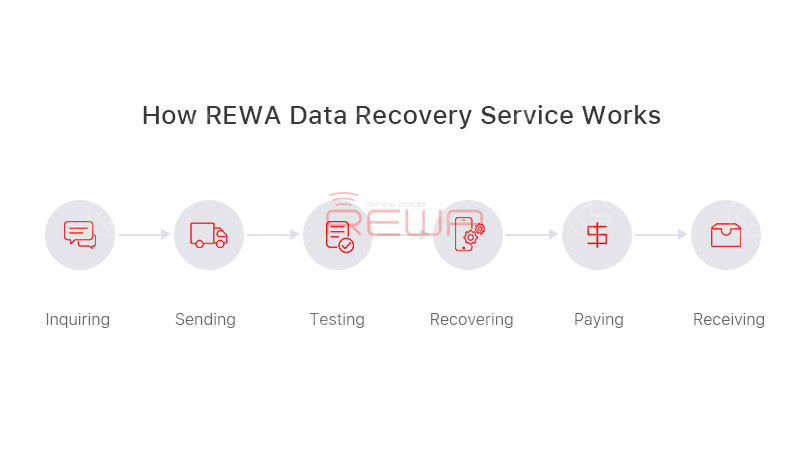 Important
The CPU, NAND flash, Base Band CPU and EPRam mustn't be damaged;
The unlock password shall be provided together;
Freight cost of shipping (to Hong Kong and back to your country) is excluded in the price;
The risk of failure need to be aware;
Data recovery process would be completed within 7 days and delivered once the payment received.
The confirmation of the final price is based on the market price in China when we receive the products.
Warranty Policy
It is advised to test the boards against you received the package, any problem please feedback to us.
3 months warranty will be provided against goods reach your side.
Our dead phone data recovery solutions will ensure a fast, reliable service repair at a fair price! Welcome to check our special cases of data recovery - 7 Steps for iPhone Data Recovery from Dead Motherboard and How can I recover data from dead iPhone 6S. Hope it will give you a better understanding of REWA dead phone data recovery. Any questions and suggestions please don't hesitate to contact service@rewa.tech
Similar Service Included:
Chip Level MacBook Logic Board Repair Service
Chip Level Motherboard Repair Service – For iPhone & iPad