You have come up with tough MacBook Repairs and don't know where to get technical support? Come to REWA for help. With Our network of repair services positioned to offer efficient logic board repair and cracked screen repair services for iPhone and iPad, we are proud to bring MacBook series into the business scope. For more details about MacBook logic board repair service, take a closer look at yourself now!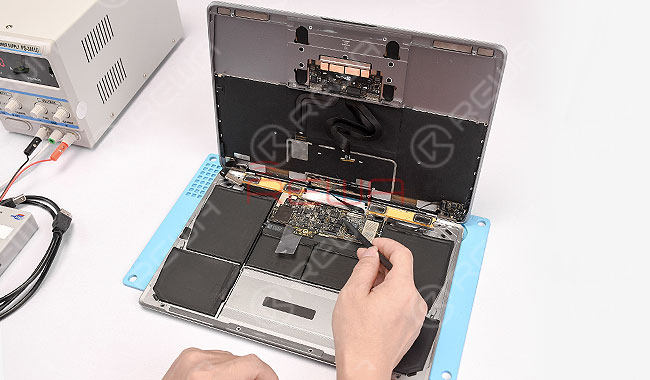 MacBook Logic Board Repair Service Includes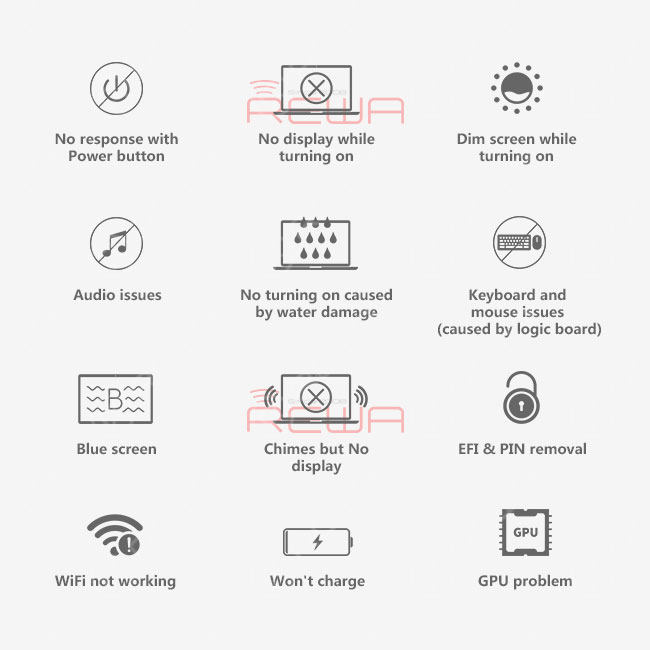 Quoted Price With Repair Materials Included
1. No response with the power button
2. No display while turning on
3. Dim screen while turning on
4. Audio issues
5. No turning on caused by water damage
6. Keyboard and mouse issues (caused by logic board)
7. Blue screen
8. Chimes but no display
9. EFI & PIN Removal
10. WiFi not working
11. Won't charge
Quoted Price Without Repair Materials Included
1. GPU issue - the price of the GPU should be borne by the client
2. LCD /Touch Panel /Keyboard /A Case /B Case /C Case /D Case replacing- the price of these MacBook parts should be borne by the client
MacBook Logic Board Repair Cases Not Covered by Our Repair Services
Case 1
Serious corrosion of extensive components caused by logic board water damage
Case 2
Physical form damages, for example, the logic board is bent, deformed or fractured by external force
How REWA MacBook Logic Board Repair Service Works
Inquiry
– Contact our sales and describe the problems to get the preliminary quoted price
– We will assist you on logic board test, package and logistics
Delivery
– State the problems of each board before sending out your logic board
– Please send REWA sales your e-packing list, picture of package and tracking number
Payment
– We will send PI to you and get started with repair once payment is completed
Logistics
– Once a repair is finished, we will send back your package
After-sale Service
All repair service is covered by a 3-month warranty. If the same problem re-occurs within 3 months of the original repair, we will replace the faulty part. For some individual cases, we will negotiate with you immediately.
The warranty does not cover the following situations:
1. A problem caused by software(jailbreak) and virus after the repairing.
2. Damages due to personal error (improper installing) and environmental changing (high pressure, lighting stroke, water damage and so on).
3. Damage of warranty label and private disassembly of device parts
Customer Notification
Here are some details we would like you to know before delivery
1. MOQ: 3PCS
2. The repair process(not including delivery time) typically takes about 7 days.(3 - 100 PCS)
If your logic board has been repaired before, the repair process might be extended;
If the quantity of logic board you sent is more than 100 PCS, then you need to negotiate with us about the repair time.
3. Delivery charges back and forth are borne by clients
4. You need to mark the malfunctions of each device and record their IMEI before delivery
5. Please provide the password for locked Macbook
6. If possible, please provide iCloud account and password;
For those who can't provide iCloud account and password, you need to provide "customer statement file" to ensure the legal source of the whole device or logic board
7. The repair price varies according to the damage statues and quantity of the logic board. The final price is based on the actual inspection and maintenance process
8. For those transferred from Hongkong because of Customs clearance, send the logic board separately, or the whole device with battery detached
REWA Promises
All the MacBook replacement materials during the maintenance are original materials
After the fault clearance, each logic board will be detected completely. Some unstable faults will be aged after being repaired.
And there are also the same solutions for iPhone and iPad, you can check this post:
Chip Level Loigc Board Repair Service – For iPhone & iPad
REWA Services:
Wholesale/Retail cell phone repair parts
iPhone chip level logic board repair
Data recovery from dead iPhone
Broken screen refurbish