Cell phones have become a necessity throughout the world. Opportunities now exist for those entrepreneurs to start their own businesses, especially for the cell phone repair shop owners and mobile phone LCD refurbishing facilities or factories.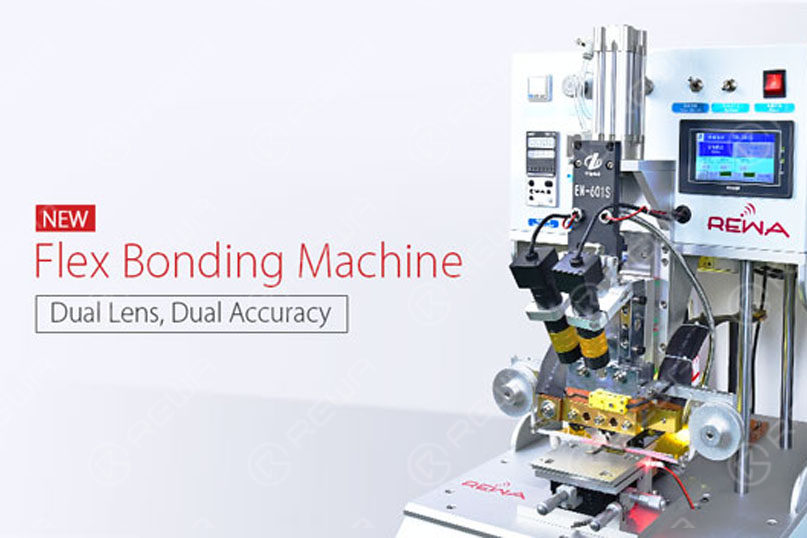 Now we'd like to introduce a new machine - Vertical Pulse LCD Flex Cable Bonding Machine designed for repairing the iPhone and Samsung LCD flex cables . Most likely, you will come across some similar and confusing names such as Hot Press Flex Cable Bonding Machine, Pulse Flex Cable Bonding Machine, LCD Flex Cable Laminating Machine, LCD Flex Cable Laminating Machine, LCD Flex Cable Repair Machine and so forth. Actually they are the same and refer to one machine.
Here is the diagram of the Pulse Flex Bonding Machine: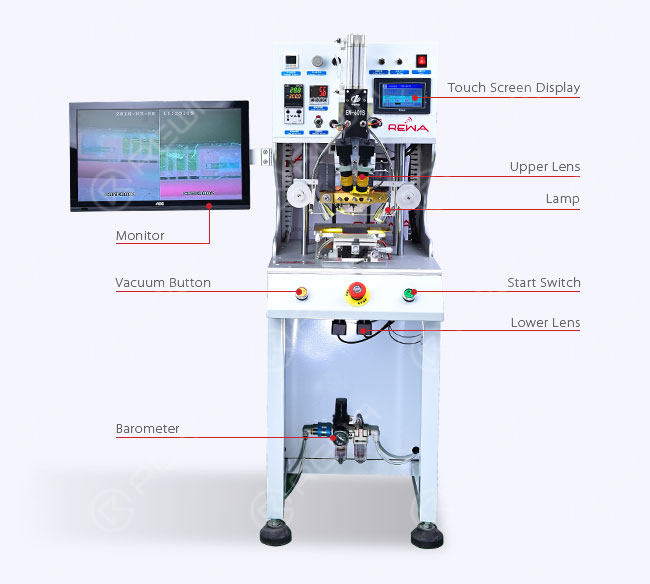 And also the product specifications are as below:
Size: 50x40x125cm
Net Weight: 80.2KG
Gross Weight:110KG
Voltage:110/220V
Output Power:1500W
Working Env.: Dust-Free Room
And then we'll show you the operation instructions which include these 6 main steps:
1. Remove the defective flex cables on Electronic Heating Platform, eliminate the adhesive residue with ACF Cleaner, then stick new ACF Adhesives on new flex cables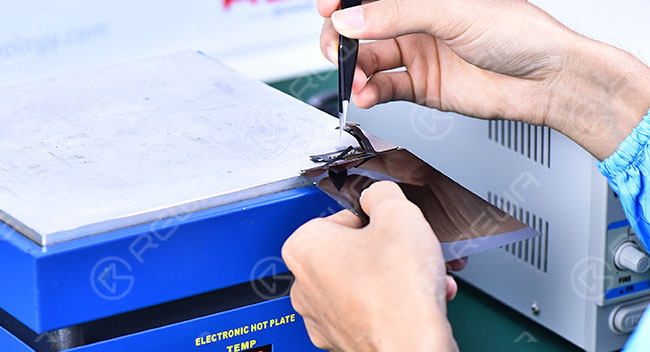 2. Put LCD on platform, adjust the Microscope Lens straight at the LCD substrate(Upper Lens), then press the Vacuum Button - LCD Platform Suction Switch 3. Align the LCD flex cable lines with substrate through Display Monitor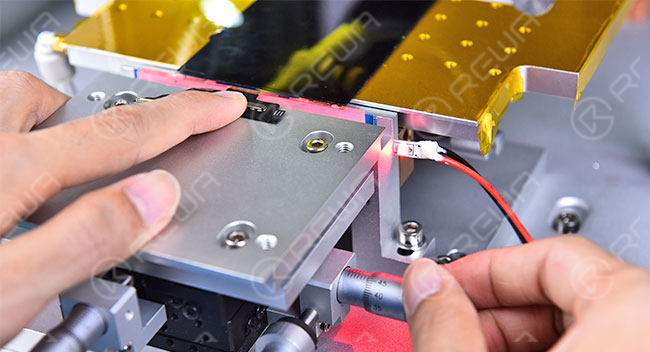 4. After the alignment is done, press the Start Button to bond, again press Vacuum Button to release the LCD, wait until the bonding process finished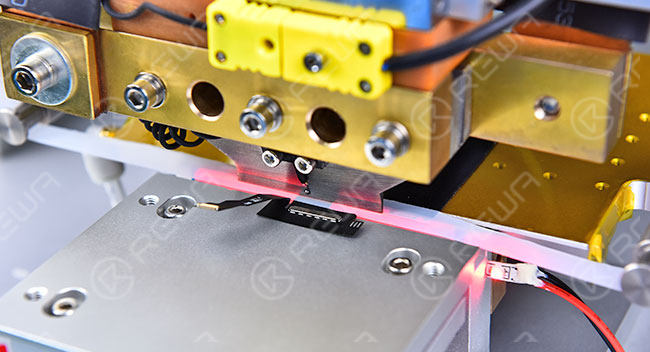 By now, we have successfully completed the LCD flex cable bonding.
5. Switch over the Display Monitor to lower lens, similarly align the touch screen flex cable lines with substrate through Display Monitor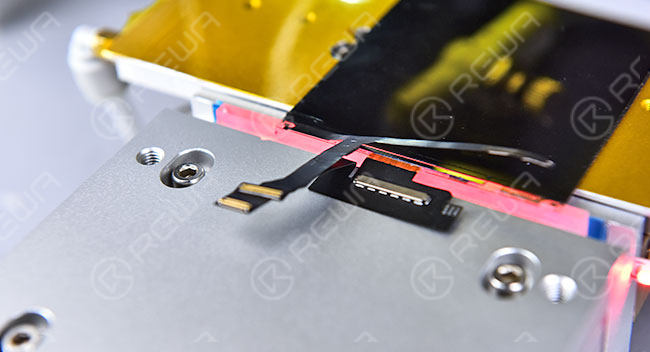 6. After that move the LCD and press the Start Button to bond one side on touch screen flex cable, then another side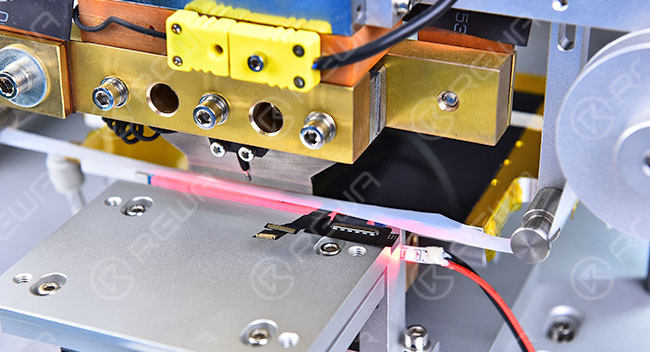 At this point the whole process of flex cable bonding has been accomplished. What's next is to check if the repaired LCD screen works well.Testing
7. Connect the LCD to iPhone 6 motherboard, put the LCD backlight source under it, then test the display effect and touch functionality with DC Power Supply .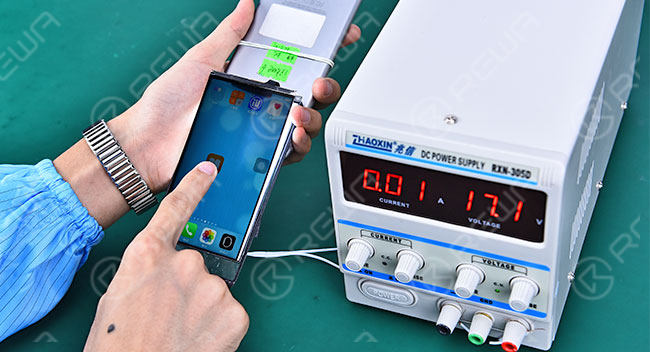 This is the upgraded one for the previously mentioned Pulse Flex Cable Bonding Machine , being provided with much more
advantages and features :
1. Can be applied to different type of flex cables
2. Dual modes for Auto and Manual
3. HD Dual Lens make flex cable alignment from up and down
Upper Lens
Contraposition above, Dual Lens by Thousandfold + Two LED Lights
Lower Lens
Contraposition below, Dual Lens by Thousandfold to improve yield
4. Alignment system uses 19-inch high-resolution to ensure clear alignment effect
5. Pulse-type Heat and Titanium alloy Heating Head with high precision temperature controller
6. High precision Platform Regulating Valve, assure of the output balance and stability
7. Remote or on-site technique guidance available 8. PLC control system, 4 inch touch-screen interface, stable control, easy to operate
By the way, welcome to watch these tutorial videos on our YouTube Channel if you still have any questions about it:
And you can also check our repair guides:
REWA Screen Repair: Fix cracked iPhone 7 screen , Samsung Galaxy S7 edge glass replacement , iPhone 7 touch screen not working , iPad Air Touch Screen Partially Unresponsive Repair , iPhone X Screen Refurbishing – Glass Only Repair , iPhone 8 Broken LCD Screen Refurbishing ;
REWA Motherboard Repair: iPhone 6 won't turn on , How to fix water damaged iPhone 6 , MacBook air memory upgrade .