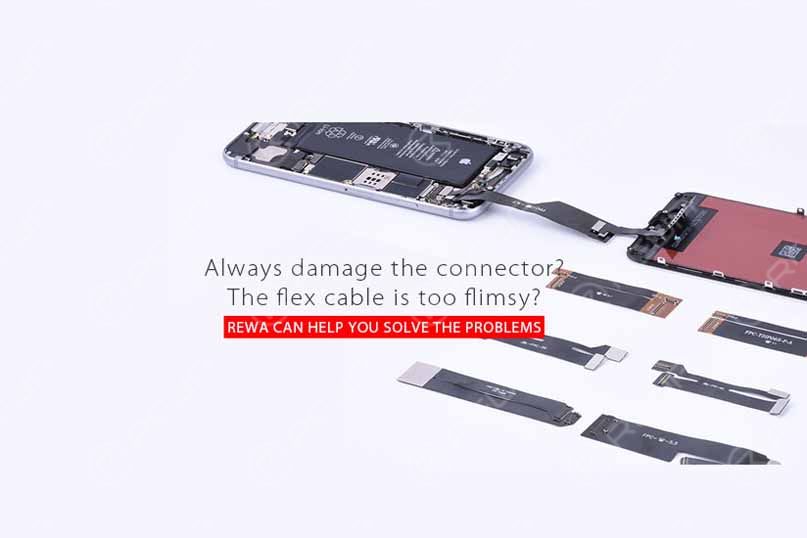 Always damage the FPC connector? The flex cable is too flimsy? Test flex cable/flex cable extender/flex extended cable/flex extender cable can help.
At present on the market, there are testing flex cables for iPhone 4/4 CDMA/4s, iPhone 5/5c/5s, iPhone 6/6 plus, iPhone 6s/6s plus, iPhone SE LCD Display Glass + Digitizer Touch Screen assembly. When we connect the screen to the motherboard directly, a series of problems occur: LCD flex is damaged, the motherboard is damaged by the short circuit or FPC connector wears out after repeated operations. Test flex cable will minimize the probability of occurrence of the above problems and make your repair and test process much more efficient. Here we take some examples to see what problems will develop without using an extended test flex cable? When we connect LCD touchscreen to the motherboard directly for testing, the limited length of the LCD display flex cable makes it easy to be damaged by accident.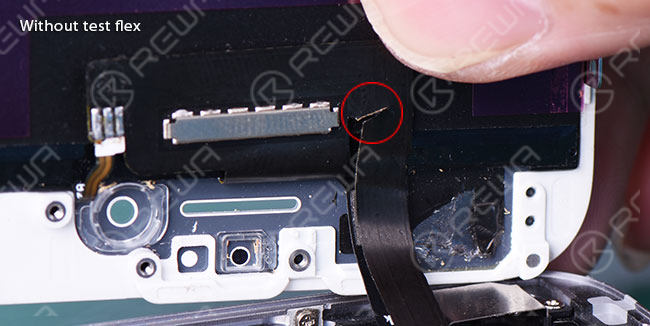 However, compared with the former occasion, the extender test flex cable will extend the length of the LCD display screen flex cable and the chances of being damaged dramatically decrease in screen testing.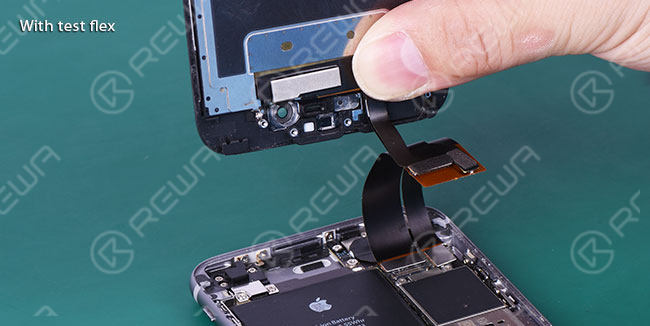 What's more, if the LCD digitizer touch screen assembly is frequently connected to the motherboard, the motherboard is apt to burn out by the short circuit and FPC connector is likely to wear out.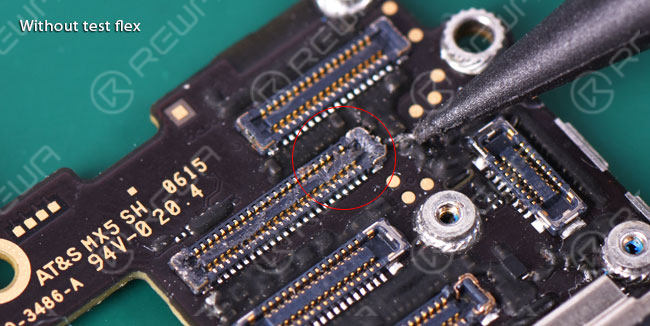 When applied a LCD screen display test flex cable during operation, extended flex cable will avoid possible damages to the motherboard and FPC plug connector, thus making your repair and test process much more efficient.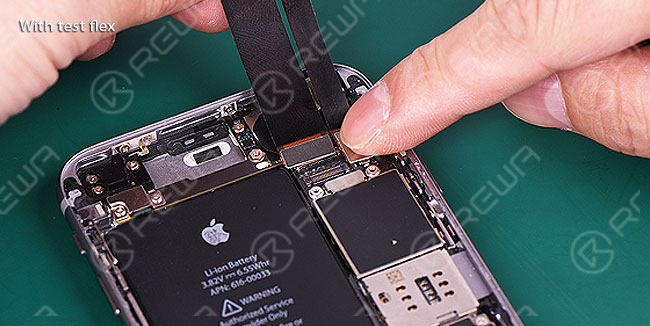 Practical Application of LCD Screen Display Test Flex Cable Before the introduction of LCD test flex cable application, I'd
like to bring in a general cell phone parts - mobile phone outer screen glass lens. It will be used as a fastener for the test flex cable ribbon in case of loosening between test flex cable and motherboard. Firstly, connect the motherboard to LCD screen test flex cable.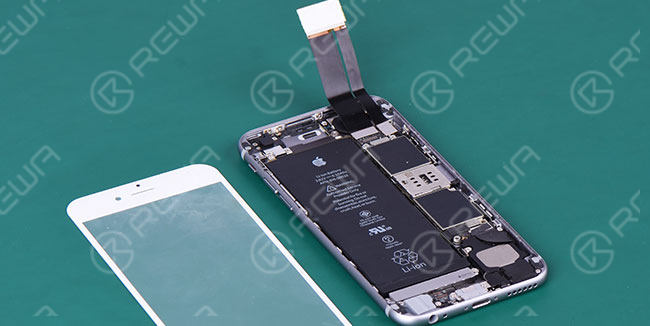 Then place a mobile phone front glass on the motherboard.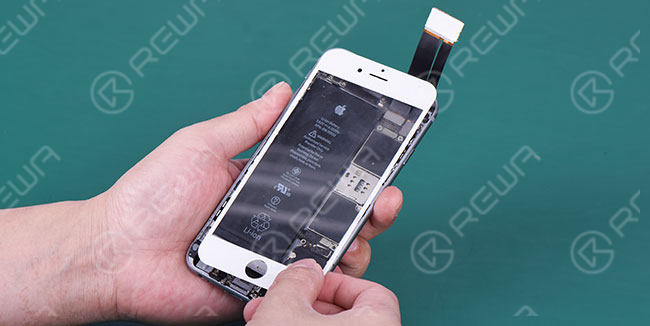 Next, paste a double-sided adhesive tape on the other side of FPC connector.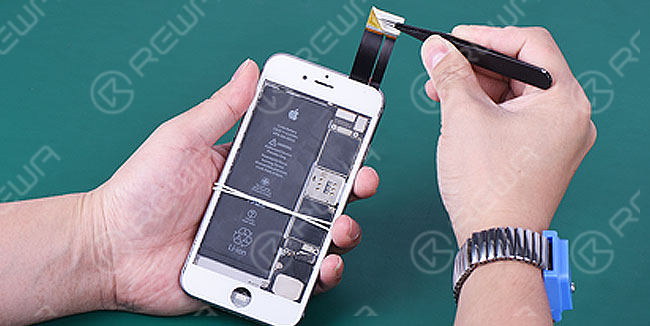 After that, fix the LCD screen display on mobile phone glass lens firmly and securely.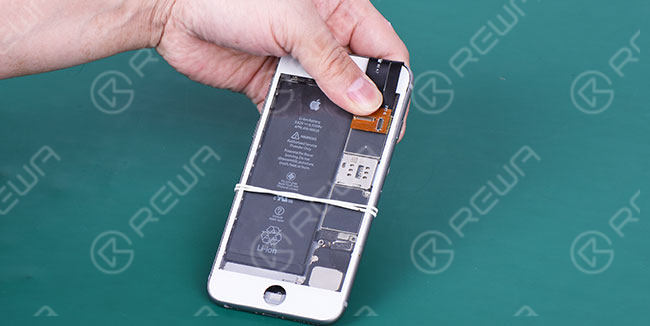 Later on, connect the LCD assembly to flex extended cable/test flex.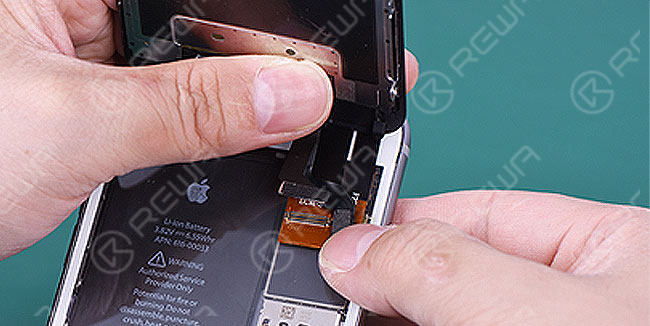 And finally, you can do your test for mobile phone replacement LCD display and Digitizer Touch Screen Assembly in a more relaxed way.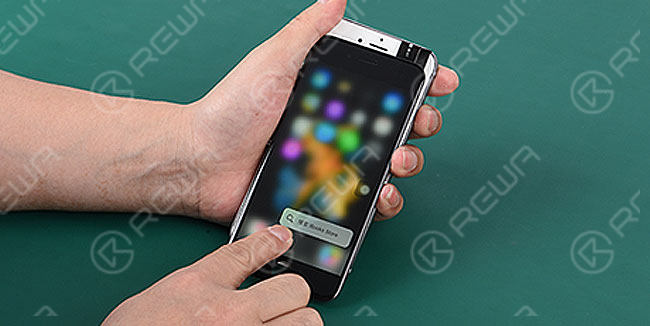 What are Extended Test Flex Cables and why we ought to use them?
iPhone and Android cell phone flex extender cables were first introduced into the market late in 2012 by China. Since then lots of repair technicians and mobile phone repair shops had been using them, while other people didn't even know their existence or understand why they were used. Just as its name implies, flex extended cables simple extend the length from the mobile phone's motherboard to the LCD display screen assembly. To outward seeming, the flex extensions themselves are far from getting a smartphone repair done. However, they can help save time in certain phone repair tasks and prevent costly spare parts consumption that can add up over time. That's quite a lot of cost for mobile phone repair techs. As a consequence, flex extender cables should be used in every repair setting as well as the mobile phone spare parts testing process.
When Should we use Flex Extender Cable?
1) Every repair technician should use test flex cables after receiving LCD assemblies from suppliers. In this occasion, they are mainly used to test the LCD and Touch Screen Digitizer Assemblies.
2) When selling your cracked, damaged or broken LCD display screens to reclaiming agents for cash to recycle.
3) When you use an iPhone LCD Screen Tester device or a cell phone logic board, test extended cables will be the choice. If you happen to be in the demand for the cell phone spare parts test flex cables or flex extender/extended cables, we will be glad to provide you with those LCD display screen, dock connector charging port, front facing camera and rear facing camera test flex ribbon cables for iPhone 4,5,6 series as well as LCD digitizer assembly test flex cable for iPad series. Want to order our products? Please go to our online store shop.rewa.tech to get or contact us: PRE-SALES Skype: rewatech Email: service@rewa.tech AFTER-SALES Skype: support-rewatech Email: support@rewatechnology.com And you can also check our repair guides:
REWA Screen Repair:
Samsung Galaxy S7 edge glass replacement ,
iPhone 7 touch screen not working ,
iPad Air Touch Screen Partially Unresponsive Repair ,
iPhone X Screen Refurbishing – Glass Only Repair ,
iPhone 8 Broken LCD Screen Refurbishing,
REWA Motherboard Repair:
How to fix water damaged iPhone 6 ,