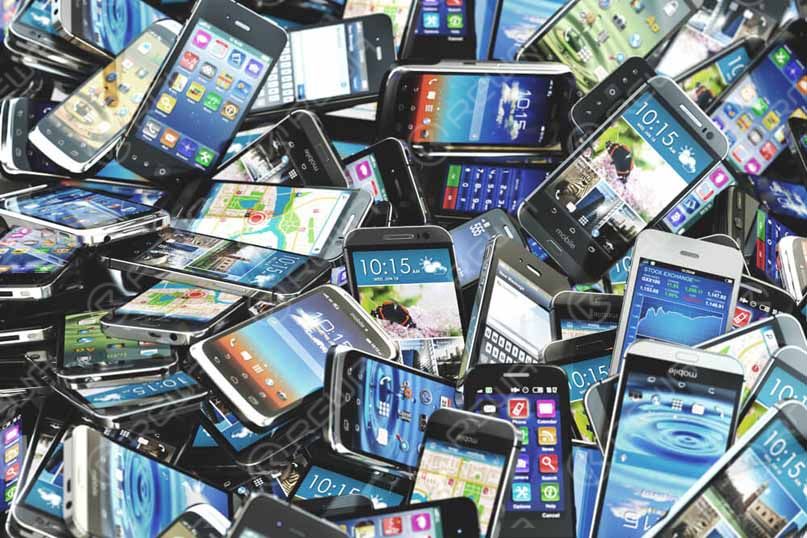 This is an ever-changing time for electronic products rapidly upgrade. Guiyu is widely perceived as the largest electronic waste (e-waste) village in the world, processing tens of million ton of e-waste which are transported to this small area every year, among which mobile phone spare parts proportion increases year after year. And then these old electronics are to be dismantled or classified to extract precious metal such as gold, copper and so forth, forming a giant but secret profit chain and threatening the local people's health. After renovation and regulations for many times a lot of rivers and water channels still show up ink black just like the workers' hands and reflects the tone of this times. Guiyu, located in the Chaoyang district, Shantou, Guangdong Province, is the largest E-waste site on earth. Situated on the South China Sea coast and located in the center of one bottom land, thus making it the serious internal waterlogging region, therefore the agriculture production cannot be guaranteed at all. Guiyu was once one of the important water route hubs in Chaozhou-Shantou Region, but now gradually falls into disuse. Guiyu's economy cannot go out of dilemma all the time before developing the electronic waste industry.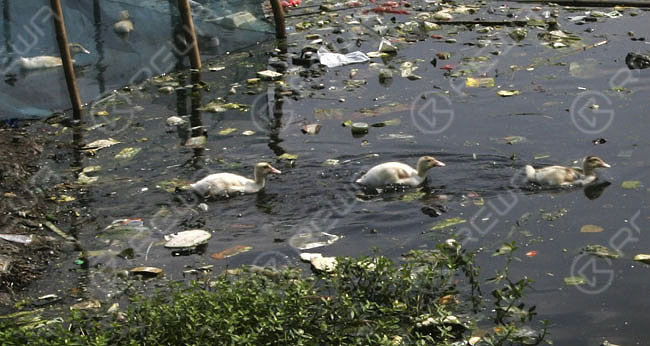 (Shot on Dec 13th, 2005 Guiyu, the river showed up ink green even black with flouting various garbage on it) Early from the 90's in last century, long-term impoverished Guiyu town started to involve in the business of dismantling discarded electronic products. And with the enlargement of business scale, the complete industry chain gradually come into being from e-waste recycling, dismantling, processing to resell the electronic waste. Til 2005, there were 5,500 family workshops which engaged in the disposal of electronic waste. This industry employed more than 60,000 people and its annual value of production was near 1 billion making up more than 90% total value of output of the whole town. We can say e-waste business had become the pillar industry of Guiyu and the most important financial resource.
(Shot in 2005, the workshop employee dragged for the scraps from sewage) Entering into the 21st century, the cell phone becomes one of the most rapid upgrading and iteration of electronic products. Relative data shows that Chinese people change their mobile phone every 8-12 months and about 400 million cell phones were obsolete in 2014. The abandoned cell phone spare parts, especially the cellular battery in which the hazardous substances are to released and polluted the soil and underground water. On account of the frequently upgrade for mobile phone of Chinese people, obviously, the cell phone recycling rate of 10% cannot keep pace with the phone obsolete rate.
(Shot in Dec 2005 Guiyu, local children are looking for their "toys" from the piles of electronic waste) With the repaid development of electronic waste industry in Guiyu, the local rivers and canals were seriously polluted making the access of daily water the key problem. The local residents have to wash clothes in the "black" river and rinse them again with well water.
(Shot on 13th Dec 2005, a female worker washed clothes at river carrying her baby on the back, another girl held up an umbrella for her) Actually, the local underground water is undrinkable soon. The fresh well water fetched at the moment is apparent and turns into maroon in no time. Very few people can get tap water from other places through tunes installed home, most of the people need to get drinkable water that is trucked in from elsewhere. At the same time kidney stone becomes one of the most common diseases locally. Early in 2003, "Greenpeace" Organization United Sun Yat-sen University conducted a large-scale survey in regard to the industrial scale, ecological environment and service relations in Guiyu. It's reported that most of the surface water and superficial layer of underground water became undrinkable because of the heavy metals in excess of the standards. What's more, the scope of tap water was neither wide thus making its people buy drinking water. As a consequence, water transporting industry developed into one important industry locally.
Guiyu Town, surrounded by vast of e-waste, in which the farmlands were once abandoned and turned into a factory, warehouse and disposal site for electronic waste. Before improvement measures being taken, the smoke billowed out of the farmland every twilight. It was reported that the strong fume was caused by the worker's burning down of the PCB board which aimed at extracting the precious metal in it.
(Shot in Dec 2005 Guiyu, people were burning away the electronic waste with dense smoke coming out on the farmland) In accordance with the samples taken from the "Greenpeace" survey, the 6 type of hazardous substances including Lead, Cadmium, Mercury had percolated through the local soil and underground water.
(Shot in 2005 Guiyu, a worker burning off the useless plastic garbage with raging flames) In recent years, the villagers have been planting primary crops again on the polluted farmlands at the behest of government regulators. Actually, Guiyu town is not suitable for agriculture production at all on account of its being the serious internal waterlogging region, which makes it one of the root causes that Guiyu became the global electronic waste village.
(Shot on June 2nd, 2016, at Guiyu Circular Economy Industrial Park, E-waste piles up in one factory) At present, Guiyu almost receives tens of billion tons of electronic waste every year, among which cell phone, computer etc. electronic products spare parts take up the largest share.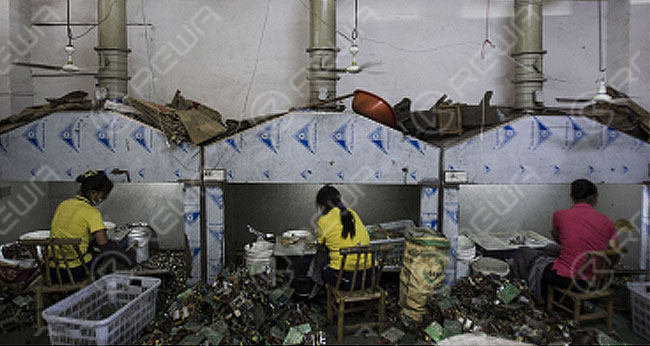 (Shot on Jun 4th, 2016, at Guiyu Circular Economy Industrial Park, workers performing at the circuit board processing hearth) According to a figure in 2003, the family workshops in local Guiyu run large or small businesses related to e-waste industry accounted for nearly 80% proportion. On account of the Financial Revenue almost completely resulting from the e-waste dismantling industry since 1990, local government as a matter of course supported this industry which makes it one of the important reasons why electronic industry developed rapidly.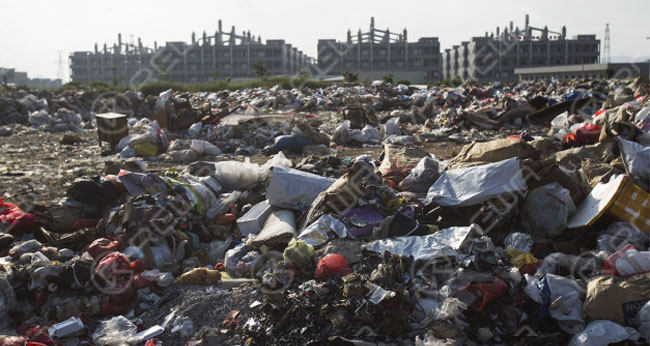 Local government has been unequivocally prohibiting more than once towards the problem of Guiyu's pollution that: dismantling circuit board by directly heating it up, extract precious metals by acid pickling and burn off e-waste are banned. But it is in vain that prohibition does not prevent the pollution and the pollution continues constantly. Until 2012, one specially enacted "Regulation Scheme" was promulgated, as a consequence the environmental pollution issues caused by Electronic Waste in Guiyu Town gained official attentions extensively.
The workers in Guiyu are impoverished migrant laborers as well as their children. They live and work in the same dirty conditions, contaminated by heavy metals and toxic pollution. High levels of lead in young children can impact IQ and the development of the central nervous system. The highest concentrations of lead were found in the children of parents whose workshop dealt with circuit boards.
A separate report by the Shantou Medical University Hospital in November 2003 found a high incidence of skin damage, headaches, vertigo and nausea, especially among migrants who recycle circuit boards and plastic.
Another study has revealed e-waste laborers in China have very high concentrations of toxic flame retardants in their bodies. One worker had by far the highest concentration ever reported.
Actually, the government had some success regulating e-waste disposal with a "Home Appliance Old for New Rebate Program," which carried into effect from 2009 to 2011. With the help of generous government subsidies, the program collected tens of millions of obsolete home appliances during that period, according to the U.N.
Even though the government succeeds in limiting smuggled supplies of overseas garbage, the U.N. warns that the country is now rapidly generating its own supply of e-waste. To avoid a vicious cycle of pollution, resulting from both the manufacture and disposal of appliances, Greenpeace has lobbied for manufacturers to use fewer toxic chemicals in their products.
The organization also has a message for consumers who seem to swap their phones, tablets and other computer devices with increasing frequency. "Think about where your mobile phone or where your gadgets go," said Ma, the Greenpeace activist. "When you think about changing your phone, or buying a new product, always think about the footprint that you put on this planet."
So what measures can be taken in the face of these grave challenges? Major electronics corporations should stop utilizing hazardous chemicals so as to make their products safer and easier to recycle. All firms are supposed to take full responsibility for their products and recall their old products for re-use, safe recycling or proper disposal. We are pressing major electronic makers to reduce the toxicity and amount of e-waste being dumped every year.
You can also do your own part by supporting companies that are making an effort to clean up their act by checking the Guide to Greener Electronics. Think twice before buying whether you really need a new device and return your old equipment to the manufacturer or specialized recycling center if possible.
So to protect our environment, keep your cell phones use longer! Try your best to repair your phone instead to buy, REWA provide rich repair tutorials, such as these:
Samsung Galaxy S7 edge glass replacement ,
iPhone 7 touch screen not working ,
iPad Air Touch Screen Partially Unresponsive Repair ,
iPhone X Screen Refurbishing – Glass Only Repair ,
iPhone 8 Broken LCD Screen Refurbishing,
REWA Motherboard Repair:
How to fix water damaged iPhone 6 ,