Great packaging cannot only avoid rough handling and harsh environment during the transportation before delivered to the hands of customers, but also make a difference to growing startups for the reason that it does have a direct impact on sales volume and a company's overall appeal.
REWA packaging is the last mile protection for the products - safe, clear and clean. And also the packages are Eco-friendly to a degree because some of them are recyclable or reusable. Below is the detailed packing procedure and different packages specially designed for different mobile phone spare parts such as mobile phone LCD touch screen assembly, replacement battery, iPhone LCD front bezel frame, Tablet PC touch screen digitizer, cell phone outer glass lens, small components (dock connector charging port flex cable, rear/front facing camera, vibrating motor etc.) as well as phone replacement battery cover.
Stamping
After the products have been tested, they will be stamped with QC number seal & REWA stamp (seal). Generally, Different products come with different packages.

Packaging
iPhone 5/5c/5s/6/6s LCD Display Screen
Customized transparent plastic boxes are applied to those new iPhone screens.

Other LCD Screens
Mobile phone LCD displays will be packaged in the anti-static bags, then wrapped with bubble bags and then packed into paper boxes.

1) Anti-static Bag Packing Avoid static damage for electronic components such as flex cable and IC.
2) Anti-shock Bubble Bag Packing To provide shock-proof protection.
3) Clean Carton Box (paper box) Packing To provide the individual and clean package to the hands of end-users.
4) Foam and Hard Carton Packing To avoid rough handling and harsh environment during the transportation.
Phone Battery
Batteries will be packaged in the anti-static bags, then packed with paper boxes and put into battery specialized paper boxes.

iPhone Front Bezel Frame
Make the two front bezels face to face (save room and safe). Put into a plastic bag in a group of 10 and lock by the stapler, then package 6 groups in a big plastic lock plastic bag.

Tablet PC Digitizer Touch Screen
Firstly, protect the fragile touch screen flex cable with foam and adhere it on the screen, and then:
Type 1: Put it into a bubble bag and pack with a paper box;
Type 2: Put in into a customized sealed bubble bag.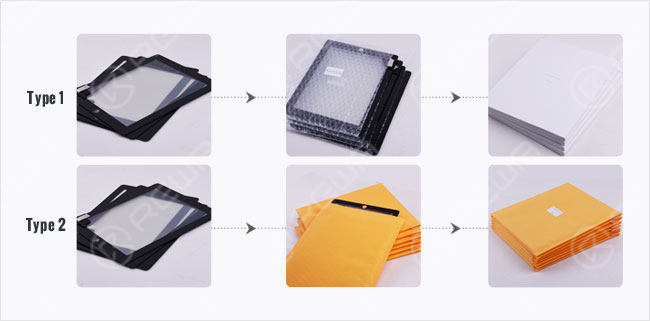 Mobile Phone Outer Glass Lens
Glass lens will be fixed with fresh-keeping film and wrapped with layers of bubble bags.

Small Components
Flex cables, frames, and battery covers will be packaged in a plastic lock bag wrapped with bubble bags and then packed into a big plastic bags.

Phone Back Battery Cover
Put it in a small plastic lock bag with a bubble bag wrapped outside, then package it into a big plastic bag. Warm Prompt:* For cell phone battery covers, screens, glass lens and other products with big logo, the logo will be covered with black tape to reduce customs clearance risks.

Labeling
Each product will come with a label includes major info. of the products. Before labeling, we will check the info on the label to see if it is consistent and complete.

Packing
Foam Box:
After making sure all products are well packaged, we will put them into a foam box and fix it to prevent them from any possible damage in the course of transportation.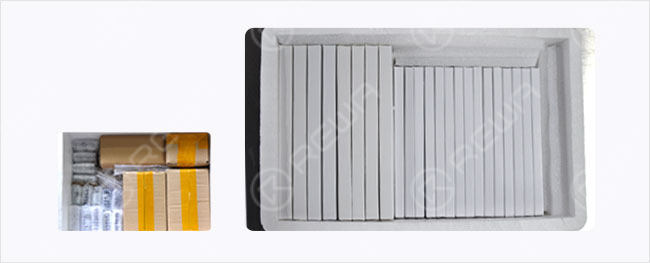 Master Carton:
After all parts are packaged in the foam box, then we will have a master carton pack outside. The shipping mark, box number and tracking number will be stuck on the surface of the carton.

Above is the whole process that how our phone spare parts are packaged before being delivered to your hand. So far in our experience, REWA does not hear from any customers that complained about the cell phone parts damages. So you do not have to concern yourself with the handling of the phone packaging. Want to order our products? Please go to our online store shop.rewa.tech to get or contact us:
PRE-SALES Skype: rewatech Email: service@rewa.tech
AFTER-SALES Skype: support-rewatech Email: support@rewatechnology.com
And you can also check our repair guides:
REWA Screen Repair:
Samsung Galaxy S7 edge glass replacement ,
iPhone 7 touch screen not working ,
iPad Air Touch Screen Partially Unresponsive Repair ,
iPhone X Screen Refurbishing – Glass Only Repair ,
iPhone 8 Broken LCD Screen Refurbishing,
REWA Motherboard Repair:
How to fix water damaged iPhone 6 ,