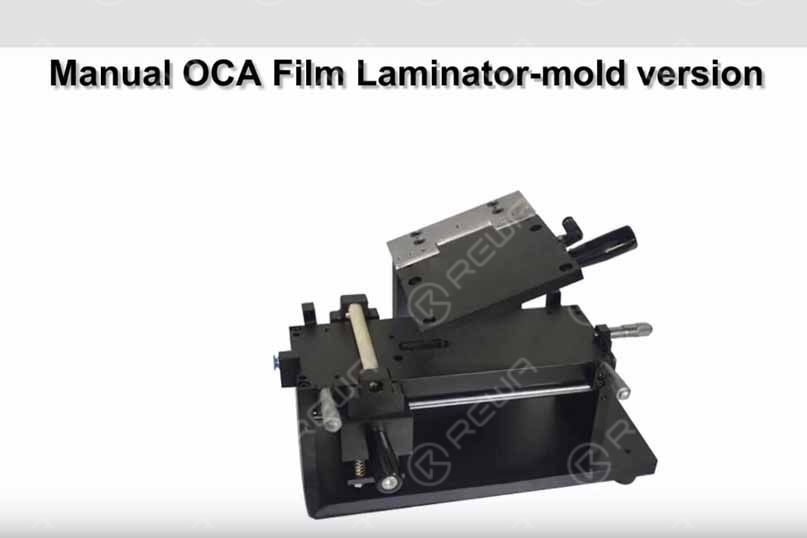 At present, a new type of Manual OCA / POL Film Laminator Machine - Mold Version is available now. This machine is suitable for the lamination of OCA glue and POL. Working with a small vacuum pump, this machine features good stability.
Here is the main specification:
Screen Size: suitable for screen size less than 5.7"
N.W.: 12KG
G.W.: 20KG
Dimension: 30x35x30cm
Working Environment: 20-30℃, Dust-free Room
As well as operation steps:
1. Install the right series mold and connect to vacuum pump
2. Plug in
3. Slip the roller to the left
4. Place the LCD to the mold on the platform below
5. Place the corresponding series OCA to the mold on the up platform
6. Click the button to suck
7. Tear the protector of OCA slowly
8. Turn the up platform and slip the roller to the right, finished Welcome to watch the operation steps through our YouTube Channel:
For more cell phone repair tools and LCD/Bezel separator machine, please go shop.rewa.tech to get. Any questions and suggestions please contact us service@rewa.tech . You can check our other posts:
https://blog.rewa.tech/detail/ipad-air-touch-screen-partially-unresponsive-repair
https://blog.rewa.tech/detail/iphone-x-screen-refurbishing-glass-repair
https://blog.rewa.tech/detail/iphone-8-broken-lcd-screen-refurbishing
https://blog.rewa.tech/detail/cheaper-or-poorer-an-overview-of-chinese-iphone-6-screens
https://blog.rewa.tech/detail/iphone-wont-turn-on-repair-pmic-grinding-replacing
https://blog.rewa.tech/detail/iphone-water-damage-repair-ultrasonic
https://blog.rewa.tech/detail/how-to-upgrade-ram-on-macbook-air
https://blog.rewa.tech/detail/s7-edge-glass-only-repair-guide-and-repair-training