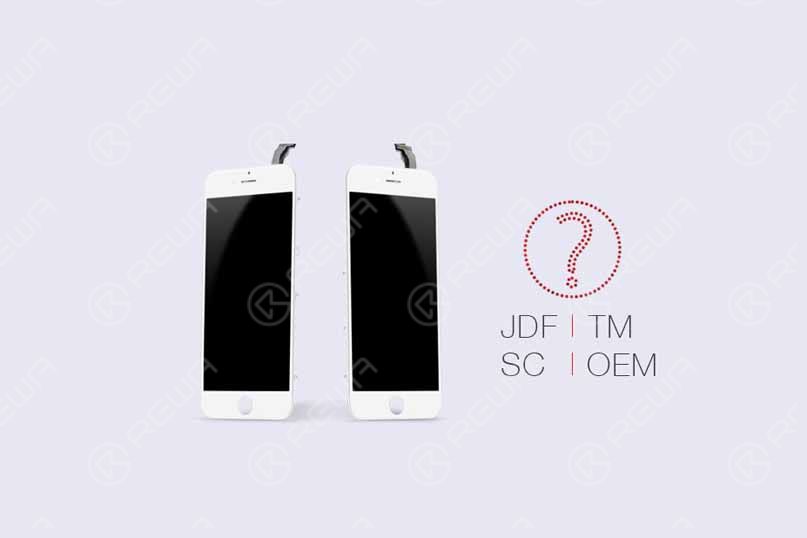 LT(IVO)
There are several display panel manufacturers in mainland China of which JDF(BOE) and TM(Tianma) stand out noticeably. JDF has gradually transformed its 6th production line into small-to-medium-size displays since 2014 and now JDF proceeds this plan and concentrates production capacity in this field in an all-around way.
As a matter of fact, TM(Tianma) has already transformed its display size and capacity altogether in late 2013 in prior of JDF(BOE), focusing on small-to-medium-size displays.
In addition to this, though SC which was vigorously supported by Foxconn had been performing mass production for LTPS, TFT, LCD displays at the beginning of 2012, did not make a great progress for the reason that SC failed to neither win over the Apple iPhone orders and nor get authorization in CG Si and IGZO technology of Sharp.
But do you know which iPhone 6 LCD made by these three display penal manufacturers is more cost-effective? Let's go on with this article and sort things out. Not too long ago, REWA has analyzed the JDF(BOE) and LT(IVO) China made iPhone 6 LCDs in some ways. After several months' development, how is the situation now? We have tested 3 mainstream China-made iPhone 6 LCDs by JDF(BOE ), TM(Tianma) and SC from aspects of "Appearance" and "Function" in order to make a comparison with OEM ones and give us clarity of thought.
Appearance
1) Glass Lens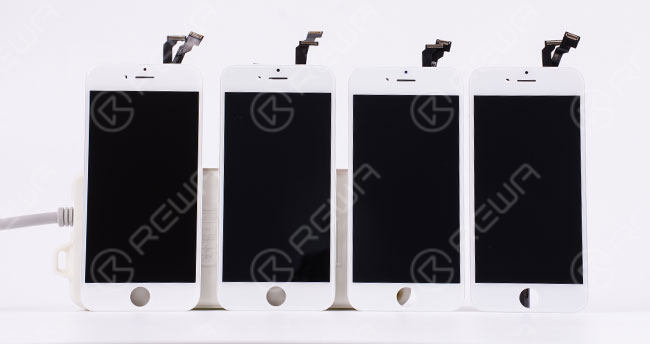 There is no difference between JDF, TM and SC LCDs and OEM ones in appearance.
2) Button Hole Alignment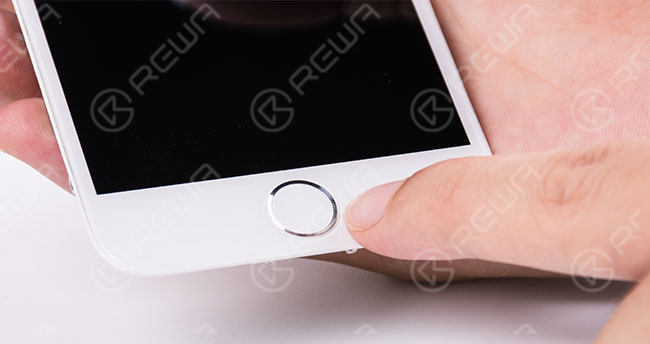 Through visual inspection we can hardly tell obvious differences among OEM, JDF, TM and SC LCDs.
3) Bezel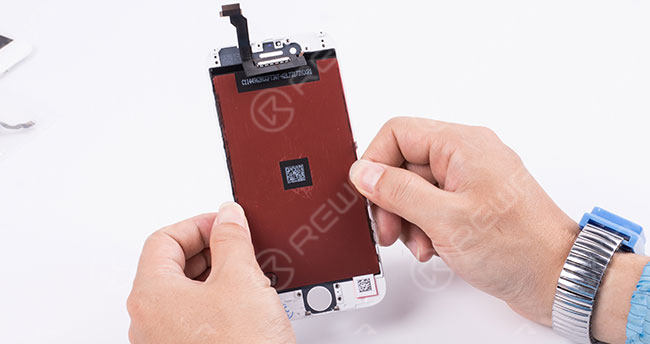 None of these three kinds of LCDs have deformations, breakages, looseness or degumming on front LCD Supporting Bezel Frames.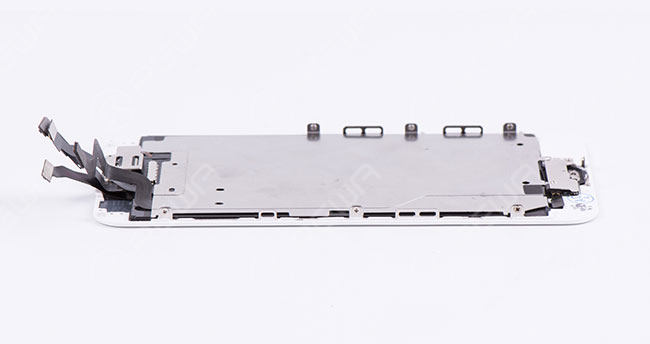 The front bezels of different type match LCD Back Metal Plate very well, it is still hard to tell differences between JDF, TM, SC and OEM ones.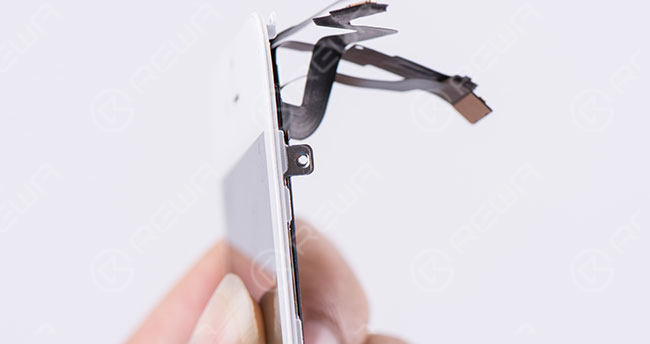 In terms of bezel matching with LCD and touch screen assembly, all these three China made LCDs can be matched perfectly.

After installed in the mobile devices, it's much easy for us to find that all these three China made LCDs have a small gap between the LCD and device body, especially SC.
4) Flex Cable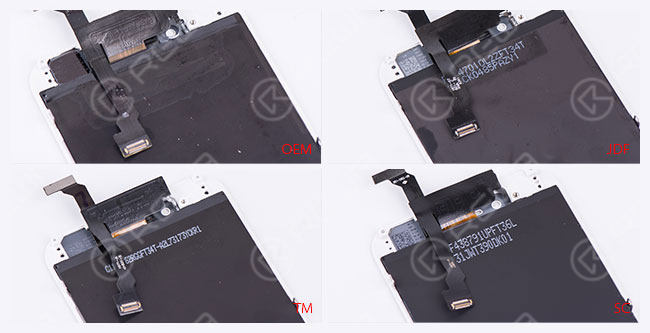 It can be observed visually that LCD Display and Touchscreen digitizer flex cable made by JDF, TM and SC are different in texture. 5) Structure Generally speaking, there are two kinds of mainstream cell phone display constructions of formation, "G+G" and "In-cell".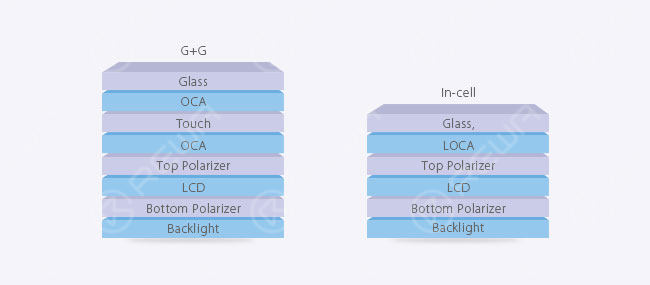 Compared with the In-cell structure of OEM LCD, JDF, TM and SC which use G+G touch screen display technology thus cause their overall thickness greater than the OEM ones.
Function
1) Touch

Testing Touch screen digitizer by moving the app icon in all directions including swiping from the edge of the screen, JDF, TM and SC display have no problems with touch function.
2) Display

Testing LCD display in the pure color of gray, white and black, a part of JDF, TM and SC LCDs have somewhat degree problems of backlight leakage, but it does not affect the normal use and can be ignored in a certain sense. Note: The severity of this problem in the actual situation is a lot more slight than the captured pictures above.
3) Color Difference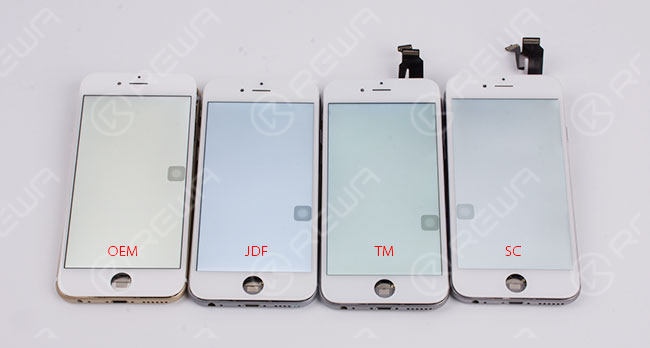 By comparison, the visual colors of JDF, TM and SC made display differ from the OEM ones.
4) Aging Test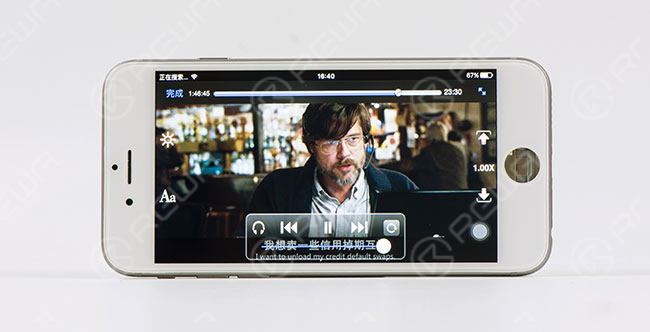 After playing video for 72 hours, JDF, TM, SC have no obvious differences with the OEM ones. CONCLUSION From a series of tests we can find there are only a few differences between OEM display and China made LCDs. In terms of quality, JDF & TM are better than SC. For Price, JDF is more favorable than TM. Therefore, on the market condition that OEM LCDs being out of stock, JDF LCD is the most cost-effective choice for you. Want to order our products? Please contact us: PRE-SALES Skype: rewatech Email: service@rewa.tech AFTER-SALES Skype: support-rewatech Email: support@rewatechnology.com And you can also check our repair guides:
REWA Screen Repair:
Samsung Galaxy S7 edge glass replacement ,
iPhone 7 touch screen not working ,
iPad Air Touch Screen Partially Unresponsive Repair ,
iPhone X Screen Refurbishing – Glass Only Repair ,
iPhone 8 Broken LCD Screen Refurbishing,
REWA Motherboard Repair:
How to fix water damaged iPhone 6 ,