"Oh, my Samsung Galaxy S7 Edge won't turn on!" Yes, we know and understand how annoying it can be when your phone remains frozen at the black screen almost like a dead wood. It is not easy to deal with an unresponsive phone, especially when it does not even turn on no matter how many times you try. However, you are not the only one whose Galaxy S7 edge won't power on. There are many like you facing a similar fault. Since it is a common problem. You can find and try some basic ways from Google, such as check the power button whether it damage, perform factory reset and etc. Such basic methods we have mentioned in How to Fix Samsung Galaxy S8 Plus Not Charging and How to fix Samsung Galaxy S8 speaker sound not working.
You can take a look. However, there can be various other reasons due to that Samsung Galaxy S7 edge won't turn on. As for won't power on accompanied with 50mA-80mA boot current, the first thing we do is to check power supply voltage. If nothing goes wrong, the fault is most likely to be related to CPU. If there is abnormal voltage measured, then check corresponding faulty position on the board. The fault component is finally confirmed as PMIC U7003, our focus today would be to fix this issue. We can fix the issue by replacing with a new PMIC(You can read our another about PMIC Replace Case- iPhone 6 Won't Turn On Repair – PMIC Grinding and Replacing). Now, follow the instructions given below:
Before Repair Test
Press the Galaxy S7 Edge power button, the phone won't turn on. Then take out the SIM card tray and logic board.
Fault Analysis
First, we need to confirm whether the boot current is normal, for better measurement, apply tins to the battery connector and solder a length of red supply wire.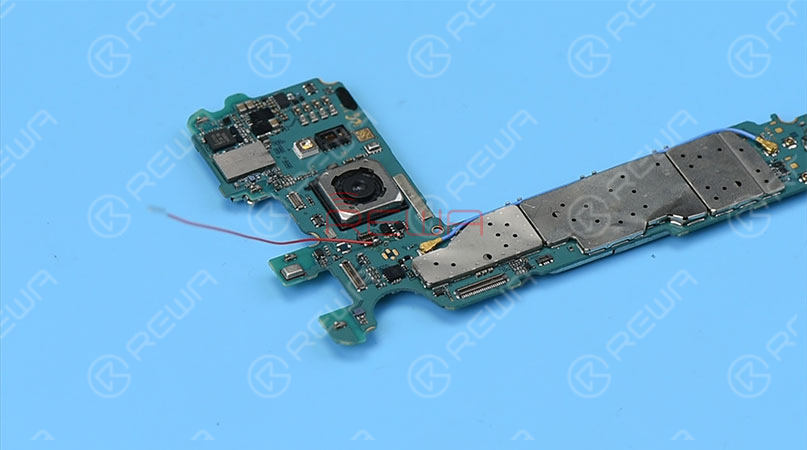 Trigger with tweezers to power on the phone, current reading on the ammeter is 50mA(For 50mA boot current of the phone). The fault is usually related to CPU and main power supply voltage.
Next, let's measure the voltage outputted from PMIC, measure PP_0V8, PP_0V85, PP_1V8, PP_2V95, PP_1V25, PP_1V15 and PP_0V8
Fault Detection
Disconnect the power supply, remove the shield plate. And then trigger with tweezers to power on the phone, measure L7012, L7011, C7067, C7044, C6040, L7015 and L7004 one by one.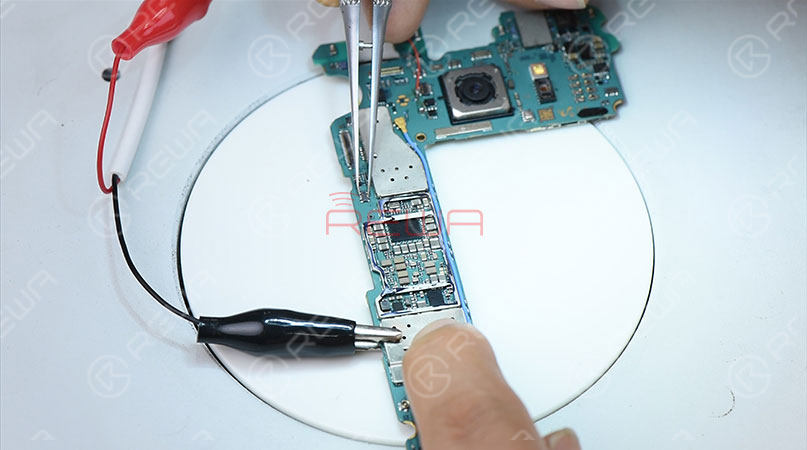 The measured voltage of C7067 is lower than the normal value (Normal value should be about 1.8V).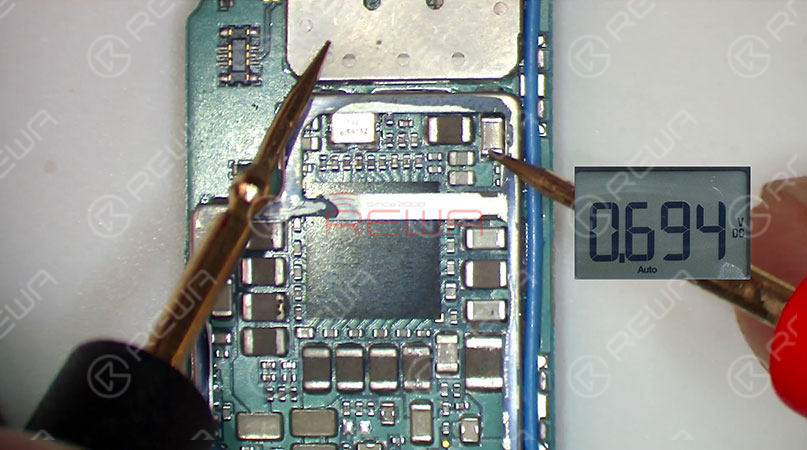 Now, we can confirm now that the fault component is PMIC U7003.
Repair
We need to replace a new PMIC. First, remove shield plate on PMIC with Cutting Nipper, then heat up with Hot Air Gun.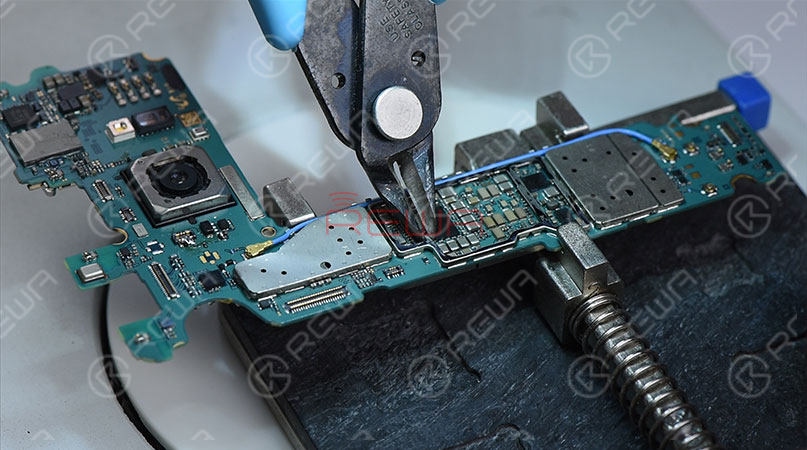 Detach PMIC from the board, apply some Paste Flux to the bonding pad. Remove tins on the pad with Soldering Iron.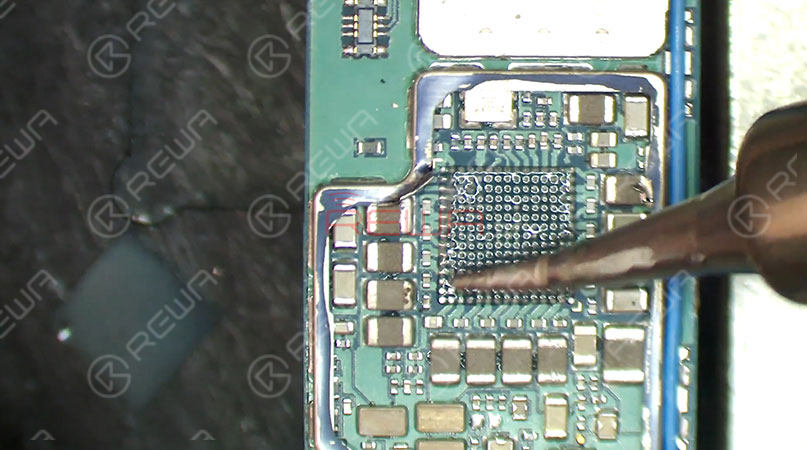 Remove tins thoroughly with rosin soaked Solder Wick, once done, clean with PCB Cleaner.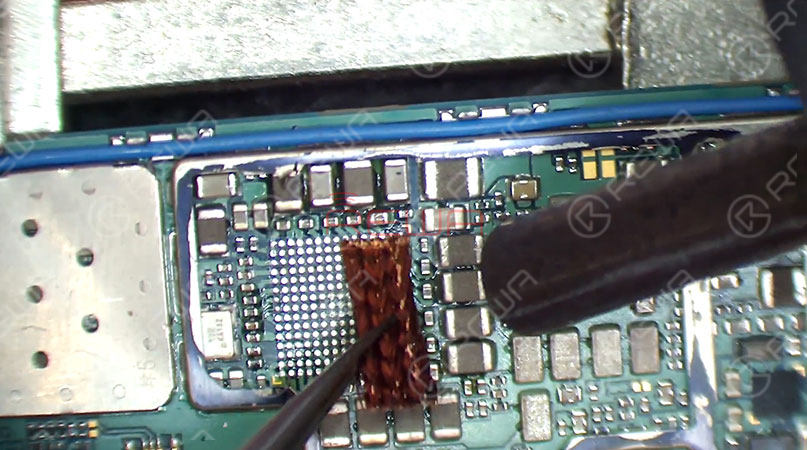 Apply some Paste Flux to the bonding pad, get a new PMIC in position and solder with Hot Air Gun. Once done, wait for the logic board to cool for 5 minutes, at last, clean with PCB Cleaner afterwards.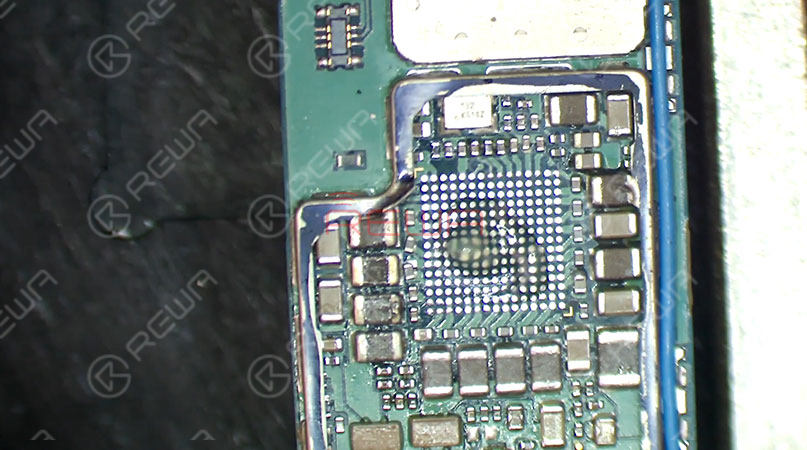 After Repaired Test
Now we can assemble the phone and test. Get the logic board installed, connect the battery, get the loudspeaker and wireless charging coil installed. Press the power button to power on, the phone turns on normally.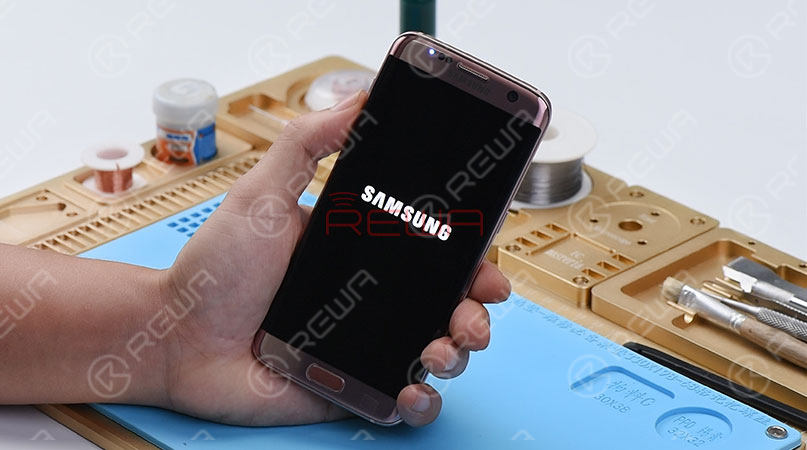 Samsung Galaxy S7 edge won't turn on issue fixed perfectly. For more details about fix Galaxy S7 edge won't power on please check our video. Any suggestions or questions please comment below or go to ASK Forum to post an ask, we will try our best to help you and answer you in time.
Attaching the tools list used in the video, if you are interested in those items please feel free to contact sales@rewatechnology.com for details.
Pentalobe Screwdriver
2.5mm Philip Screwdriver
1.5mm Philip Screwdriver Tri-wing Screwdriver
4 in 1 Integrated Rework Station
90% people who have seen this article about S7 edge won't turn on issue also read:
How to Fix Samsung Galaxy S6 edge+ Turns On With Black Screen
Samsung Galaxy S7 edge Glass Screen Only Replacement Guide and Repair Training
Expert Service – Samsung Chip Level Logic Board Repair
Tips for Troubleshooting All The iTunes Error Codes of iPhone 6/ 6 Plus
For more information about repair, please pay attention to REWA Youtube channel.